NEXT PAGE >
< PREV PAGE
300ZX Coupe V6-2960cc DOHC (VG30DE) (1994)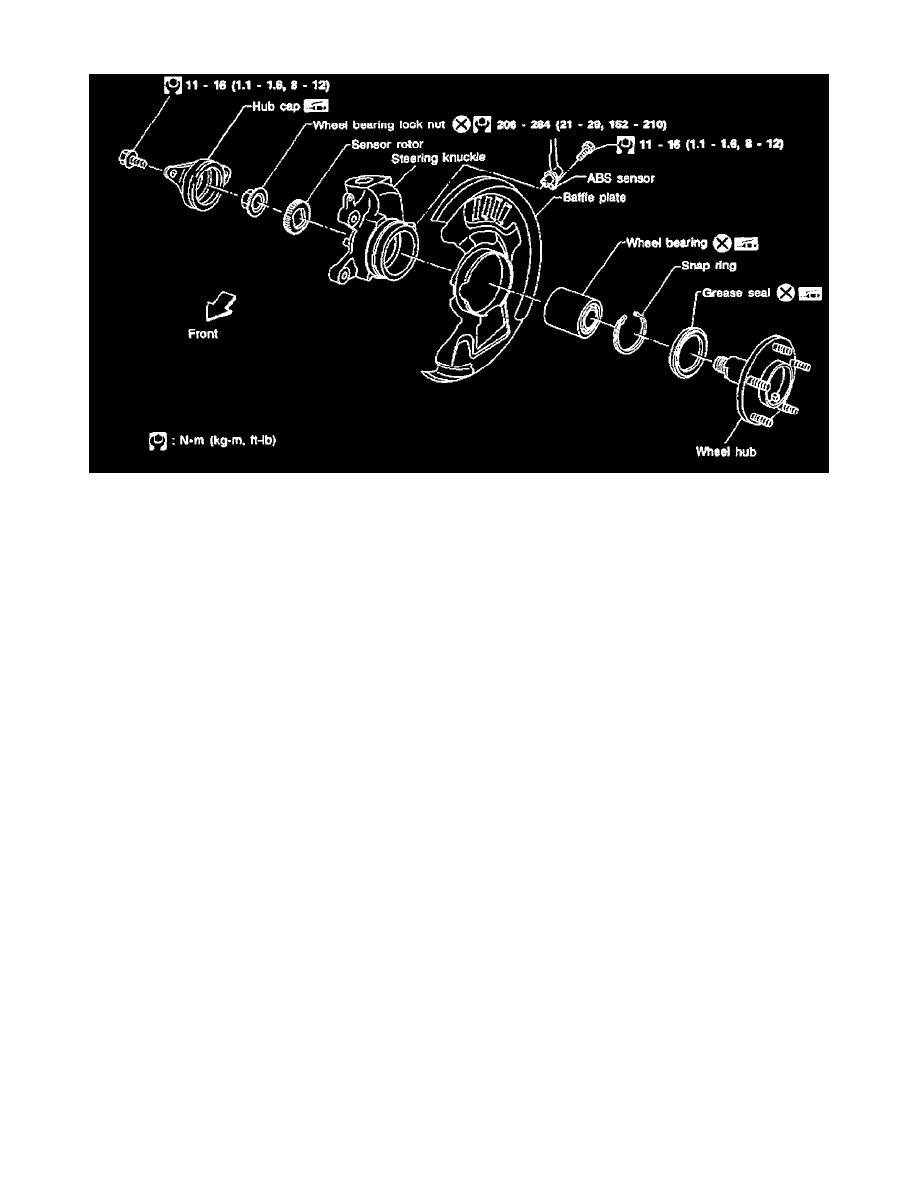 Wheel Hub: Service and Repair
Wheel Bearing
Removal
1. Remove brake caliper assembly and rotor.
NOTE:  Brake line need not be disconnected from brake caliper. Be careful not to depress brake pedal, or piston will pop out. make sure brake
line is not twisted.
2. Remove tie-rod, ball joint and lower ball joint with tool.
CAUTION:  The steering knuckle is made from aluminum alloy. Be careful not to hit steering knuckle.
3. Remove kingpin lower nut the remove steering knuckle.
Disassembly
CAUTION:  When removeing wheel bearing from steering knuckle, replace wheel bearing assembly (outer race, inner race and grease
seal) with a new one.
1. Remove hub cap and wheel bearing lock nut.
2. remove wheel hub with a suitable tool.
3. Remove circular clip with a suitable tool.
4. Press out wheel bearing assembly from steering knuckle.
5. Drive out wheel bearing inner race (to outside) from wheel hub, then remove grease seal.
6. Check circular clip for cracks and replace if necessary.
Assembly
1. Press wheel bearing assembly into steering knuckle from outside of steering knuckle.
Maximum load P:
34.3 kN (3.9 US ton)
CAUTION:
-
Do not press inner race of wheel bearing assembly
-
Do not apply grease to mating surfaces of wheel bearing outer race and wheel hub.
2. Install circular clip to steering knuckle.
3. Apply multi-purpose grease to sealing lip.
NEXT PAGE >
< PREV PAGE