< PREV PAGE
NEXT PAGE >
Sentra Sedan L4-1597cc 1.6L SOHC (E16S) (1986)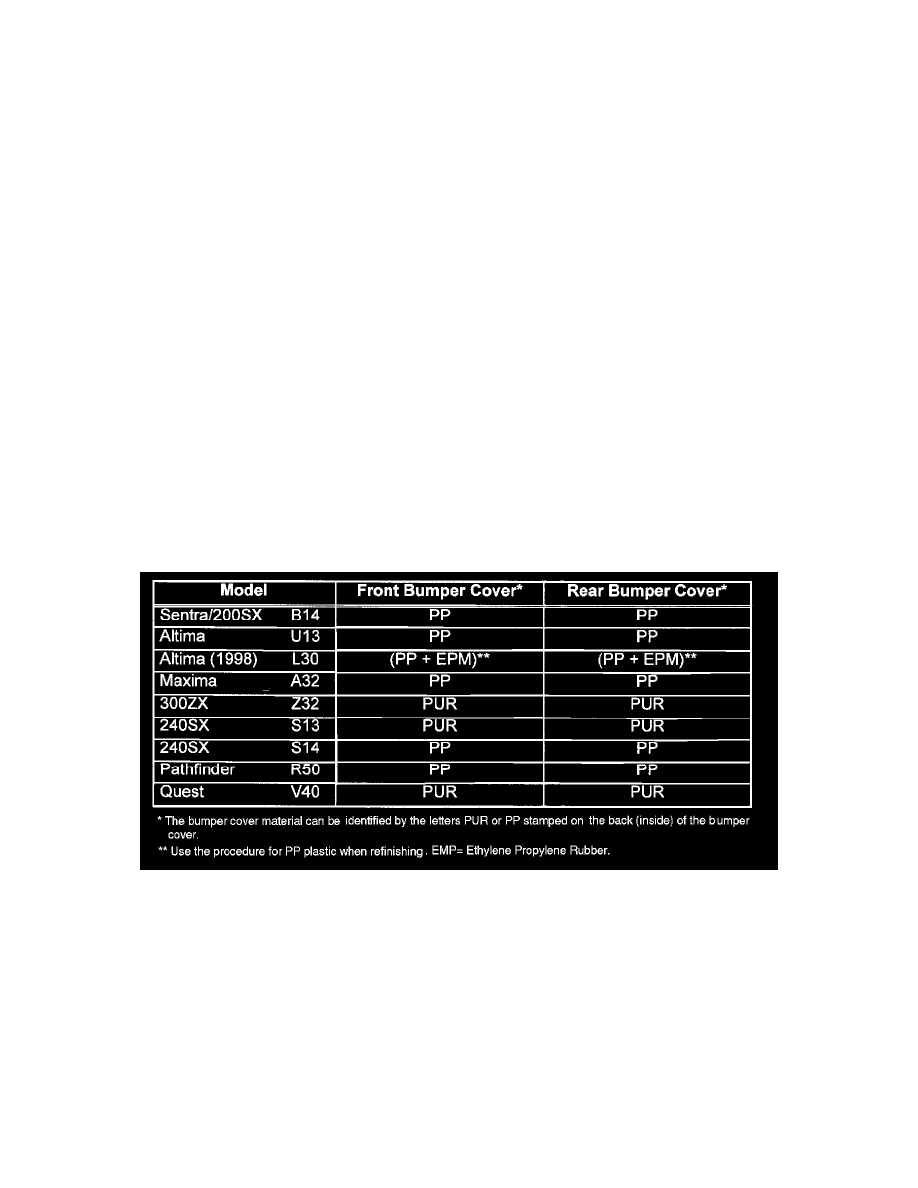 Front Bumper Cover / Fascia: Technical Service Bulletins
Bumper - Cover Refinishing Technique
Classification:
BT97-014
Reference:
NTB97-060
Date:
August 13, 1997
BUMPER REFINISHING TECHNIQUES
Applied Vehicles:
All models with plastic bumper covers (fascia)
 
SERVICE INFORMATION
 
This bulletin describes proper plastic bumper cover refinishing with specific paint manufacturer procedures and materials.  For information on repairing
bumpers refer to the 1992 Technical Bulletin book, page BF-31 for NTB92-043/BF92-013.
 
When refinishing replacement plastic bumper covers (i.e. service parts), it is important to follow the paint vendor's recommended procedure exactly. 
Failure to do so may result with paint not fully adhering to the bumper, and with time, the paint not adhering to the bumper may peel off.
 
The bumper covers contain mold release agents which must be removed prior to painting.  If the bumper cover is not properly cleaned and prepped, the 
paint may not adhere.  Please follow the paint vendor's recommended procedure for proper bumper preparation.
 
NOTE: 
You can heat the bumper at 140°F for 45 minutes to bring the mold release agent to the surface.  Allow the bumper cover to cool completely before
cleaning.  This cleaning (degreasing) is necessary to remove the mold release agent on the surface completely.
The chart indicates which cover; polyurethane (PUR) or polypropylene (PP) is used on each model.  
The procedures and appropriate materials for each paint vendor are attached for your reference.
 
If you should have any difficulty:
^
Obtaining materials
^
Following the published procedure
^
Obtaining a proper finish
^
If you are in a VOC regulated area
< PREV PAGE
NEXT PAGE >