< PREV PAGE
NEXT PAGE >
Calais V6-3300 3.3L MFI VIN N (1990)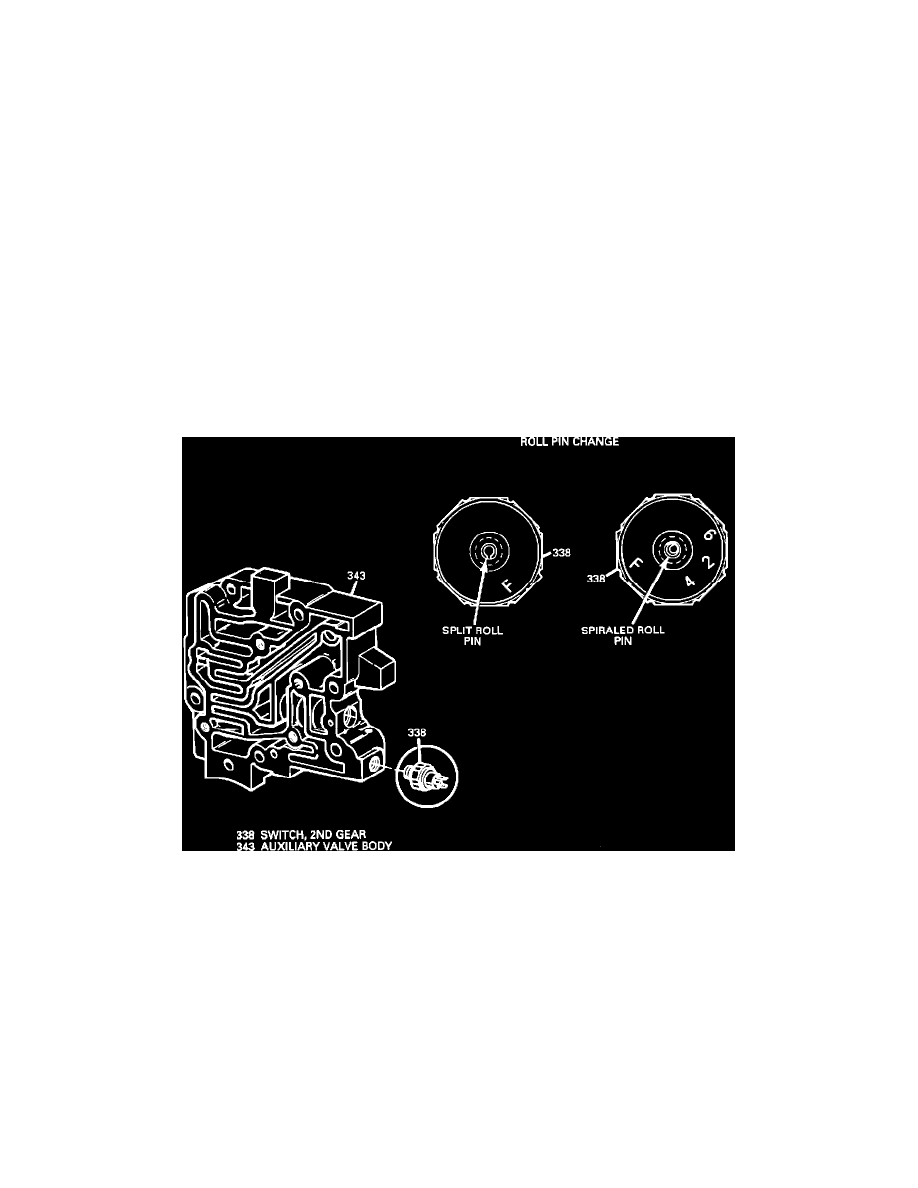 Pressure Regulating Solenoid: Customer Interest
A/T - Intermittent TCC, DTC 62/26 (Gear Switches) Set
SUBJECT
INTERMITTENT TCC, NO TCC, CODE 62 AND/OR 26,
SERVICE ENGINE SOON LIGHT
MODELS/YEARS 1988-90 CUTLASS CALAIS, 1988-90, CUTLASS CIERA, 
1990 CUTLASS SUPREME EQUIPPED WITH HYDRA- 
MATIC 3T40 (THM 125C) TRANSAXLE (RPO-MD9)
NUMBER:
90-T-82
CORP.REF.NO: 077108
DATE:
April 1990
SECTION:
3T40
This bulletin cancels and supersedes Dealer Technical Bulletin 89-T-84 which may be discarded.
BULLETIN COVERS:
A new spiraled roll pin used in the 2nd gear switch (338), which replaces the previous split roll pin, may become loose and fall out of the switch causing
possible intermittent and/or no TCC, Service Engine Soon Light, and/or Code 62, and/or Code 26.
Figure 1
DATE OF PRODUCTION CHANGE:
The 2nd gear switch has a 3 digit code stamped on top of the switch (metal side). The first 2 digits in the code represent the week in which the switch
was built; the 3rd digit represents the calendar year. All switches built with number date stamp 429 (November 29, 1989) and after will contain the new
spiraled roll pin. (Figure 1)
2nd Gear switches equipped with new spiraled roll pins went into production in all HYDRA-MATIC 3T40 transaxles on Julian Date 333 (November 29,
1989).
SERVICE PROCEDURE:
Do not attempt to repair suspect gear switches equipped with split roll pins. If an inoperative 2nd gear switch is found in any HYDRA-MATIC 3T40,
replace it with a new one.
< PREV PAGE
NEXT PAGE >