< PREV PAGE
NEXT PAGE >
604 L4-2304cc 2.3L DSL XD-2 (1983)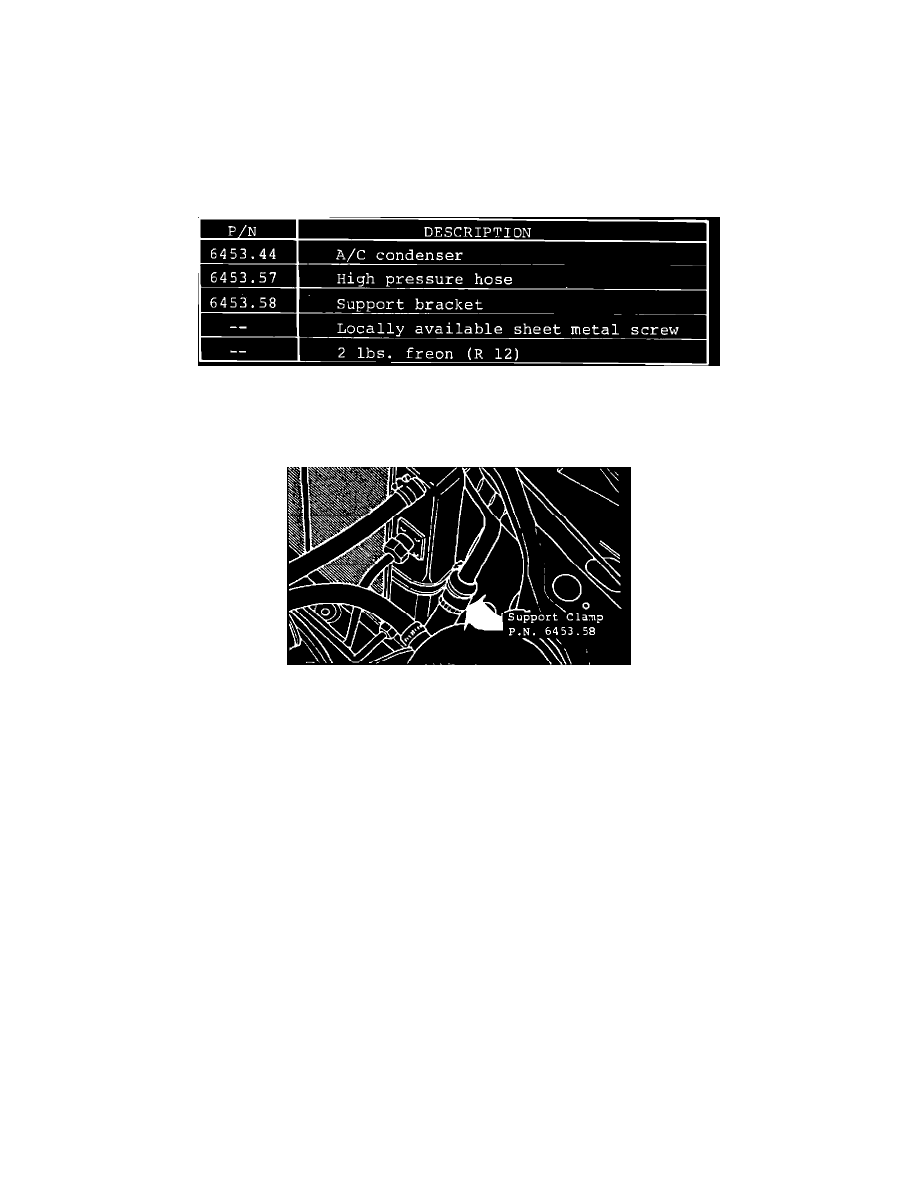 Condenser HVAC: Technical Service Bulletins
A/C - Condenser Replacement
Bulletin No. 117
Date:
May, 1983
Subject:
505 TURBO DIESEL (XD2S) AND 1982 505 DIESEL (XD2C) A/C CONDENSER HOSE SUPPORT
Note:
This Service Bulletin supercedes the information regarding Kit P/N 0064.80 in S.B. No. 087. Information regarding Kit
P/N 0064.85 is now applicable for 1980-81 diesel models (XD2-XD2C) only.
Whenever a replacement of an A/C condenser is required on a 505 turbo diesel (XD2S) or on a 1982 and early 83 production 505 diesel (XD2C)
manufactured prior to V.I.N. 0330582, proceed as follows:
-
Parts Required:
-
Replace the A/C condenser P/N 6453.44.
-
Install a new high pressure hose P/N 6453.57. The shape of the rigid section on the hose has been modified to enable it to be secured to the front
frame.
-
Secure the hose to the front frame using support bracket P/N 6453.58.
-
To avoid damaging the condenser core, use two wrenches and carefully tighten:
1)
inlet hose (upper fitting to a torque of 2.5 daN-m (18 ft.lbs.).
2)
outlet hose (lower fitting) to 1.5 daN-m (11 ft.lbs.).
-
Make up any compressor lubricant loss as necessary.
-
Evacuate and recharge the A/C system.
Warranty Information
For warranty claim preparation and submission, the following damage code and labor operation is to be used.
Damage Code:
645344
Main Operation:
134450
Time Allowance:
0175 Hrs.
Parts Required:
Part No.
Description
Qty
< PREV PAGE
NEXT PAGE >