< PREV PAGE
NEXT PAGE >
Grand Voyager L4-2.4L DOHC (1996)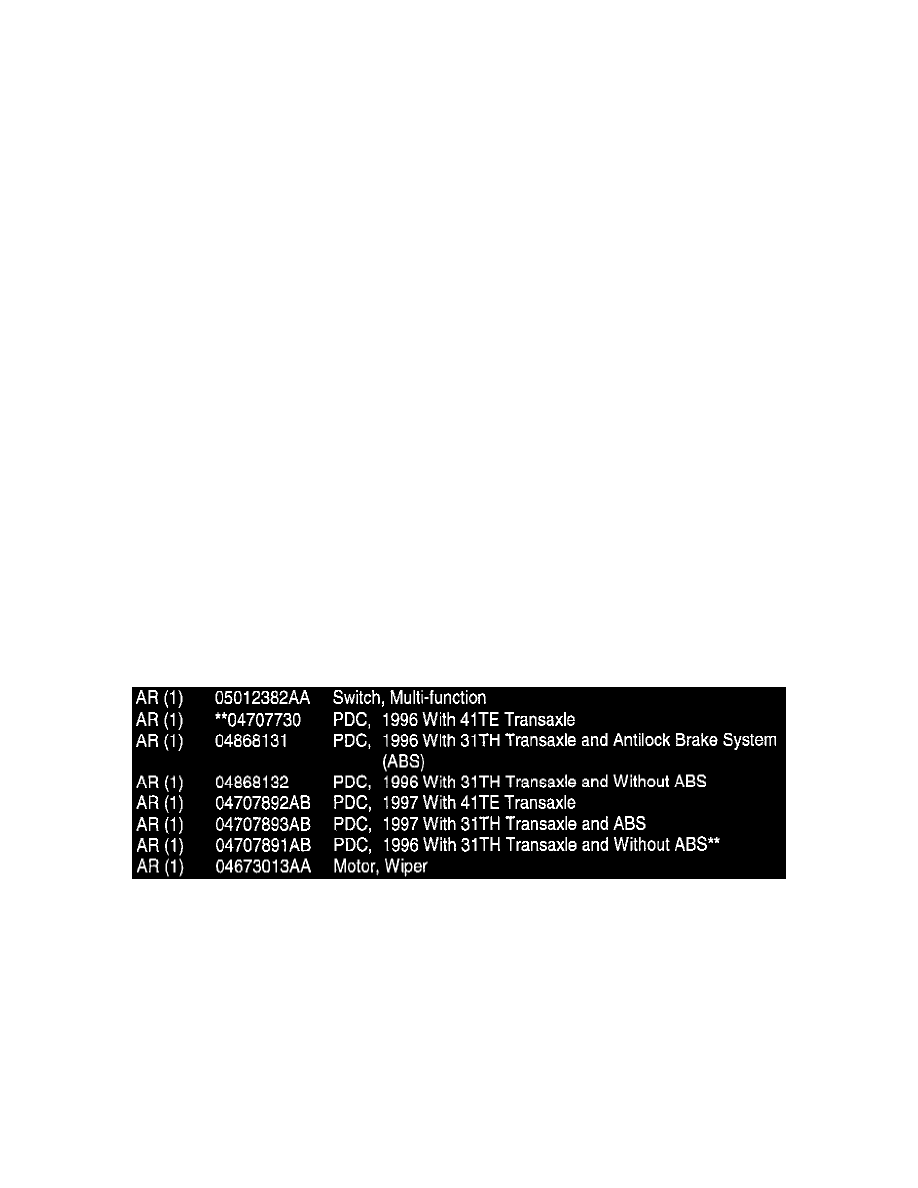 Technical Service Bulletin # 08-31-98A
Date: 980724
Front Wipers - Self Activate Or Won't Turn Off
NO: 08-31-98 Rev. A
GROUP: Electrical
DATE: Jul. 24, 1998
SUBJECT:
Front Windshield Wipers Self-Activate While Driving Or Will Not Turn Off
NOTE:
THIS BULLETIN SUPERSEDES TECHNICAL SERVICE BULLETIN 08-31-98, DATED JUNE 26, 1998, WHICH SHOULD BE REMOVED
FROM YOUR FILES. THE REVISIONS INCLUDE, REVISED SYMPTOM/CONDITION ONE, DIAGNOSIS AND REPAIR PROCEDURES
FOR SYMPTOM TWO AND THREE, AND PARTS REQUIRED. REVISIONS ARE HIGHLIGHTED WITH **ASTERISKS**.
MODELS:
1996-1997
(NS)
Town & Country/Caravan/Voyager
1996-1997
(GS)
Chrysler Voyager (International Markets)
SYMPTOM/CONDITION:
1.
Windshield wipers will turn on while the windshield wiper switch is in the "OFF" position for one or more wipes **with the ignition "ON",** or
when the turn signal and/or headlamp beam select is actuated.
2.
Windshield wipers will not turn off with the ignition switch "ON" or OFF and the 4lTE transaxle may go into limp-in mode when the windshield
wipers are turned "ON".
3.
Windshield wipers stop immediately (instead of parking fully down) when the switch is turned "OFF" or continue to wipe for approximately 10
seconds after being turned "OFF" and then stop wherever they are (instead of parking fully down) either by using the windshield wiper switch or
the ignition switch.
NOTE:
IF THE WIPE OCCURS AT VEHICLE START UP ONLY, MAKE SURE THE IGNITION OFF DRAW (IOD) FUSE IS FULLY SEATED.
PARTS REQUIRED:
POLICY: Reimbursable within the provisions of the warranty.
TIME ALLOWANCE:
Labor Operation No:
08-80-87-93
Replace Multi-function Switch
0.4 Hrs.
08-89-01-92
Replace PDC
0.4 Hrs.
08-52-80-91
Replace Wiper Motor
0.9 Hrs.
FAILURE CODE: P8 - New Part
< PREV PAGE
NEXT PAGE >