< PREV PAGE
NEXT PAGE >
PB 150 V8-318 5.2L VIN T 2-BBL (1983)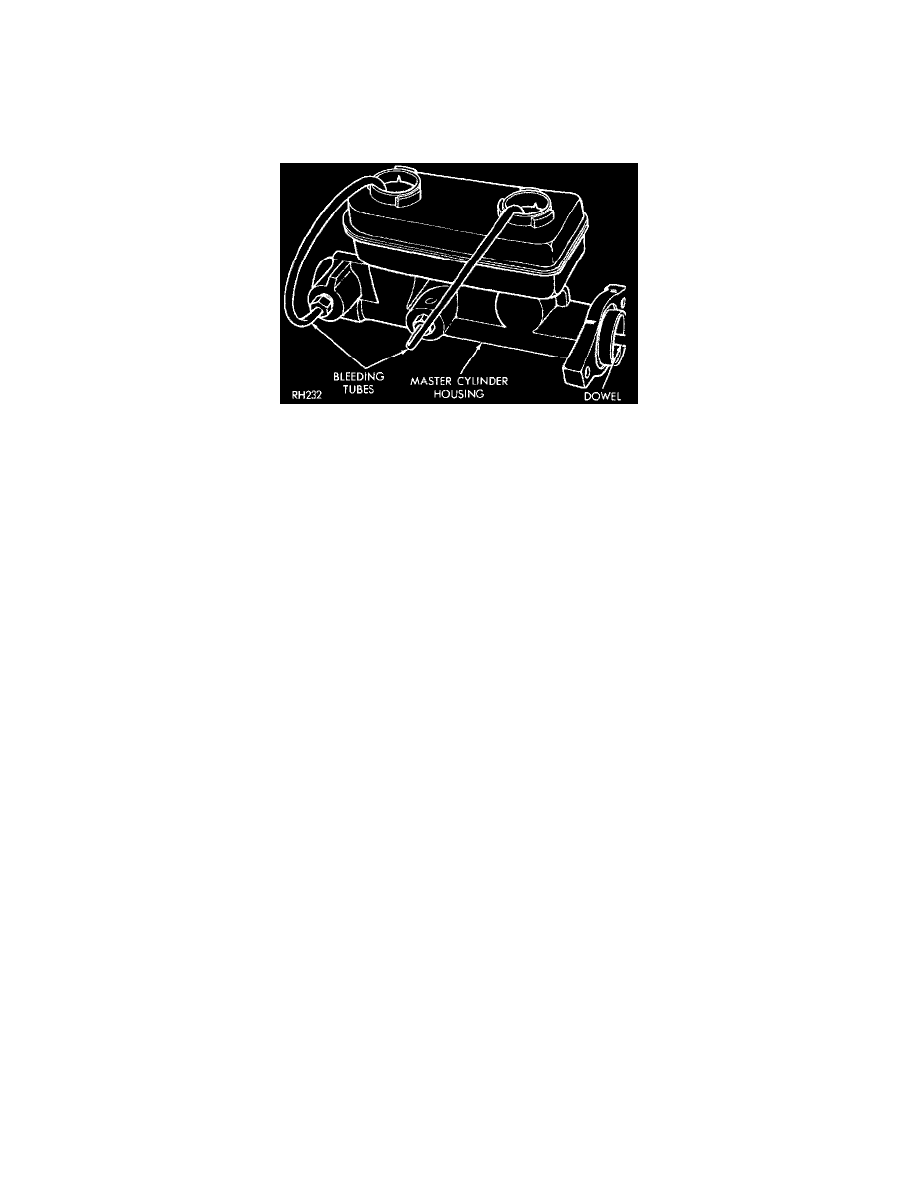 Brake Master Cylinder: Service and Repair
Master Cylinder Bleeding
Bench Bleeding
For additional information see Bench Bleeding Notes. See: Fundamentals and Basics
Fig 3  Bench Bleeding Master Cylinder
NOTE:  It is not necessary to bleed the entire hydraulic system after replacing the master cylinder if the master cylinder has been bench bled and refilled
prior to installation.
1. Clamp master cylinder in vise and attach bleeding tubes.
2. Fill both reservoirs with approved brake fluid.
3. Using a brass rod or wooden dowel, depress push rod slowly and then allow pistons to return under pressure of springs. 
4. Repeat several times until all air bubbles are expelled.
5. Remove bleeding tubes from cylinder, plug outlets and install caps.
6. Remove from vise and install master cylinder on vehicle.
Pressure Bleeding
WITHOUT ABS
1. Clean all dirt and foreign material from the cover of the master cylinder to prevent dirt from falling into the master cylinder reservoir when the
cover is removed.
NOTE:  Using the one-man Bleeder Tank C-3496B (with adaptor C-4578) provides a convenient means for pressurizing the hydraulic system for
bleeding. Follow the manufacturers instructions in the use of the bleeder tools.
NOTE:  Complete bleeding of dual master cylinder is important before performing this procedure!
2. Starting with the right rear wheel, clean all dirt from the bleeder valve. 
3. Place bleeder hose on the bleeder valve and insert the other end of the bleeder hose into a clear jar half filled with clean brake fluid. This will
permit the observation of air bubbles as they are being expelled from the hydraulic system and also prevent air from being drawn back into the
system.
4. Continue this bleeding with: 
a. The left rear wheel. 
b. Next, bleed the right front.
c. Finish with the left front wheel.
5. Repeat this bleeding procedure if there is any indication of air remaining in the hydraulic system:
-
Spongy brake pedal 
-
Warning light ON
Gravity Bleed:  Remove master cylinder reservoir cover and gasket, then fill reservoirs with approved brake fluid. Open disc brake bleeder screws, and
allow fluid and air to drain until stream of fluid is free of air.
Pedal Bleed:  Follow normal procedure of pumping pedal and opening bleeder screws. Do not pump master cylinder dry!
NOTE:  If diagnosis determines that master cylinder alone is cause of trouble, it can be replaced without bleeding the hydraulic system provided the
replacement cylinder is completely bled before installation. After brake tubes are connected have helper apply force to pedal while both tube nuts are
< PREV PAGE
NEXT PAGE >