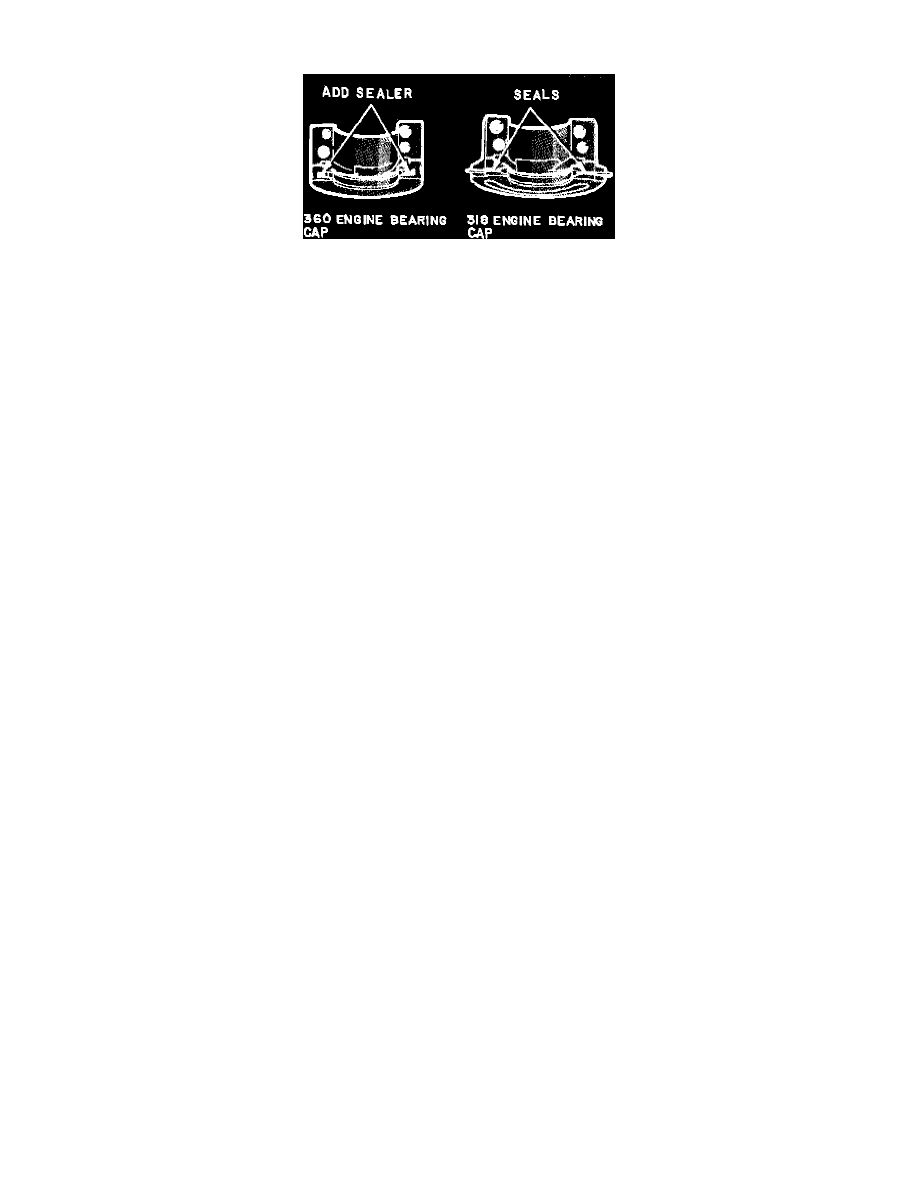 Crankshaft Main Bearing Seal: Service and Repair
Fig. 23 Rear main bearing caps. V8-318 (5.2L) & V8-360 (5.9L)
V8-318 (5.2L) & V8-360 (5.9L)
When necessary to replace rear main bearing oil seal on V8-318 models, removal of engine from vehicle or removal of crankshaft from engine block
is not necessary. Remove engine oil pan as described under ``Oil Pan, Replace,'' then the rear main bearing cap. Using oil seal replacement tool No.
KD-492 or equivalent, remove defective upper seal, then, using same tool, install new seal. After installation, trim upper seal to eliminate frayed ends.
Install rear main bearing cap, then the oil pan as described under ``Oil Pan, Replace.''
Replacement of rear main bearing oil seals is similar to procedure given above for 6 cylinder engines. A seal retainer is not found on these engines;
lower half of seal is installed into groove in rear main bearing cap.
The 318 engine has cap seals in addition to lower seal secured by rear main bearing cap. Cap seal with yellow paint is installed, narrow sealing edge
up, into right side with bearing cap in engine position. Cap seals must be flush with shoulder of bearing cap to prevent oil leakage.
The 360 engine requires sealer to be applied adjacent to rear main bearing oil seal as cap seals are not used, Fig. 23. After applying sealer, quickly
assemble rear main bearing cap to block and torque to specifications.
V8-446 (7.3L)
Crankshaft rear bearing oil seal consists of two pieces of special packing. One piece is installed in the groove in the rear bearing cap and the other
piece is installed in a similar groove in the cylinder block.
Position the rear bearing seal in the groove in the cylinder block. Lay an improvised mandrel in the bearing bore and strike the mandrel with a hammer
to drive the seal into the groove. Install the seal in the bearing cap in a similar manner. Using a sharp knife, cut off both ends of each seal which
project out of the grooves. When cutting off the ends of the seals, do not leave frayed ends which would prevent proper seating of the bearing cap if
the ends should extend between cap and cylinder block.