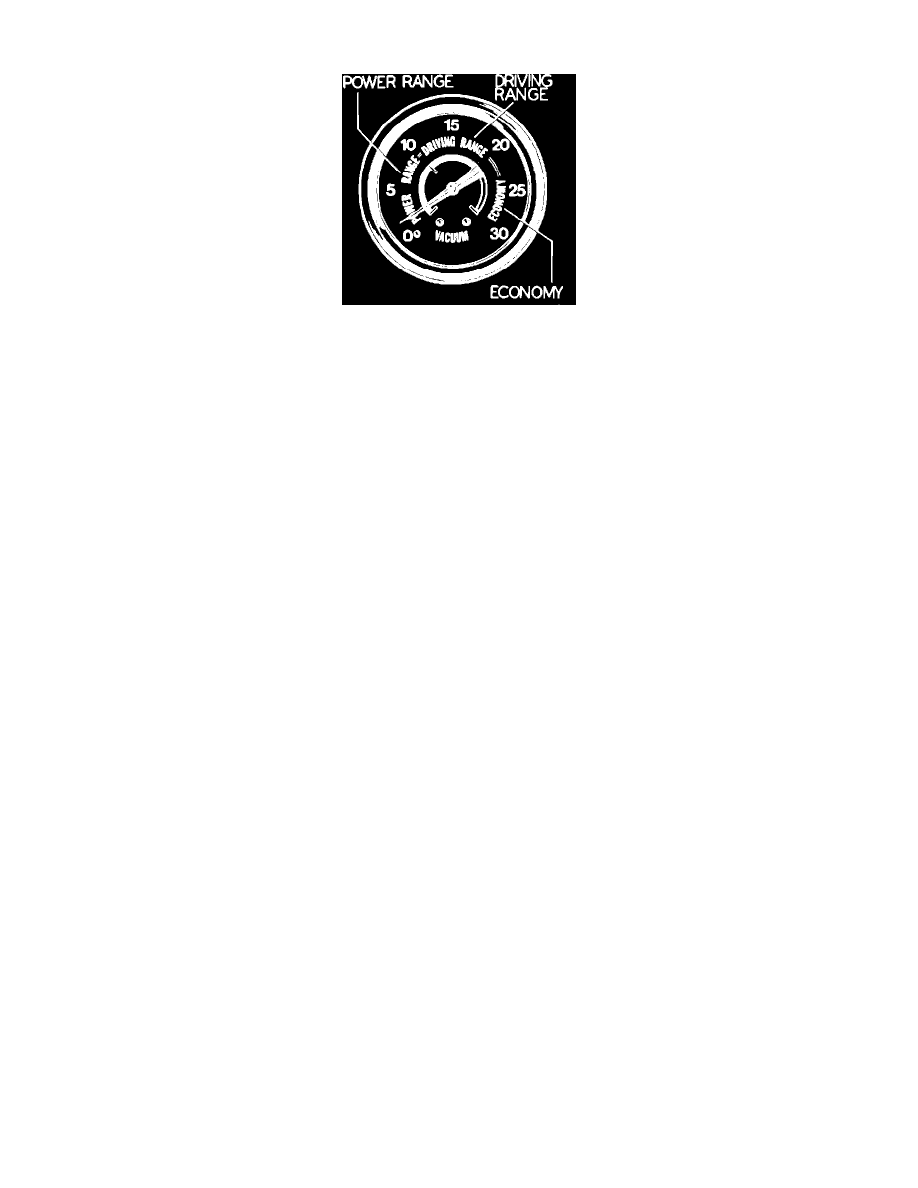 Vacuum Gauge/Economy Meter: Description and Operation
Fig. 2 Typical vacuum gauge
    This gauge measures intake manifold vacuum. The intake manifold vacuum varies with engine operating conditions, carburetor adjustments, valve
timing, ignition timing and general engine condition.
    Since the optimum fuel economy is directly proportional to a properly functioning engine, a high vacuum reading on the gauge relates to fuel
economy. For this reason some manufacturers call the vacuum gauge a "Fuel Economy Indicator." Most gauges have colored sectors the green sector
being the "Economy" range and the red the "Power" range. Therefore, the vehicle should be operated with gauge registering in the green sector or a high
numerical number for maximum economy.
FUEL ECONOMY WARNING SYSTEM
    This system actually monitors the engine vacuum just like the vacuum gauge, but all it registers is a low vacuum. The light on the instrument panel
warns the vehicle operator when engine manifold vacuum drops below the economical limit. Switch operation is similar to that of the oil pressure
indicating light, except that the switch opens when vacuum, rather than oil pressure, is applied.
TROUBLESHOOTING
Fuel Economy Warning Light
    The fuel economy warning light should go on when the ignition is turned on. If it does not light, disconnect the wire from the fuel economy vacuum
switch connector and ground the wire to the frame or cylinder block. If the warning light still does not go on, check for burned out indicating bulb or an
open in the harness between the vacuum switch and instrument panel. If the warning light goes on, circuit is functioning and the vacuum switch should be
checked for proper ground. Remove and clean the mounting bracket screws and the mounting surfaces.
    If system still does not operate, perform the following:
    With the electrical connector and vacuum tube disconnected from the switch, connect a self-powered test light to the switch electrical connector and to
the vacuum gauge mounting bracket. Attach a vacuum pump to gauge (Rotunda Model No. ZRE-10662 hand operated). If the following conditions are
not met the switch has to be replaced:
1. With vacuum applied test light should be "Off".
2. With no vacuum to the vacuum switch test light should be "On".
3.  If the warning light remains lit when it normally should be out, check vacuum hose to vacuum switch for damage or plugged condition.