< PREV PAGE
NEXT PAGE >
PB 150 V8-318 5.2L VIN T 2-BBL (1983)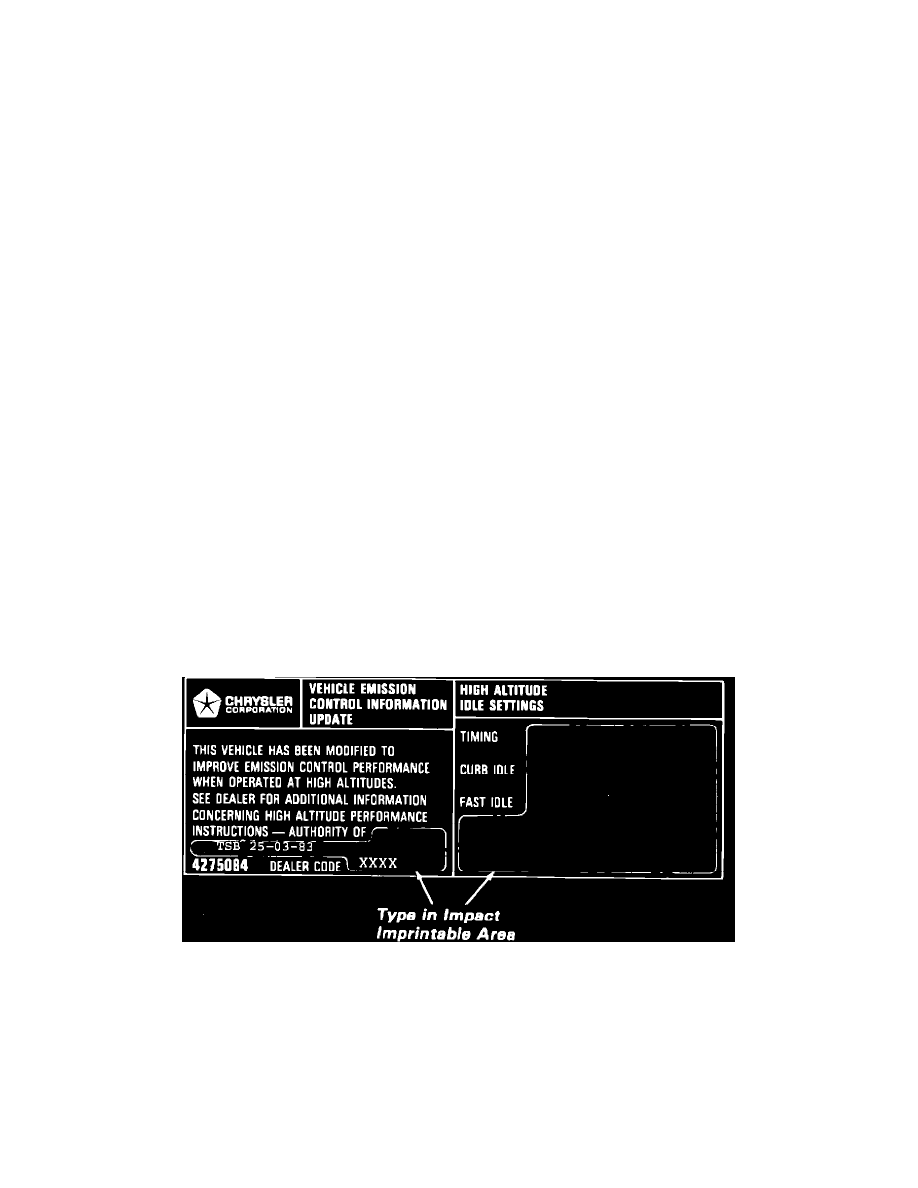 Technical Service Bulletin # 250383
Date: 830808
High Altitude Conversion Packages
Models
1983 Light Duty Trucks With 2.2L, 225-1, 318-2 & 318- 4BBL Engines & Low Altitude Emission Systems
Subject
High Altitude Conversion Packages & Adjustment For Improved Engine Performance & Emissions
Index
EMISSIONS
Date
August 8, 1983
No.
25-03-83
P-2790-C
This Technical Service Bulletin is a supplement to and may be used in conjunction with Technical Service Bulletin #25-05-82.
A package is now available to accommodate a customer who wishes to convert his 1983 low altitude emission package to the high altitude (over 4,000
feet above sea level) emission package.
Vehicles with the low altitude package transferred to service in high altitude areas may exhibit undesirable driveability.. However, the installation of a
high altitude conversion package is voluntary and at the customer's expense..
The high altitude field conversion packages and procedures outlined below have been authorized on the following 1983 non-altitude equipped engine
families in service at altitudes above 4,000 feet above sea level.
Conversion Instructions
FIGURE 1
Sea Level to Altitude
IMPORTANT:
IN SOME OF THE CONVERSION PROCEDURES YOU WILL BE REQUIRED TO INSTALL A NEW VEHICLE EMISSION
CONTROL INFORMATION UPDATE (VECIU) LABEL, PN 4275084.
THIS LABEL HAS TWO AREAS THAT ARE IMPACT IMPRINTABLE WITH A TYPEWRITER (SEE FIGURE 1).
If you are required to readjust timing, curb idle speed, or fast idle speed to a specification different than the original VECI label specification, then just
type in the new specification after the subject operation. If you are asked to refer to the original VECI label specifications, type in on the right hand side
of the label "Refer to Original VECI Label."
< PREV PAGE
NEXT PAGE >