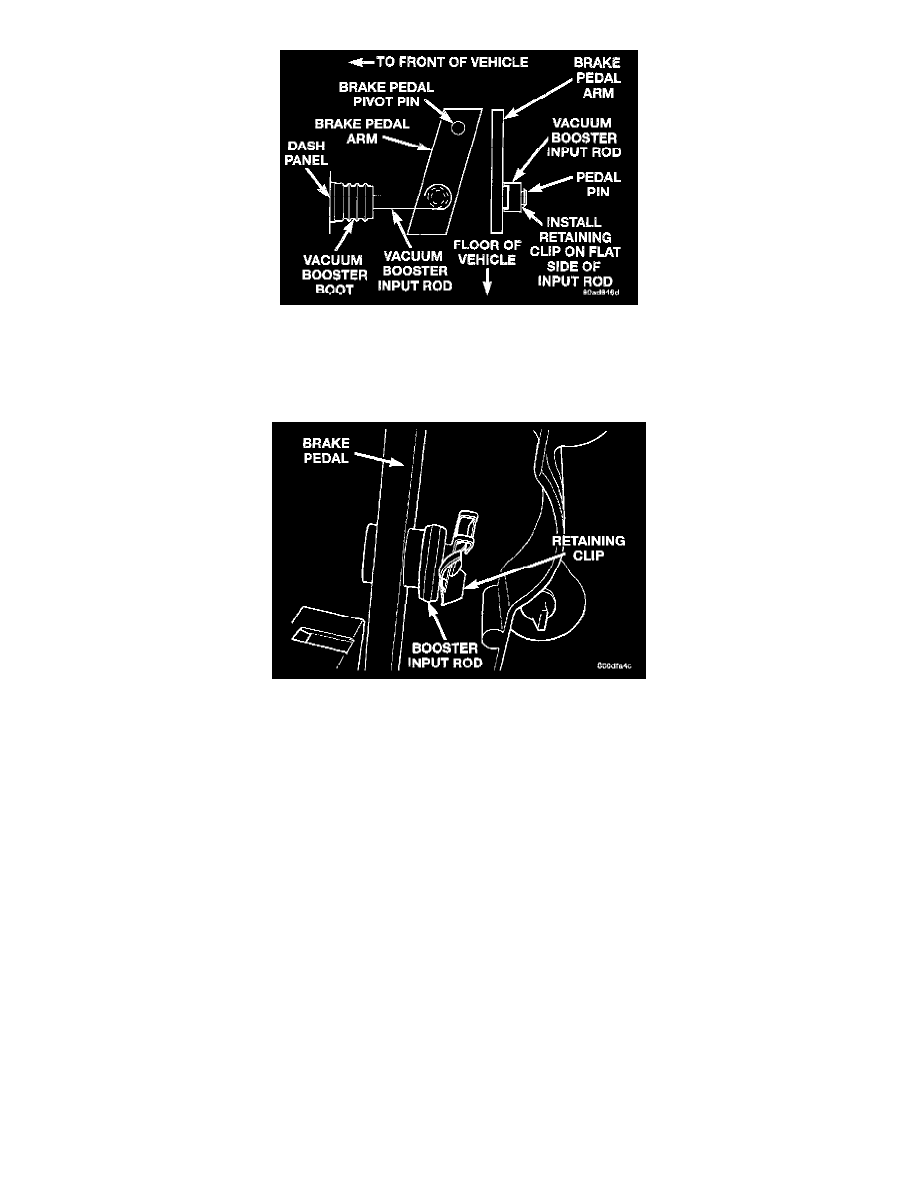 Vacuum Booster Input Rod Installed Position
10. Install input rod for vacuum booster on brake pedal pin.
Caution:  When installing the brake pedal pin on the vacuum booster input rod, do not re-use the old retaining clip.
Retaining Pin Installed On Brake Pedal Pin
11. Install a NEW retaining clip on the brake pedal pin. The retaining clip must be installed on the flat side of the vacuum booster input rod.
12. Install body controller on cowl panel. Install and securely tighten the body controller mounting bolts.
13. Install wiring harnesses on body controller. Be sure wiring harness connectors are securely locked into connectors on body controller.
Note:  Prior to installing stop lamp switch into bracket, the plunger must be moved to its fully extended position using the procedure in Step 14.
14. Hold stop lamp switch firmly in one hand. Using other hand, pull outward on the plunger of the stop lamp switch until it has ratcheted out to its
fully extended position.
15. Connect the wiring harness connector to the stop lamp switch.
16. Install the stop lamp switch in the brake pedal bracket. Stop lamp switch is installed using the following procedure. Depress the brake pedal as far
down as possible. Then while holding brake pedal down, align index key on switch with slot in square hole of mounting bracket. When switch is
fully installed in bracket, rotate stop lamp switch in a clockwise direction approximately 30 degrees.
Caution:  Do not use excessive force when pulling back on brake pedal to adjust the stop lamp switch. If to much force is used, damage to the
stop lamp switch or striker can result.
17. Gently pull back on the brake pedal until it stops moving. This will cause the switch plunger to ratchet back to its correct position.
18. Install knee blocker panel on lower instrument panel. Install and securely tighten the 2 screws attaching knee blocker panel to instrument panel.
19. Connect the remote ground cable for the battery on the ground post located on left shock tower.