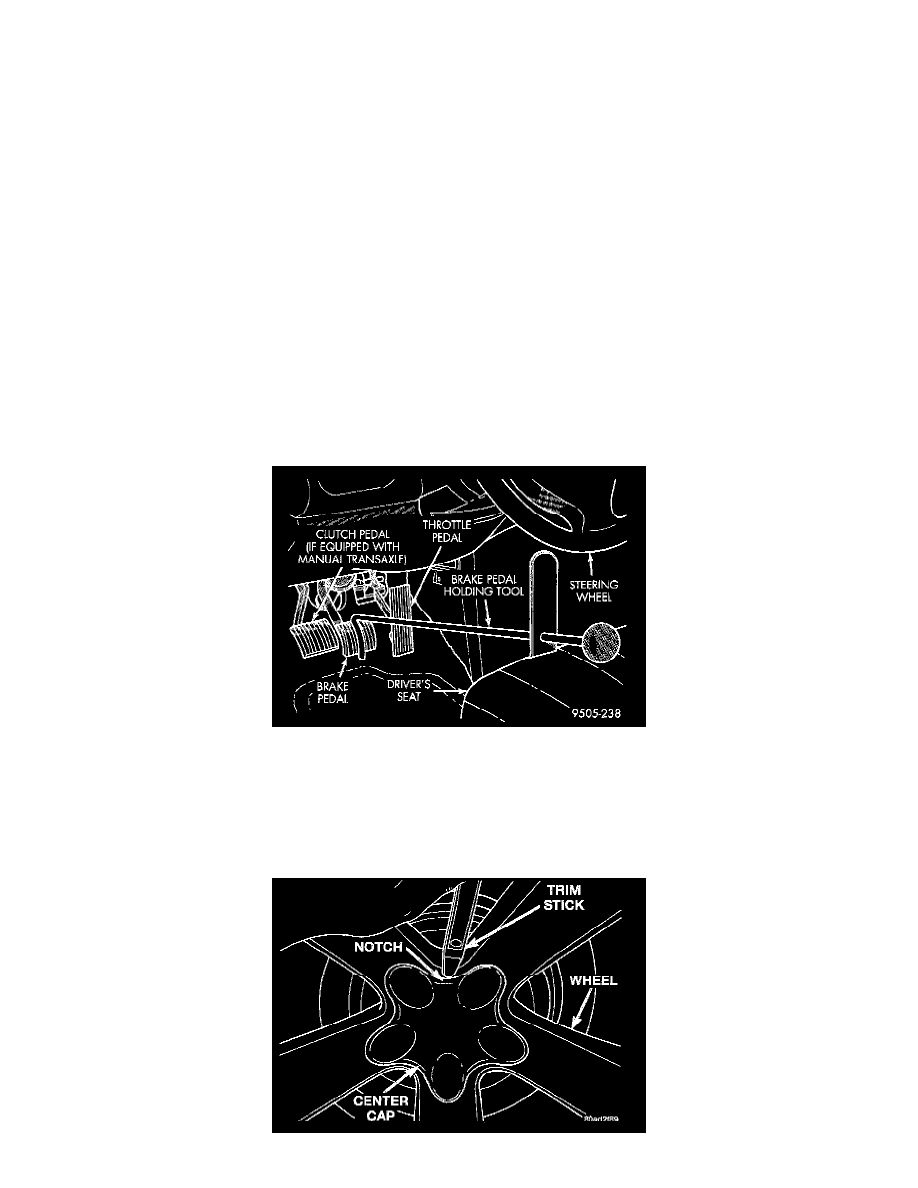 Brake Caliper: Service and Repair
Removal and Installation
Front
Service Precautions 
WARNING: ALTHOUGH FACTORY INSTALLED BRAKE LININGS USED ON THIS VEHICLE ARE MADE FROM ASBESTOS
FREE MATERIALS, SOME AFTER MARKET BRAKE LINING MAY CONTAIN ASBESTOS. THIS SHOULD BE TAKEN INTO
ACCOUNT WHEN SERVICING A VEHICLE'S BRAKE SYSTEM, WHEN AFTERMARKET BRAKE LININGS MAY HAVE BEEN
INSTALLED ON THE VEHICLE. ALWAYS WEAR A RESPIRATOR WHEN CLEANING BRAKE COMPONENTS AS ASBESTOS
CAN CAUSE SERIOUS BODILY HARM SUCH AS ASBESTOSIS AND OR CANCER. NEVER CLEAN BRAKE COMPONENTS BY
USING COMPRESSED AIR, USE ONLY A VACUUM CLEANER SPECIFICALLY DESIGNED FOR THE REMOVAL OF BRAKE
DUST. IF A VACUUM CLEANER IS NOT AVAILABLE, CLEAN BRAKE PARTS USING ONLY WATER-DAMPENED SHOP
TOWELS. DO NOT CREATE BRAKE LINING DUST BY SANDING BRAKE LININGS WHEN SERVICING A VEHICLE. DISPOSE OF
ALL DUST AND DIRT SUSPECTED OF CONTAINING ASBESTOS FIBERS USING ONLY SEALED AIRTIGHT BAGS OR
CONTAINERS. FOLLOW ALL RECOMMENDED SAFETY PRACTICES PRESCRIBED BY THE OCCUPATIONAL SAFETY AND
HEALTH ADMINISTRATION (OSHA) AND THE ENVIRONMENTAL PROTECTION AGENCY (EPA), F70R HANDLING AND
DISPOSAL OF PRODUCTS CONTAINING ASBESTOS. 
Caution:  During service procedures, grease and other foreign material must be kept off the brake shoes, and the braking surfaces of the rotor and
external surfaces of hub/bearing.
Remove 
Brake Pedal Holding Tool Installed
1. Using a brake pedal holding tool such as the one shown, depress the brake pedal past its first inch of travel, and secure it in this position. This will
isolate the master cylinder from the brake hydraulic system, not allowing the fluid to drain from the reservoir.
2. Raise vehicle on jackstands or centered on a hoist. 
Note:  When removing the center cap from the wheel do not use a sharp or hard tool. Use of such a tool can mare the finish on the wheel and
damage the center cap.