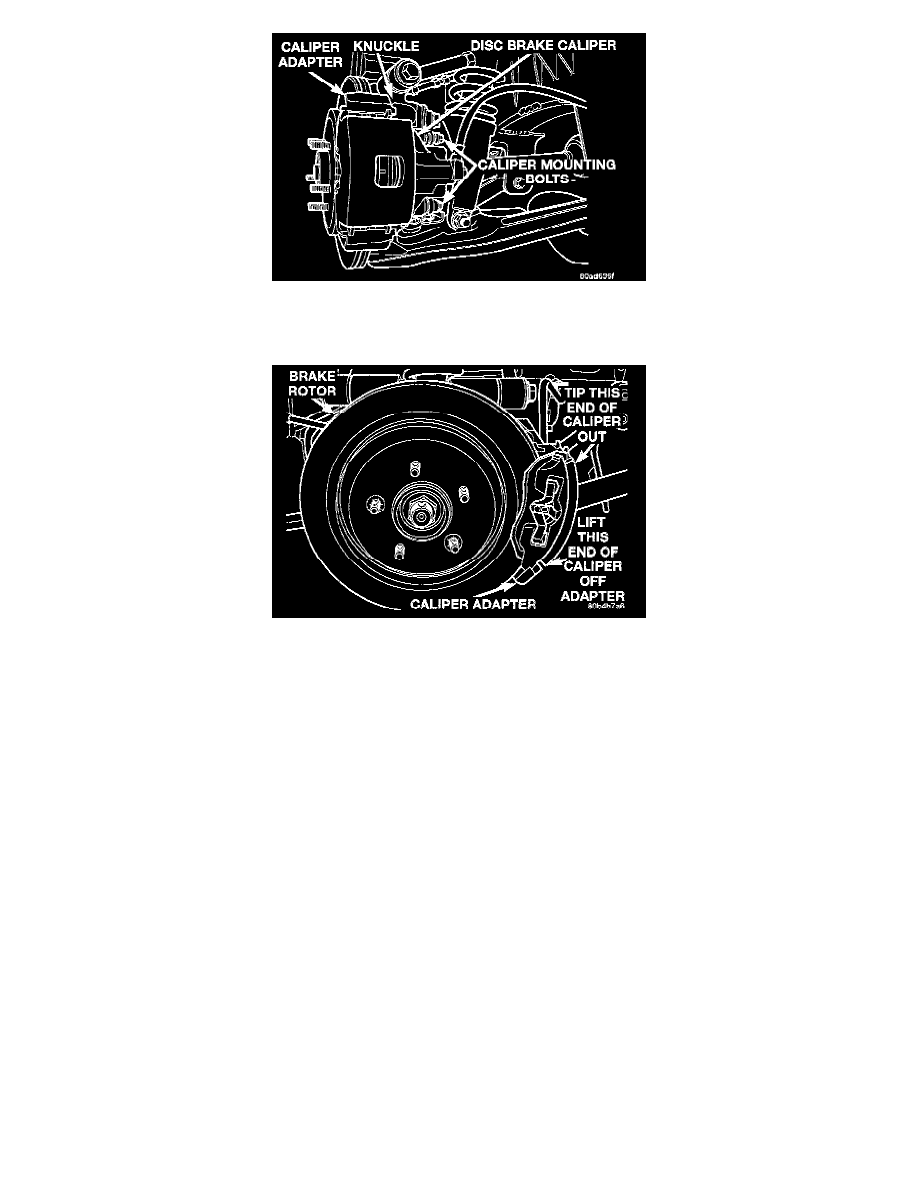 Rear Caliper Mounting Bolts
6. Remove the 2 bolts mounting the disc brake caliper to the caliper adapter.
Rear Brake Caliper Remove/Install
7. Remove the disc brake caliper from the caliper adapter. Caliper is removed by first rotating the free end of the caliper away from the caliper
adapter. Then with the free end of the caliper rotated away from the adapter, lift the caliper off the machined abutment on the adapter.
Install 
Note:  Step 1 below is only required when installing a caliper after new brake shoes have been installed.
1. Completely retract the caliper piston back into the bore of the caliper.
2. Lubricate both abutments on the caliper adapter with a liberal amount of Mopar Brake Grease, or an equivalent.
Caution:  Use care when installing the caliper on the caliper adapter so the seals on the caliper guide pin bushings do not get damaged.
3. Install the disc brake caliper on the caliper adapter, reversing the removal procedure.
Caution:  When installing the caliper mounting bolts into the caliper adapter be careful not to cross thread the caliper guide pin bolts
4. Install the caliper mounting bolts. Tighten the guide pin bolts to a torque of 27 Nm (20 ft. lbs.).
5. Install the banjo bolt securing the brake hose to the brake caliper. Make sure one brass washer is positioned on each side of the brake hose fitting
where the banjo bolt goes through. Torque the banjo bolt to 48 Nm (35 ft. lbs.).
6. Install the wheel and tire.
7. Tighten the wheel mounting stud nuts in the proper sequence until all nuts are torqued to half the specified torque. Then repeat the tightening
sequence to the full specified torque of 135 Nm (100 ft. lbs.).
8. Install the center cap on the wheel.
9. Remove jackstands or lower hoist.
10. Remove the brake pedal holding tool from the brake pedal.
11. Pump the brake pedal to seat the pads.
12. Bleed any air from the brake caliper. Refer to Brake Bleeding.