< PREV PAGE
NEXT PAGE >
Prowler V6-3.5L VIN G (1999)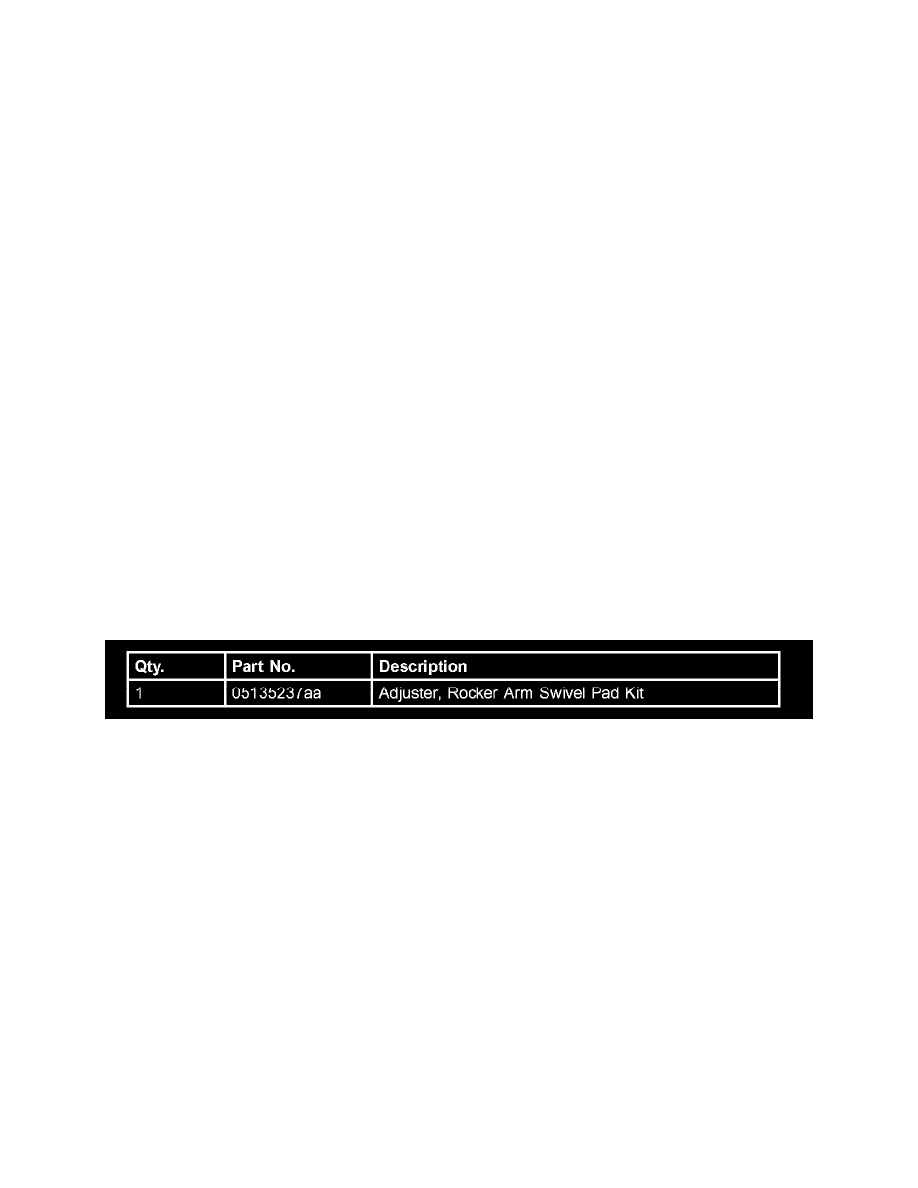 Rocker Arm Assembly: All Technical Service Bulletins
Engine - Cold Start Ticking Noise
NUMBER: 09-002-04
GROUP: Engine
DATE: January 27, 2004
THIS BULLETIN SUPERSEDES SERVICE BULLETIN 09-005-03 DATED NOVEMBER 21, 2003, WHICH SHOULD BE REMOVED FROM
YOUR FILES.
ALL REVISIONS ARE HIGHLIGHTED WITH **ASTERISKS** AND INCLUDES AN ADDITIONAL VEHICLE MODEL AND YEARS.
SUBJECT:
Short Duration Cold Engine Start-up Ticking Like Sound
OVERVIEW:
This bulletin involves replacing the swivel pads and swivel pad retainer on the exhaust rocker arms.
MODELS:
1998 - **2004**
(LH)
300M/Concorde/Intrepid/LHS
2004
(CS)
Pacifica
**1999 - 2002
(PR)
Prowler**
NOTE:
This bulletin applies to vehicles built prior to March 31, 2003 (MDH 0331xx) equipped with a 3.2L or 3.5L engine (sales codes EGC, EGE, EGG,
EGJ, EGK, EGN AND EGW).
SYMPTOM/CONDITION:
Engine ticking like sound after a cold engine start-up. The ticking like sound may only last 2 to 3 seconds.
PARTS REQUIRED:
REPAIR PROCEDURE:
1.
Remove cylinder head covers. Refer to the service information available on TechCONNECT or in the appropriate service manual in Section 9 -
ENGINE/CYLINDER HEAD/CYLINDER HEAD COVER(S) - REMOVAL for detailed removal instructions.
< PREV PAGE
NEXT PAGE >