< PREV PAGE
NEXT PAGE >
Prowler V6-3.5L VIN G (1999)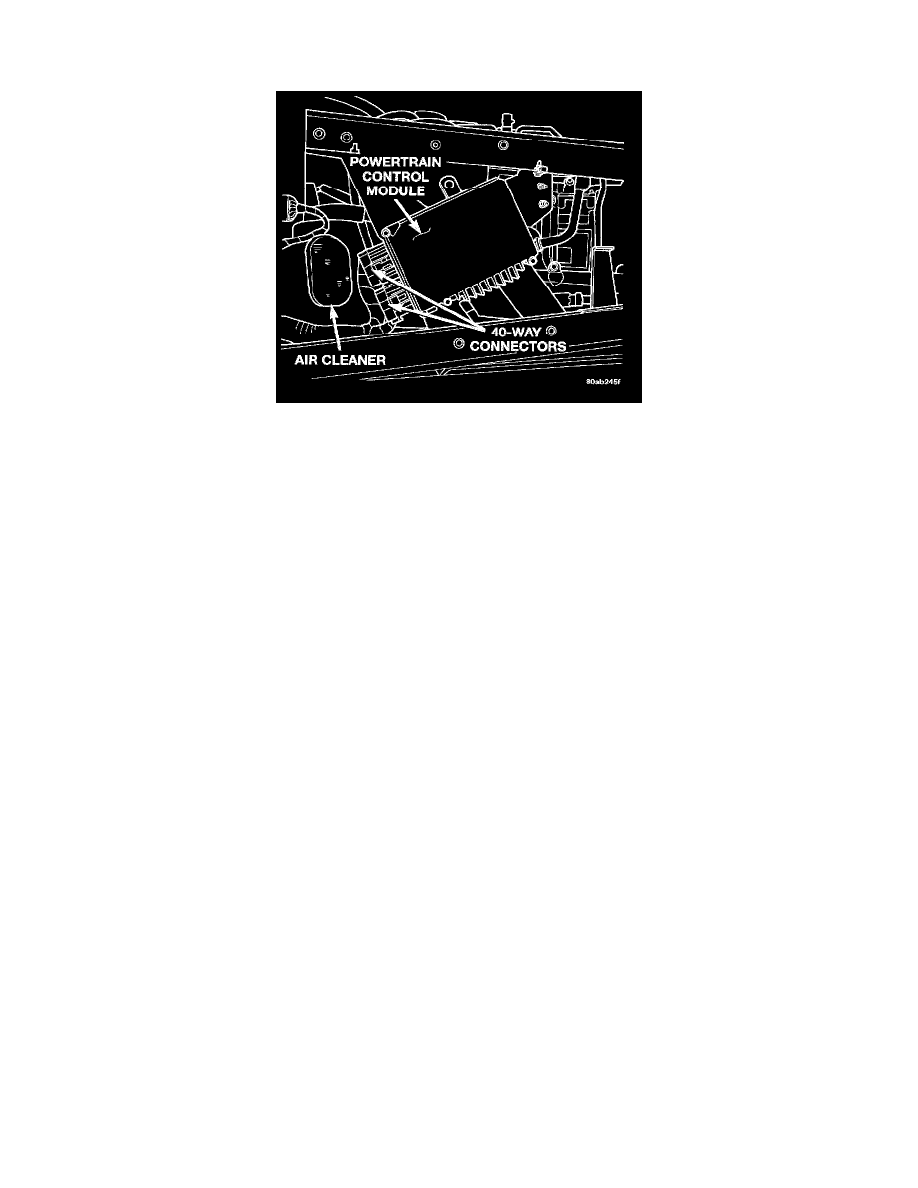 Powertrain Control Module: Description and Operation
POWERTRAIN CONTROL MODULE
Powertrain Control Module
The PCM regulates the ignition system. The PCM supplies battery voltage to the ignition coil through the Automatic Shutdown (ASD) Relay. The
PCM also controls the ground circuit for the ignition coil. By switching the ground path for the coil on and off, the PCM adjusts ignition timing to
meet changing engine operating conditions.
During the crank-start period the PCM advances ignition timing a set amount. During engine operation the following inputs determine the amount
of spark advance provided by the PCM.
-
Intake air temperature
-
Coolant temperature
-
Engine RPM
-
Available manifold vacuum
-
Knock sensor
The PCM also regulates the fuel injection system. Refer to the Fuel Injection.
5 VOLT SUPPLY - PCM OUTPUT
The PCM supplies 5 volts to the following sensors:
-
A/C pressure transducer
-
Engine coolant temperature sensor
-
Manifold absolute pressure sensor
-
Throttle position sensor
-
Linear EGR solenoid
8 VOLT SUPPLY - PCM OUTPUT
The PCM supplies 8 volts to the crankshaft position sensor, camshaft position sensor.
SPEED CONTROL SYSTEM OPERATION
The speed control electronic control circuitry is integrated into the Powertrain Control Module (PCM). The PCM is located in the engine
compartment. The PCM speed control functions are monitored by the On-Board Diagnostics (OBD). All OBD sensed systems are monitored by
the PCM. Each monitored circuit is assigned a Diagnostic Trouble Code (DTC). The PCM will store a DTC in electronic memory for any failure
it detects. See Starting and Charging/Charging System/Testing and Inspection/Procedures/On-Board Diagnostic Tests. The PCM cannot be
repaired and must be replaced if faulty.
NOTE:  Use the DRB scan tool to reprogram the new PCM with the vehicles original identification number (VIN) and the vehicles original
mileage. If this step is not done a Diagnostic Trouble Code (DTC) may be set.
< PREV PAGE
NEXT PAGE >