< PREV PAGE
NEXT PAGE >
Prowler V6-3.5L VIN G (1999)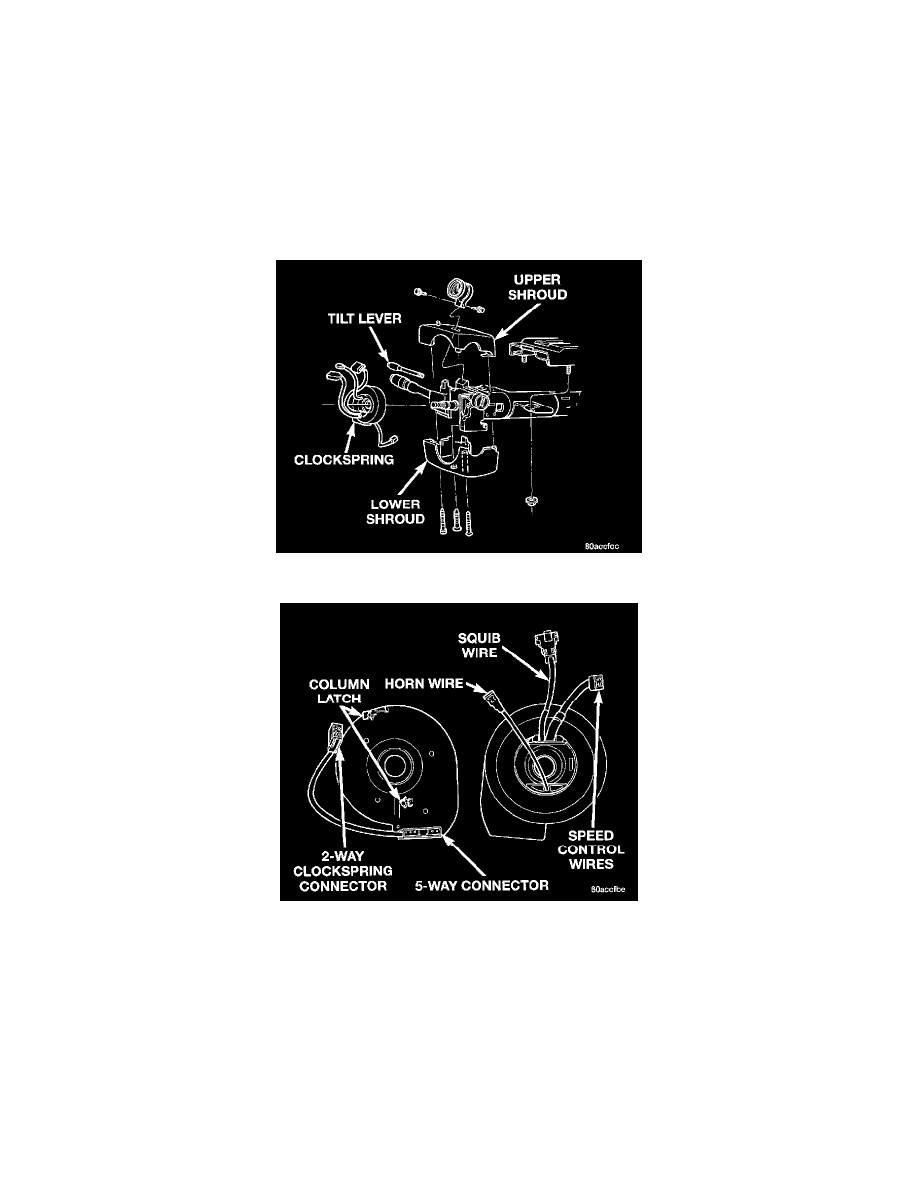 Clockspring Assembly / Spiral Cable: Service and Repair
WARNING: Disconnect and isolate the battery negative (ground) cable before beginning any airbag system component removal or installation
procedure. This will disable the airbag system. Failure to disconnect battery could result in accidental airbag deployment and possible personal
injury. Allow system capacitor to discharge for 2 minutes before removing any airbag components.
REMOVAL
1. Turn the steering wheel until the front wheels are in the straight-a head position before starting the procedure.
2. Disconnect and isolate the battery negative cable. If the airbag has not been deployed, wait two minutes for the system capacitor to discharge
before further service.
3. Remove the Driver Airbag Module as described in this group.
4. Disconnect the speed control switches wire connectors.
5. Remove the steering wheel with a steering wheel puller.
6. Remove move tachometer. Remove the upper and lower steering column shrouds to gain access to the clockspring wire harness connectors.
7. Disconnect the wire harness connector between the clockspring and the instrument panel wire harness, located near the base of the steering
column.
8. To remove the clockspring, lift the locating fingers of the clockspring assembly from the steering column as necessary. The clockspring cannot be
repaired. It must be replaced if faulty, or if the Driver Airbag Module has been deployed.
INSTALLATION
1. When installing the clockspring, snap the clockspring onto the steering column. If the clockspring is not properly positioned, refer to Clockspring
Centering in this group before installing the steering wheel.
2. Connect the clockspring wire harness connector into the instrument panel wire harness.
3. Install the steering column shrouds. Be certain that the clockspring wire harness is inside the shrouds. Install tachometer.
4. The front wheels should still be in the straight- ahead position. Install the steering wheel being certain to fit the flats on the hub of the steering
wheel onto the formations on the inside of the clockspring. Pull the wire harnesses from the clockspring through the upper and lower holes in the
steering wheel hub. Tighten the steering wheel nut to 3.5 Nm (30 ft. lbs.). Be certain not to pinch the wiring between the steering wheel and the
< PREV PAGE
NEXT PAGE >