< PREV PAGE
NEXT PAGE >
Prowler V6-3.5L VIN G (1999)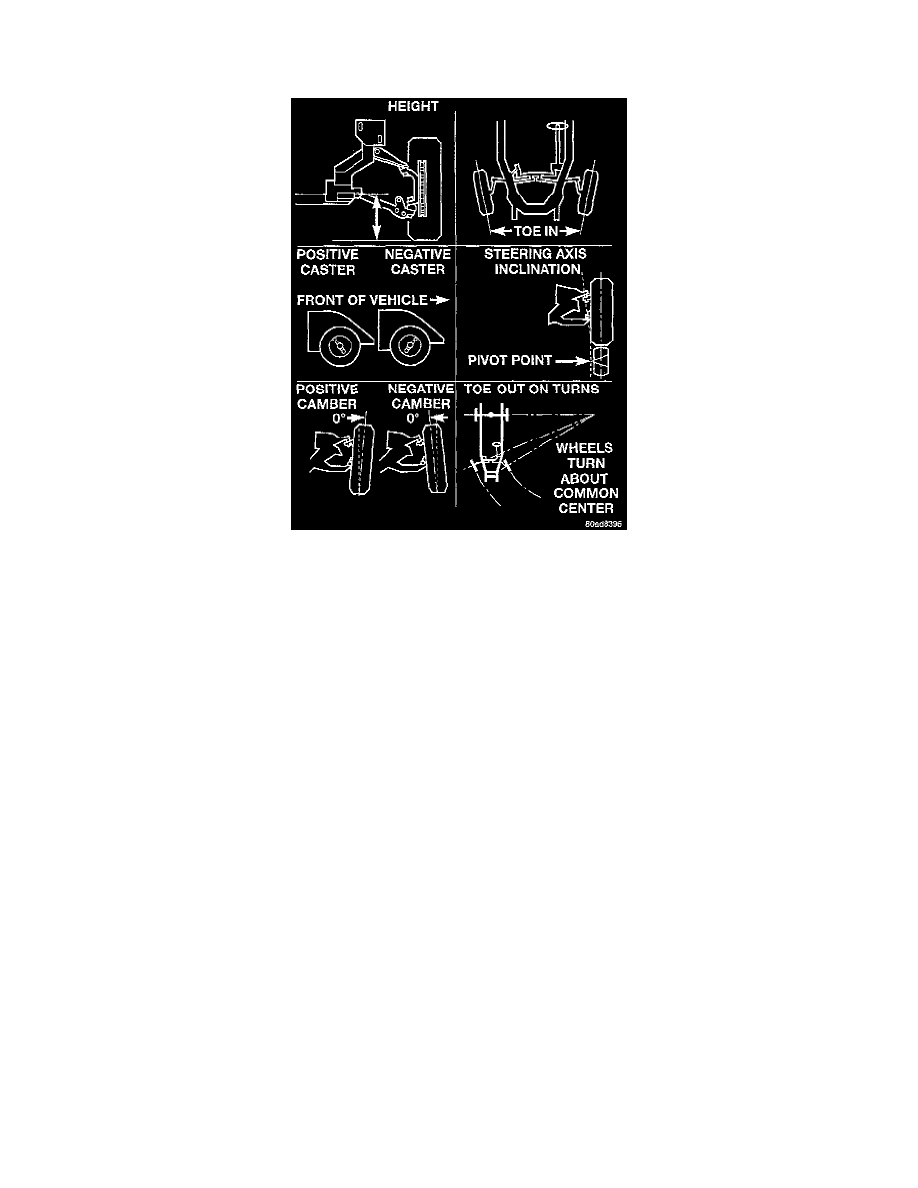 Alignment: Description and Operation
General Information
Front and rear wheel alignment involves the correct positioning of the tire contact patch in relation to the pavement. This involves the correct adjustment
or positioning of all the interrelated suspension angles and linear distances such as caster, camber and wheel toe. An alignment is considered essential for
efficient steering, good directional stability and to prevent abnormal tire wear.
NOTE:  Routine inspection of front and rear suspension and steering components is a good preventative maintenance practice. Inspection also helps to
ensure safe operation of the vehicle.
The method of measuring front and rear wheel alignment will vary depending on the type of alignment equipment being used. The instructions provided
by the manufacturer of the equipment should always be followed. The exception is that alignment specifications contained in this manual (or a
subsequent service bulletin) should always have precedence.
There are 5 suspension system and steering linkage measurements that are used on this vehicle to determine if the front and rear wheel alignment is
correct.
On this vehicle the suspension angles that can be adjusted are as follows: Front wheel caster, camber and toe and rear wheel camber and toe. On this
vehicle rear wheel caster is not a readable or an adjustable angle. Steering axis inclination and wheel toe out on turns although not adjustable, these
measurements are valuable in determining if there are bent or damaged components in the vehicle suspension.
NOTE:  On this vehicle the suspension geometry is such that the alignment settings change rapidly as the vehicle changes height. For this reason it is
extremely important that all suspension specifications be checked and adjusted with the vehicle at the correct curb height. The curb height of the vehicle
must be measured with the fuel tank fully filled, all fluids at the correct fill level and all factory supplied equipment must be on the vehicle. This should
put the vehicle at the correct weight.
NOTE:  The front and rear curb height must be measured before any alignment measurement or adjustment is initiated. See Vehicle Curb Height
Information in this section of the service manual for the required procedure.
The measurements and adjustments should be made ill the following sequence.
CAUTION:  Do not attempt to modify any suspension or steering component by heating and bending.
< PREV PAGE
NEXT PAGE >