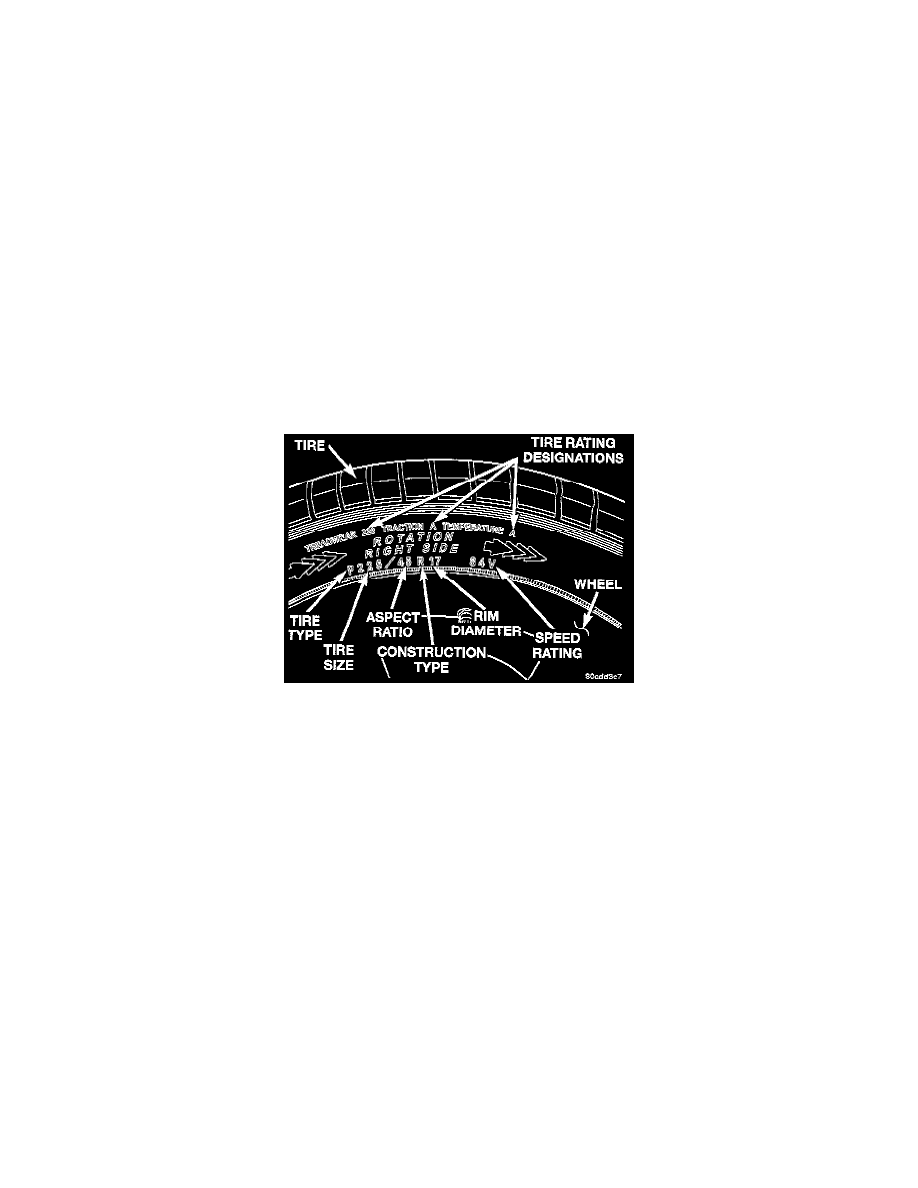 The use of oversize tires not listed in the specification charts may cause interference with vehicle components. Under extremes of suspension and
steering travel, interference with vehicle components may cause tire damage.
Snow Tire Information
There are no snow tires available for this vehicle. Installation of snow tires could cause adverse handling of the vehicle. Due to the lack of the proper
speed rating sudden tire failure may occur at high speed operation.
Tire Chain Information
Tire chains cannot be used on this vehicle. Installation of tire chains will cause damage to the wheels, tires and body panels of the vehicle.
Tire Construction
This vehicle is fitted with special high-performance radial-ply tires having a directional tread pattern.
Radial-ply tires improve handling, tread life, and ride quality and decrease rolling resistance.
Radial-ply tires must always be used in sets of four and under no circumstances should they be used on the front only.
Radial-ply tires have the same load carrying capacity as other types of tires of the same size. They also use the same recommended inflation pressures.
Tire Rating
The tread wear/traction/heat (temperature) resistance ratings are also imprinted on the tire sidewall (e.g., 250 AB).
The tread wear rating is expressed as a 3-digit number. It is a comparative value based on the wear rate of a tire when tested under controlled conditions.
The test is done on a U.S. Government designated test course. For example, a tire with a tread wear rating of 300 should have a 50 percent better tread
life than a tire with a 150 rating. In reality, the tread wear performance of the various tires greatly depends upon:
-
The driving habits of the owner
-
The actual driving conditions
-
Tire service attention
-
Climate
-
Road surface temperature
-
The road/street surfaces that the tires encounter
The tire traction and the heat (temperature) resistance ratings follow the tread wear rating. They are encoded either "A","B" or "C". An "A" code
represents the best rating in either category.
The traction ratings are based upon a tire's ability to stop a vehicle on wet pavement when tested under controlled conditions on U.S. Government
designated asphalt and concrete test surfaces. The traction rating assigned to a specific tire is based on straight-ahead braking traction tests and does not
include cornering/turning traction.
The heat rating represents a tire's resistance to temperature increases from friction and its ability to dissipate heat. This test is done under controlled
conditions on a specified indoor laboratory test wheel. Sustained high temperature can cause the construction material of a tire to degenerate. This will
greatly reduce the life of the tire. A "C" rating represents the minimum acceptable heat resistance performance for a tire.
NOTE:  The heat resistance rating is based on the tire being properly inflated and not overloaded. Excessive speed, under-inflation and/or excessive
load can cause the temperature of a tire to increase above normal. This excessive heat may cause tire failure.