< PREV PAGE
NEXT PAGE >
Prowler V6-3.5L VIN G (1999)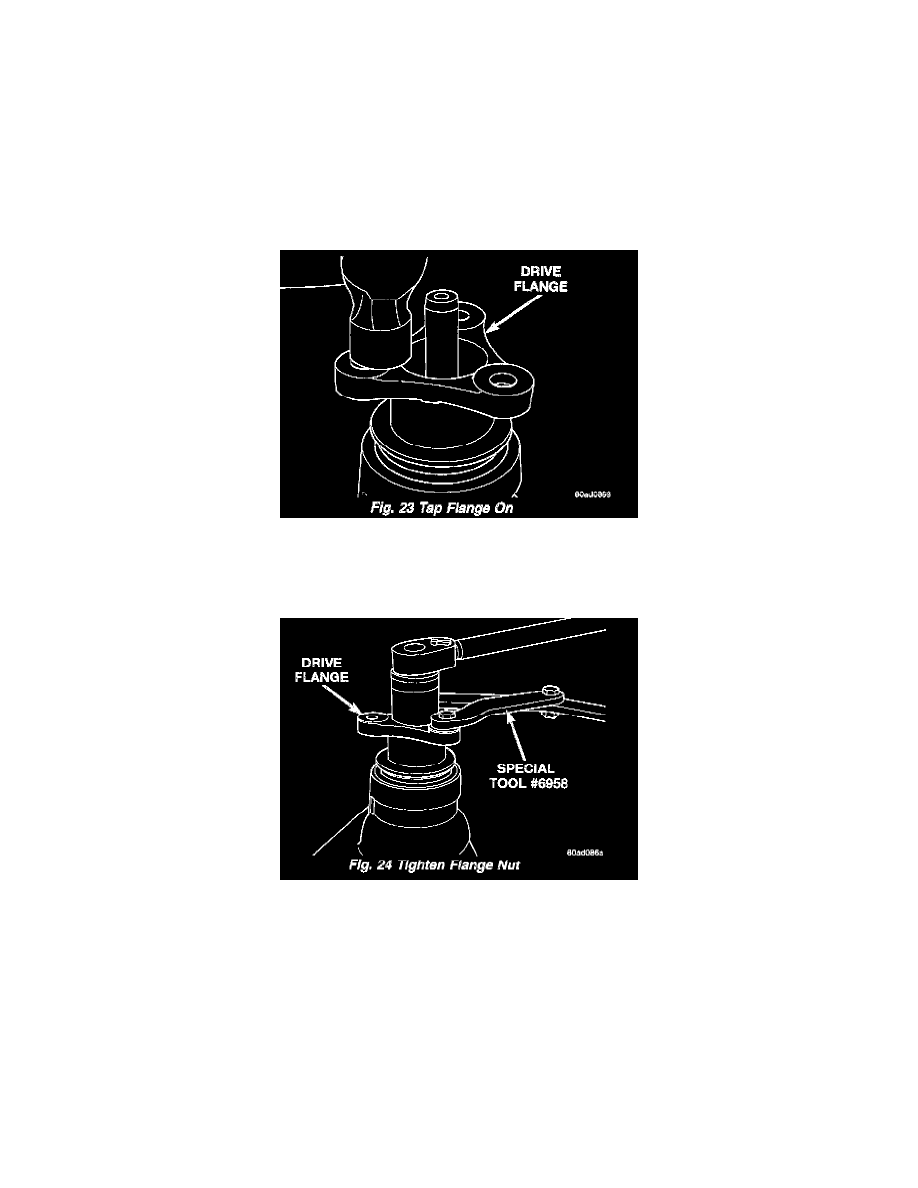 Bell Housing: Adjustments
Transaxle Bell Housing
BEARING PRELOAD
To establish the correct bearing preload, a new crush sleeve must be used whenever disassembly of the bell housing is necessary. A new flange nut
should also be used to gain the proper preload specification.
1. Install new crush sleeve.
2. Lightly lubricate bearing and install shaft into housing.
3. Lightly lubricate and install outer bearing onto shaft in housing.
4. Position flange onto shaft and align shaft splines to flange.
Fig. 23
5. Lightly tap bearing into position using flange (Fig. 23).
6. Install new outer seal using Special Tool # C-4698-2.
Fig. 24
7. Install the washer and a new nut on the shaft. Tighten flange nut using Special Tool # 6958 holder (Fig. 24). Use a deep 1 1/8 inch socket.
8. Tighten the nut to 298 Nm (220 ft. lbs.) minimum. Do not over-tighten. Maximum torque is 380 Nm (280 ft. lbs.).
CAUTION:  Never loosen flange nut to decrease shaft bearing rotating torque and never exceed specified preload torque. If preload torque is
exceeded a new collapsible spacer must be installed. The torque sequence will have to be repeated.
NOTE:  A new collapsible spacer will start to crush at around 265 ft. lbs. torque. If the spacer requires more than 280 ft. lbs. torque to crush, the
collapsible spacer is defective.
9. Using yoke holder 6958, a short length of 1 inch pipe, and a torque wrench set at 380 Nm (280 ft. lbs.), crush collapsible spacer until bearing end
play is taken up.
10. Slowly tighten the nut in 6.8 Nm (5 ft. lbs.) increments until the rotating torque is achieved. Measure the rotating torque frequently to avoid over
crushing the collapsible spacer.
< PREV PAGE
NEXT PAGE >