< PREV PAGE
NEXT PAGE >
Prowler V6-3.5L VIN G (1999)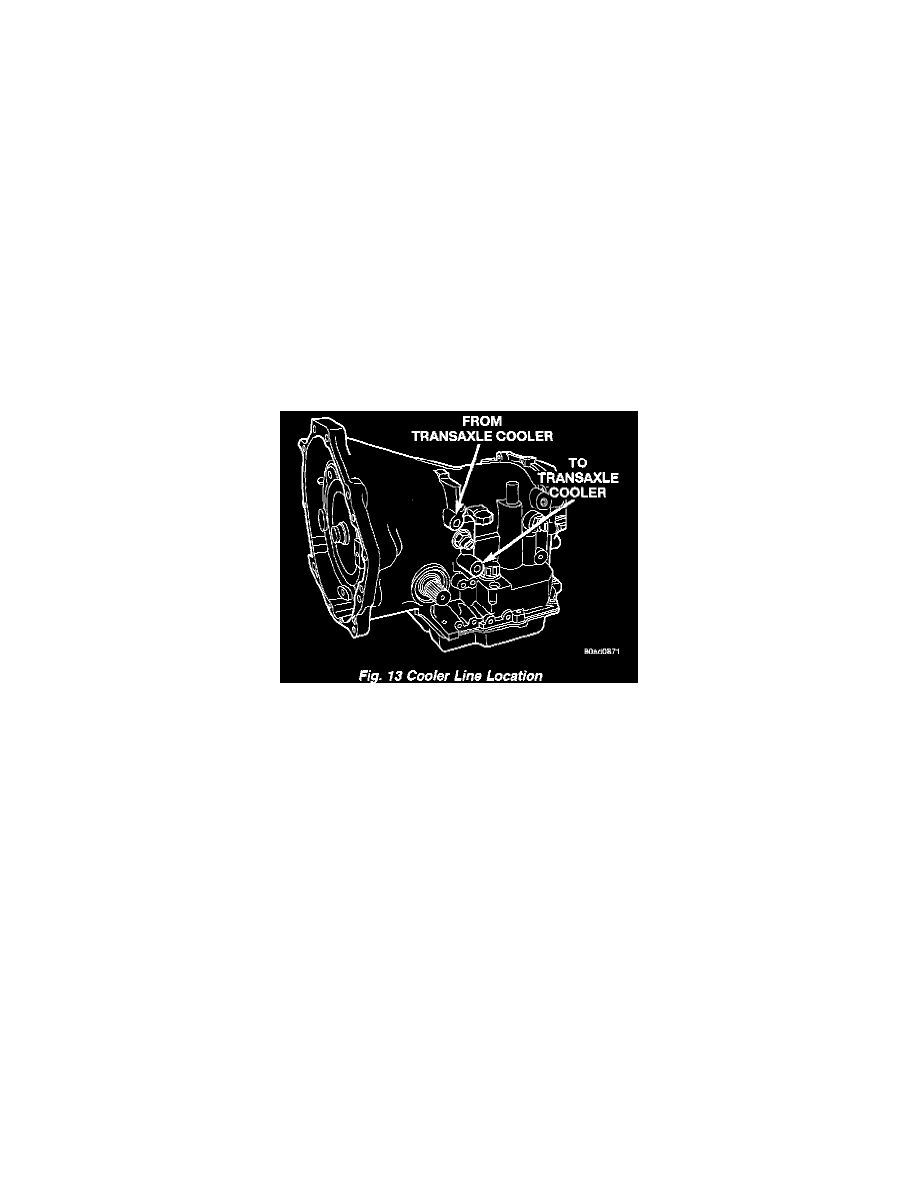 Fluid Pump: Service and Repair
When a transaxle failure has contaminated the fluid, the oil cooler(s) must be flushed. The cooler bypass valve in the transaxle must be replaced also.
The torque converter must also be replaced with an exchange unit. This will insure that metal particles or sludged oil are not later transferred back into
the reconditioned (or replaced) transaxle.
The recommended procedure for cooler flushing is to use Tool 6906 Cooler Flusher.
WARNING: WEAR PROTECTIVE EYEWEAR THAT MEETS THE REQUIREMENTS OF OSHA AND ANSI Z87.1-1968. WEAR
STANDARD INDUSTRIAL RUBBER GLOVES. 
KEEP LIGHTED CIGARETTES, SPARKS, FLAMES, AND OTHER IGNITION SOURCES AWAY FROM THE AREA TO PREVENT
THE IGNITION OF COMBUSTIBLE LIQUIDS AND GASES. KEEP A CLASS (B) FIRE EXTINGUISHER IN THE AREA WHERE THE
FLUSHER WILL BE USED.
KEEP THE AREA WELL VENTILATED.
DO NOT LET FLUSHING SOLVENT COME IN CONTACT WITH YOUR EYES OR SKIN: IF EYE CONTAMINATION OCCURS,
FLUSH EYES WITH WATER FOR 15 TO 20 SECONDS. REMOVE CONTAMINATED CLOTHING AND WASH AFFECTED SKIN
WITH SOAP AND WATER. SEEK MEDICAL ATTENTION.
1. Remove cover plate filler plug on Tool 6906. Fill reservoir 1/2 to 3/4 full of fresh flushing solution. Flushing solvents are petroleum based
solutions generally used to clean automatic transmission components. DO NOT use solvents containing acids, water, gasoline, or any other
corrosive liquids.
2. Reinstall filler plug on Tool 6906.
3. Verify pump power switch is turned OFF. Connect red alligator clip to positive (+) battery post. Connect black (-) alligator clip to a good ground.
Fig. 13
4. Using Special Tool # 8193, disconnect the cooler lines at the transmission (Fig. 13).
NOTE:  When flushing transmission cooler and lines, ALWAYS reverse flush.
5. Connect the BLUE pressure line to the OUTLET (From) cooler line.
6. Connect the CLEAR return line to the INLET (To) cooler line
7. Turn pump ON for two to three minutes to flush cooler and lines. Monitor pressure readings and clear return lines. Pressure readings should
stabilize below 20 psi. If flow is intermittent or exceeds these pressures, replace cooler.
8. Turn pump OFF.
9. Disconnect CLEAR suction line from reservoir at cover plate. Disconnect CLEAR return line at cover plate, and place it in a drain pan.
10. Turn pump ON for 30 seconds to purge flushing solution from cooler and lines. Turn pump OFF.
11. Place CLEAR suction line into a one quart container of MOPAR(R) Plus 4 type 9602 automatic transmission fluid.
12. Turn pump ON until all transmission fluid is removed from the one quart container and lines. This purges any residual cleaning solvent from the
transmission cooler and lines. Turn pump OFF.
13. Disconnect alligator clips from battery. Reconnect flusher lines to cover plate, and remove flushing adapters from cooler lines.
< PREV PAGE
NEXT PAGE >