< PREV PAGE
NEXT PAGE >
911 Carrera 4 Cabriolet (996) F6-3.6L (2003)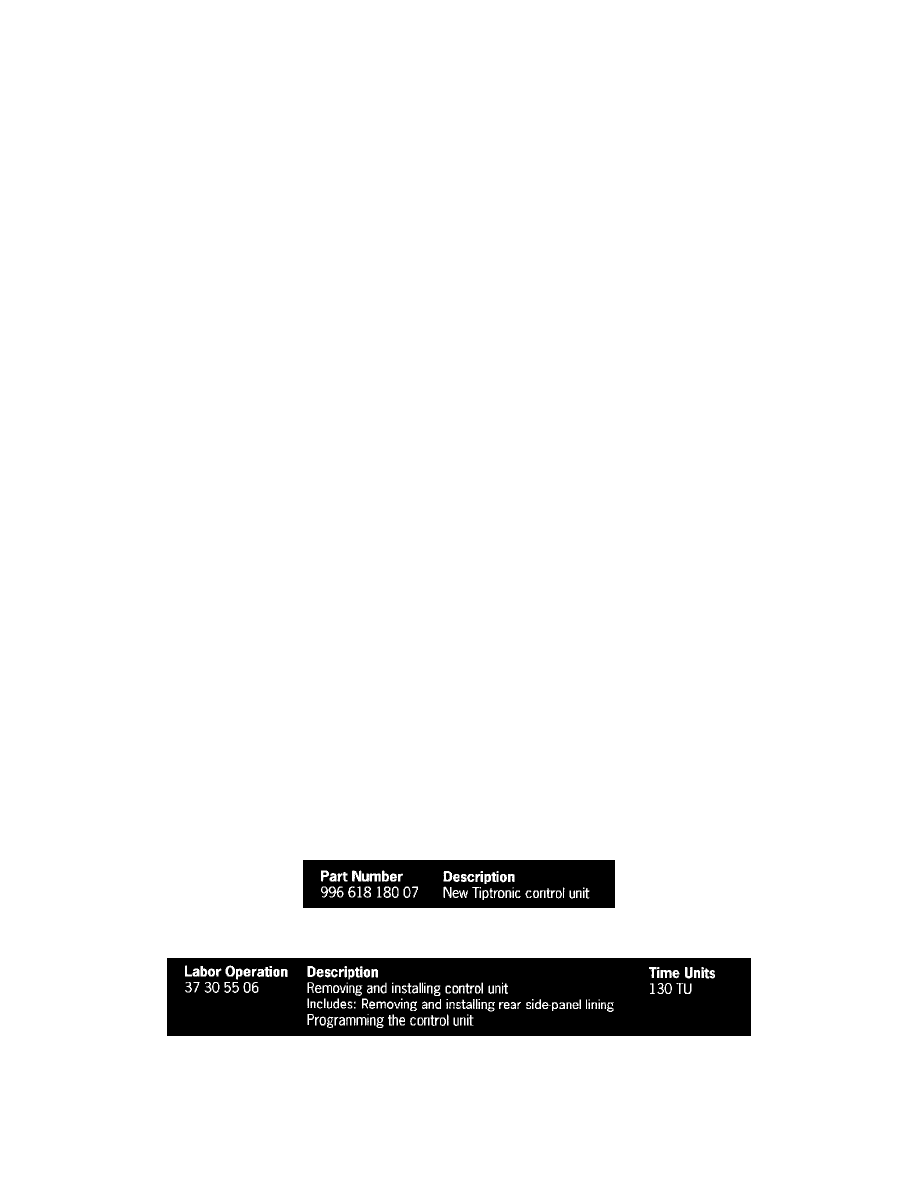 Control Module: All Technical Service Bulletins
A/T - Rattling/Grinding Noise on Acceleration
911 (996)
6/02
3701
Binder - 3, Transmission, Automatic
Date: 2-14-03
Tiptronic Transmission Noises
Vehicle Type:
911 Carrera (996) / 911 Carrera 4 (996)
Model Year:
As of '02 (2)
Concern:
Tiptronic control unit adaption of the torque converter lockup.
Information:
Driving noises/jerking during acceleration.
Grinding/rattling noise when accelerating from a standstill or when driving at low speed in third gear 15 - 35 mph (30 - 50 km/h). Irregular/hard gear
changes and jerking during acceleration also occur occasionally.
The reason for this is the adaptation of the torque converter lockup clutch in the Tiptronic control unit. If the vehicle is driven in a restrained manner or
is frequently driven in stop-and-go traffic, the Tiptronic control module adapts itself to unfavourable values that cause the aforementioned complaints.
This problem arises only if the car is driven in a comfortable/economical manner and not when it is driven in a sporty manner.
Work Procedure:
Install a new Tiptronic control unit with modified software.
Introduction: 1st October 2002
99 435 62 0955 USA
99 035 63 5246 USA
99 X3S 65 1216 USA
1.
Install and code the new Tiptronic control unit, part No.996.618.180.07, as described in the 911 Carrera (996) Technical Manual, Group 3,
Chapter 37 30 19.
2.
Carry out a test drive, making sure that all upshift and downshift points are reached. Do not switch the engine off after the test drive, but instead let
it idle for 10 minutes. The adaptation values will be written into the transmission control unit only after this time has elapsed.
Parts Information:
Labor Operation:
Literature:
911 Carrera (996) Technical Manual, Group 3:
< PREV PAGE
NEXT PAGE >