NEXT PAGE >
900 L4-1985cc 2.0L SOHC Turbo VIN S FI (1984)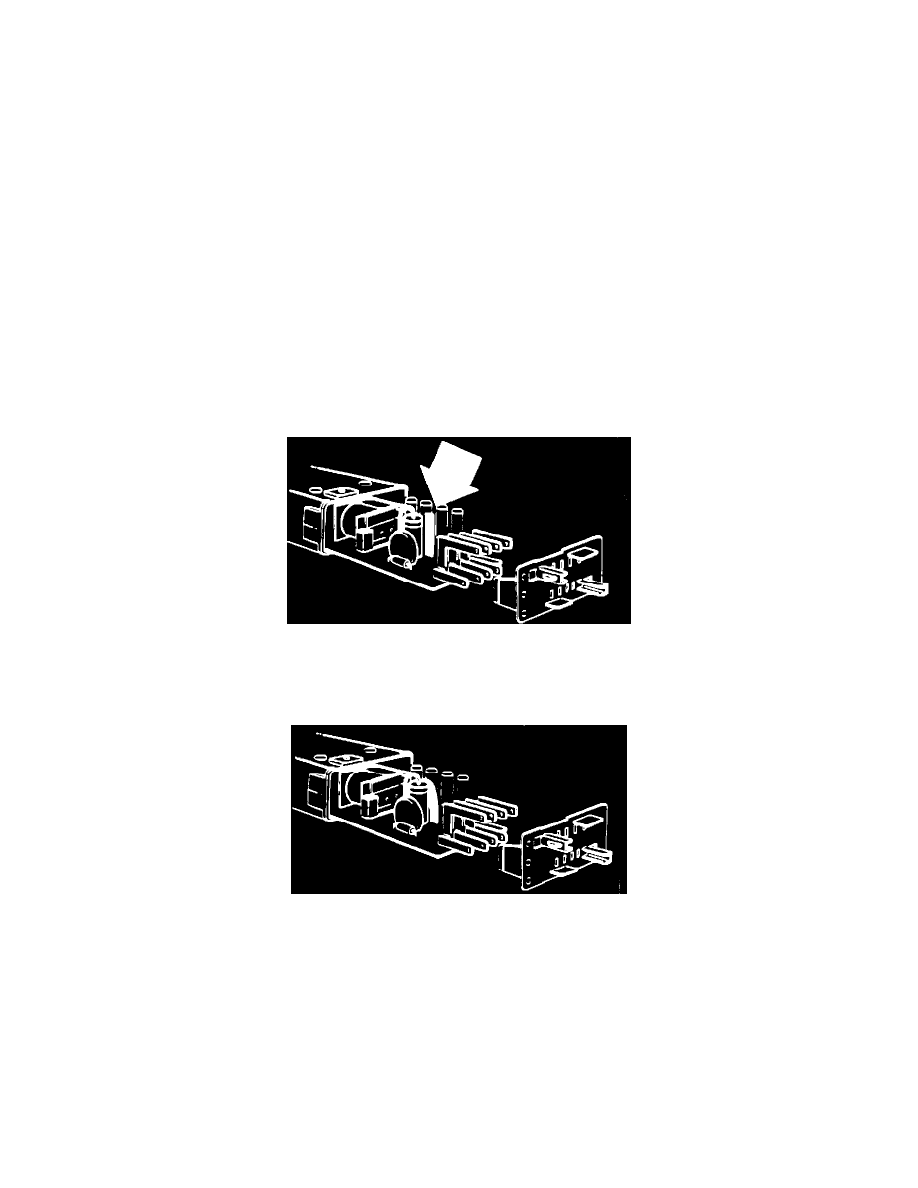 Door Module: Technical Service Bulletins
Central Locking Control Unit - Repair
SUBJECT: REPAIRING CENTRAL LOCKING CONTROL
UNIT, M84- 900
ISSUE:
10/84-718
FILE IN S.I. MANUAL:
VOLUME:
I
SECTION:
8
PAGE:
79
A heat sensitive fuse is incorporated within the control unit for the central locking system. The fuse will trip if the electrical demand of the system should
exceed a predetermined value. This also serves to protect the other components in the control unit system, e.g. locking motors.
Unnecessary replacement of the control unit can be avoided by checking the fuse should a fault occur.
Repair details:
1.
Unplug and remove the control unit from beneath the dash (just above the front passenger's feet).
2.
Dismantle the control unit by bending out its locking lugs and at the same time withdraw the bottom plate. Do not damage the lugs.
FIGURE 1
3.
Check the protection fuse. If it has been tripped, the metal reed (shaded black in figure 1) will not be in contact with the edge of the resistor and
will point straight up from the circuit board.
FIGURE 2
4.
If the fuse has been tripped, it can be reset by soldering the metal reed back to the edge of the resistor (fig. 2). Use only solder consisting of 60%
zinc and 40% lead (available through any electrical hobby store).
If possible use the existing solder to make the repair. Use only as much solder as is absolutely necessary.
5.
Re-assemble and re-fit the control unit. Test the system.
OVER FOR WARRANTY INFORMATION
WARRANTY INFORMATION:
If car is in warranty, use failure code 83612-20-0-01-05. Labor time is operation no. 83612 (R & R control unit) for 0.3 hour and 0.3 hour straight time
to make the repair. (Add 0.5 hour additional straight time if car has console with equalizer.)
NEXT PAGE >