< PREV PAGE
NEXT PAGE >
900 SE Hatchback L4-1985cc 2.0L DOHC Turbo EFI (1997)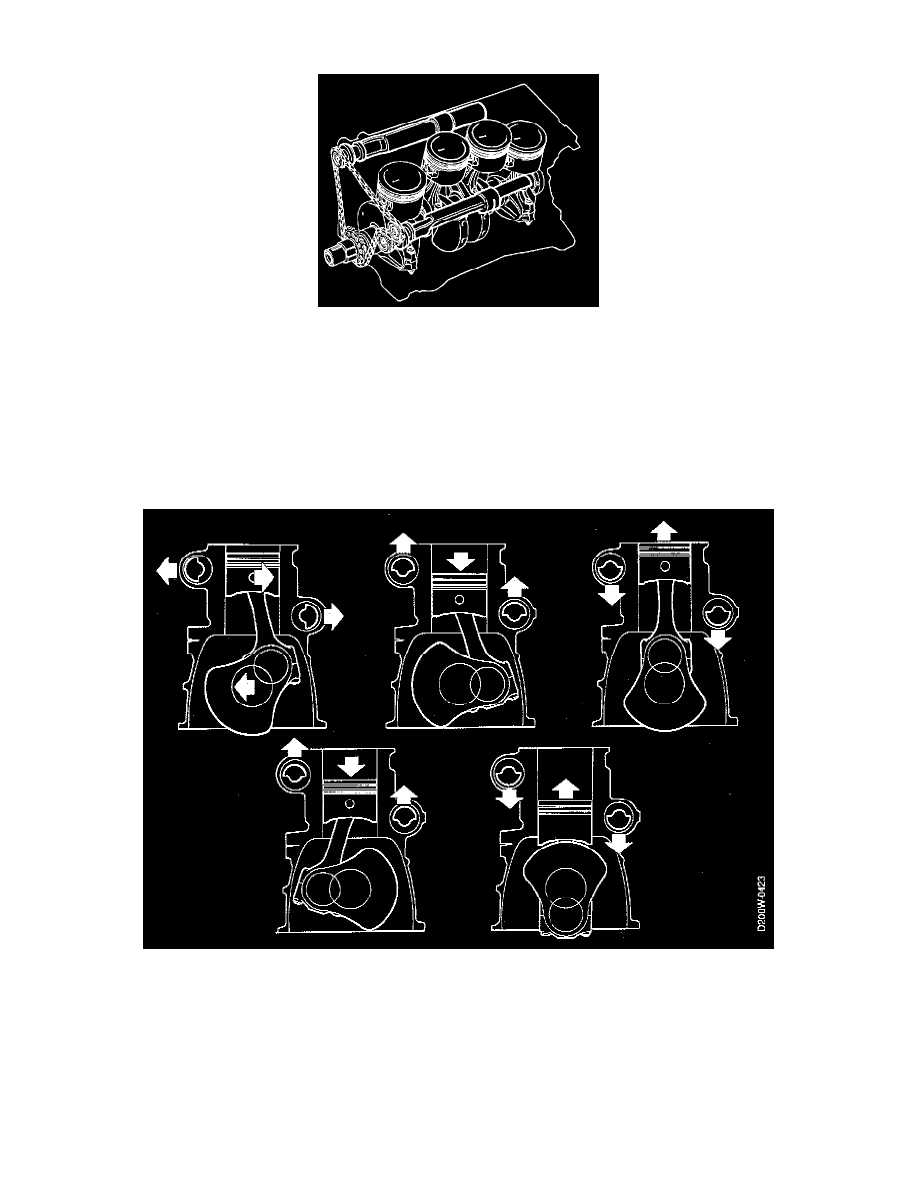 Balance Shaft: Description and Operation
ENGINE VIBRATION
Automotive designers are constantly striving to improve the level of comfort in the car for both driver and passengers. Two key factors here are
engine vibration and engine noise, both of which are a product of the basic design of the engine. Through combustion, where chemical energy is
converted into mechanical energy, gas forces are generated which act on the piston crown. The reciprocating movement of the pistons and 
connecting rods, combined with the rotation of the crankshaft, generate inertial forces that act on the engine block and cause it to vibrate in various
ways. At low engine speeds the gas forces are greater than the inertial forces but at high engine speeds the converse is true.
The most significant forces arise periodically once or twice per crankshaft revolution. They are known as first-order and second-order forces. The
first-order inertial forces are completely unbalanced since the crankshaft is balanced and the two piston pairs, 1-4 and 2-3, change direction
simultaneously when they reach top dead centre and bottom dead centre.
SECOND-ORDER FORCES ACTING VERTICALLY
Inertial forces are generated because both descending pistons in a four-cylinder engine travel further at a given crankshaft angle than the two
ascending pistons (the lateral movement of the connecting rods accelerates the descending pistons but delays the ascending pistons). The common
centre of gravity of the ascending and descending masses therefore varies, giving rise to forces moving upwards and downwards which vary
periodically twice per crankshaft revolution and cause the engine to vibrate in a vertical direction.
SECOND-ORDER FORCES ACTING LATERALLY
During the power stroke the piston is pressed against the cylinder wall due to the angle of the connecting rod relative to the cylinder. At higher
engine speeds, however, the inertial force is much greater. It can then be said that the crankshaft pulls the piston down and due to the angle of the
connecting rod relative to the cylinder the piston is pressed against the cylinder wall, but this time on the opposite side. Regardless of engine
< PREV PAGE
NEXT PAGE >