< PREV PAGE
NEXT PAGE >
900 SE Hatchback L4-1985cc 2.0L DOHC Turbo EFI (1997)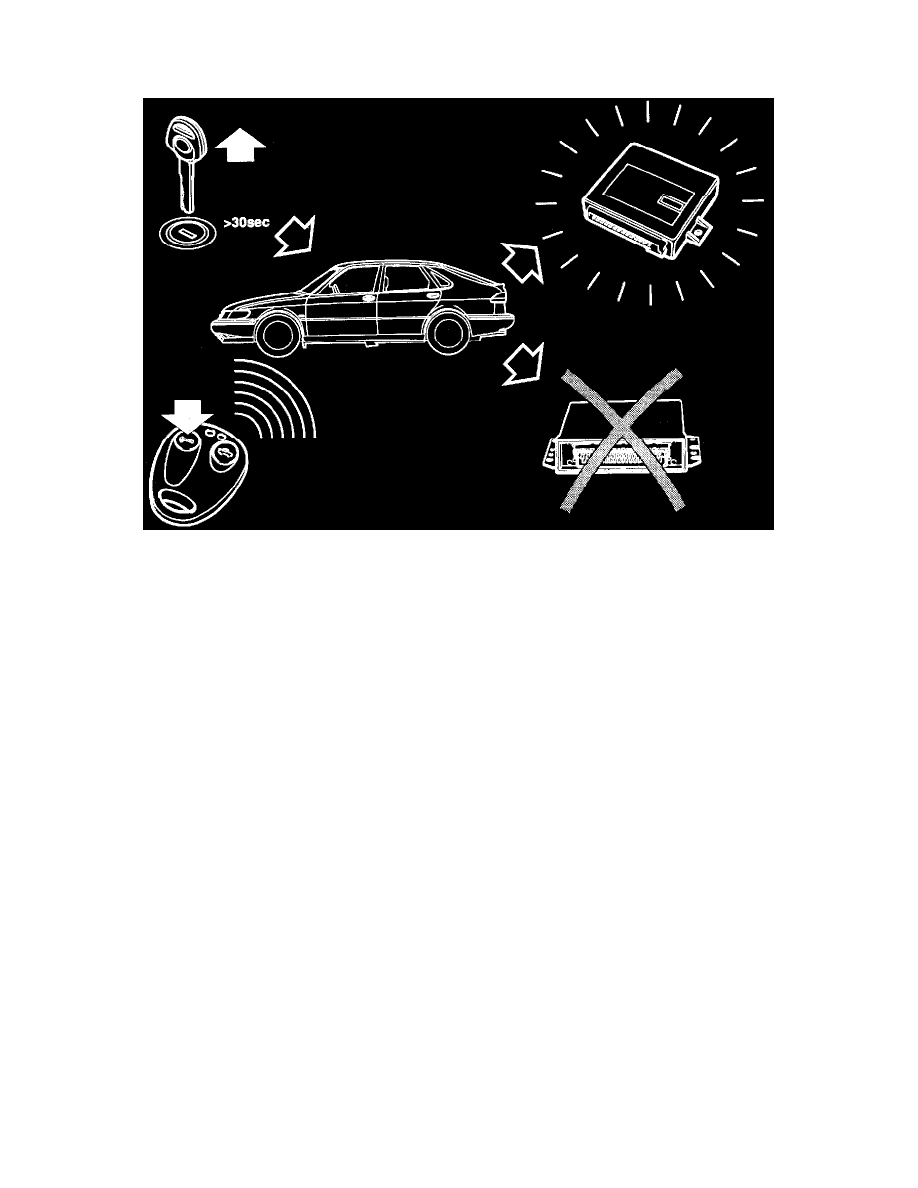 Ignition Shut Down Relay (For Antitheft): Description and Operation
Immobilizing Anti-Theft Alarm With VSS
Immobilizer
Incorporated in the anti-theft alarm with VSS is an immobilizing function which in cooperation with the car's engine management system prevents the
engine from being started. If an attempt is made to start the car while it is immobilized, the anti-theft alarm's electronic control module communicates
with the engine management system, which then determines whether to allow starting or not.
The immobilizing function is always activated automatically after a certain time, but can be initiated manually at any time before this.
-
Manually-  The car is immobilized at the same time as it is locked and/or the alarm is armed by means of the remote control unit (left-hand
button).
-
Automatically-  The car is immobilized automatically without the remote control unit being used. This takes place after a certain time and is
indicated by the LED flashing at the rate of 2 flashes per second.
Self-Immobilizing
Immobilizing takes place automatically:
-
30 seconds after the ignition key is removed from the ignition switch (the time can be reprogrammed to a different time).
-
3 minutes after disarming/unlocking, unless the ignition key is turned in the ignition switch.
Disarming of the immobilizer
The immobilizer can be disarmed by means of the left-hand button on the remote control unit, either the immobilizer only or in conjunction with
disarming of the entire alarm system if it has been armed. When the immobilizer is disarmed a code is sent from the remote control unit to the anti-theft
alarm system.
Code Identification
When the ignition switch is turned to start the engine, the engine management system checks the code it has received:
-
If the code Is approved, the car will start.
-
If the code Is Incorrect of absent, the engine management system will make it impossible to start the car.
< PREV PAGE
NEXT PAGE >