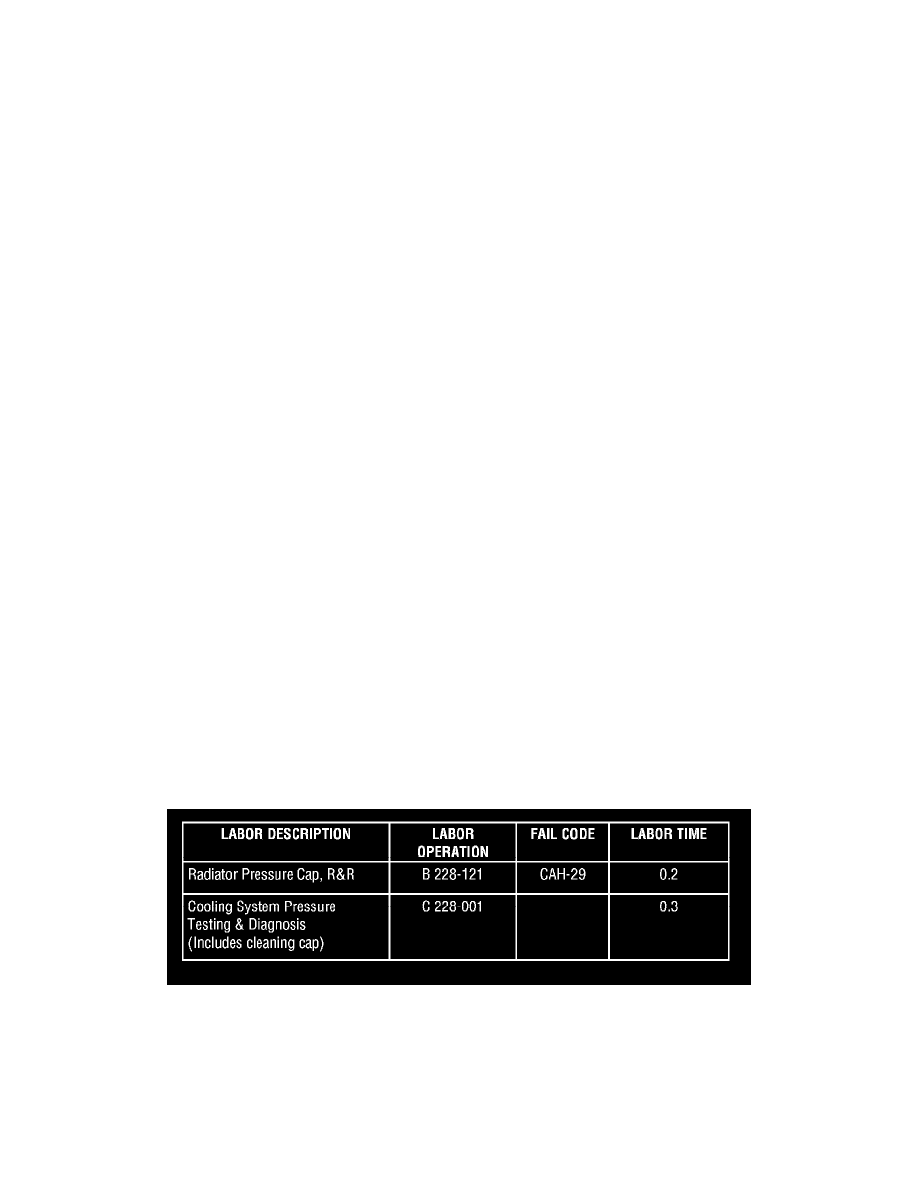 Radiator Cap: Technical Service Bulletins
Cooling System - Radiator Cap
NUMBER: 09-45-06 
DATE: 11/28/06
APPLICABILITY: All Models
SUBJECT:
Radiator Cap
INTRODUCTION
The purpose of this bulletin is to provide the inspection and cleaning procedure for the radiator cap.
Whenever servicing the coolant/radiator, it is imperative that the filler neck and cap are clean of all contaminants and debris.
If foreign material is left in the filler neck sealing area, it will become embedded in the rubber seal and will prevent the cap from sealing properly. Before
making the determination that the radiator cap is faulty, perform the following repair procedure.
REPAIR PROCEDURE/INFORMATION
Caution: 
The engine cooling system is under pressure and may be extremely hot. To prevent personal injury or vehicle damage, be sure to take appropriate
precautions while performing this procedure.
1)
Wash and clean the rubber seal surface(s) "A" using clean water and a soft bristle brush.
2)
Carefully open the negative pressure valve. Using clean water and a soft bristle brush wash and clean the mating surface "B" between the valve
and the rubber seal.
Note:
Clean thoroughly. Failure to do so will prevent the cap from holding pressure.
3)
After cleaning, check valve-opening pressure of cap using a cap tester according to the applicable service manual.
4)
Clean the filler neck sealing surface of any and all contaminants.
Note: 
If the valve opening pressure stays within the predetermined specification the cap is reusable. Only replace caps that failed the pressure test.
Special note: 
If the vehicle has any record of overheating the cap may not be reusable even afier cleaning due to the deterioration of the sealing materials.
WARRANTY/CLAIM INFORMATION
For vehicles under the Basic New Car Limited Warranty period, this repair may be claimed using the table.