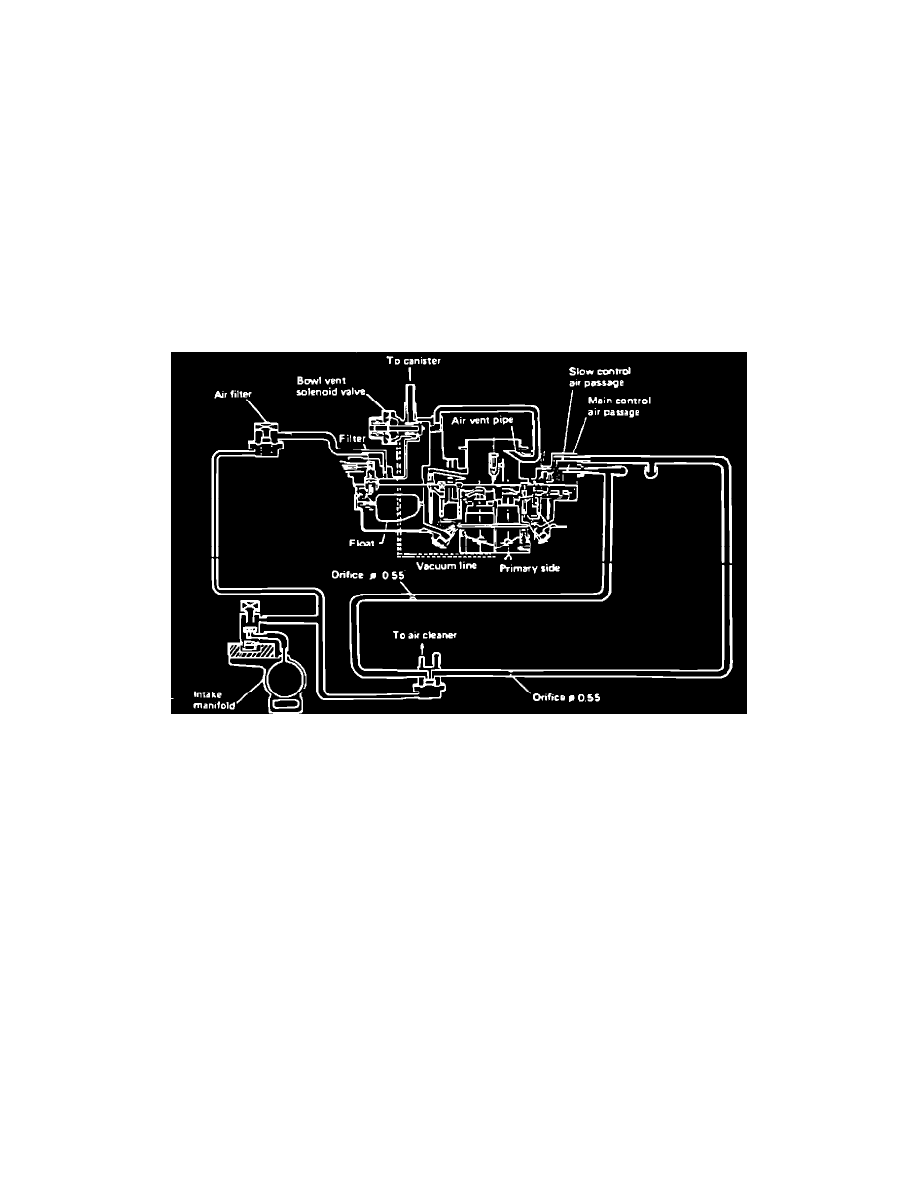 Float Bowl Air Vent Valve: Customer Interest
Carburetor - Surging After Hot Restart
NUMBER
11-16-83
DATE
06/06/83
APPLICABILITY
1983 (49S LDT) 4WD VEHICLES PRIOR TO
ENGINE NO. AND PRODUCTION DATE LISTED BELOW.
SUBJECT:
INSTALLATION PROCEDURES FOR FCV KIT (483367200)
ALL ENGINES IN 1983 49 STATE 4WD VEHICLES WERE FITTED WITH A FLOAT CHAMBER VENT SYSTEM BEGINNING WITH
DECEMBER, 1982 PRODUCTION.
THE STARTING ENGINE NUMBERS FOR THIS PRODUCTION CHANGE ARE AS FOLLOWS
4WD M/T
177817
4WD A/T
176554
FIGURE 1
THIS FLOAT CHAMBER VENT SYSTEM OPENS ATMOSPHERIC PRESSURE TO THE FLOAT CHAMBER WHEN AMBIENT UNDERHOOD
TEMPERATURES EXCEED A SPECIFIED TEMPERATURE OF 140~F. AT THE SAME TIME, FRESH AIR IS FED FROM THE AIR CLEANER
INTO BOTH THE SLOW AND MAIN CONTROL AIR PASSAGES OF THE CARBURETOR.. SEE FIGURE 1.
A KIT IS AVAILABLE (PART NO. 483367200) FOR INSTALLATION ON EARLY PRODUCTION 1983 49 STATE 4WD VEHICLES WHICH
EXPERIENCE A COMPLAINT OF HOT RESTART DRIVEABILITY (SURGING). INSTALLATION OF THE KIT CAN BE CLAIMED ON A
MSA 400 USING THE OPERATION NUMBER AND TIME LISTED BELOW:
*083-100
0.5
THE INSTALLATION INSTRUCTIONS FOR THE FCV KIT ARE ATTACHED TO THIS BULLETIN.
INSTALLATION OF A HIGH ALTITUDE KIT ON VEHICLES FITTED WITH THIS SYSTEM WAS ADDRESSED IN SERVICE BULLETIN
NUMBER 11-15-83, DATED 4-12-83. REFER TO THAT BULLETIN WHEN INSTALLING THIS SYSTEM ON A VEHICLE ALREADY FITTED
WITH A HIGH ALTITUDE KIT.