< PREV PAGE
NEXT PAGE >
Sedan 2WD F4-1595cc 1.6L (1982)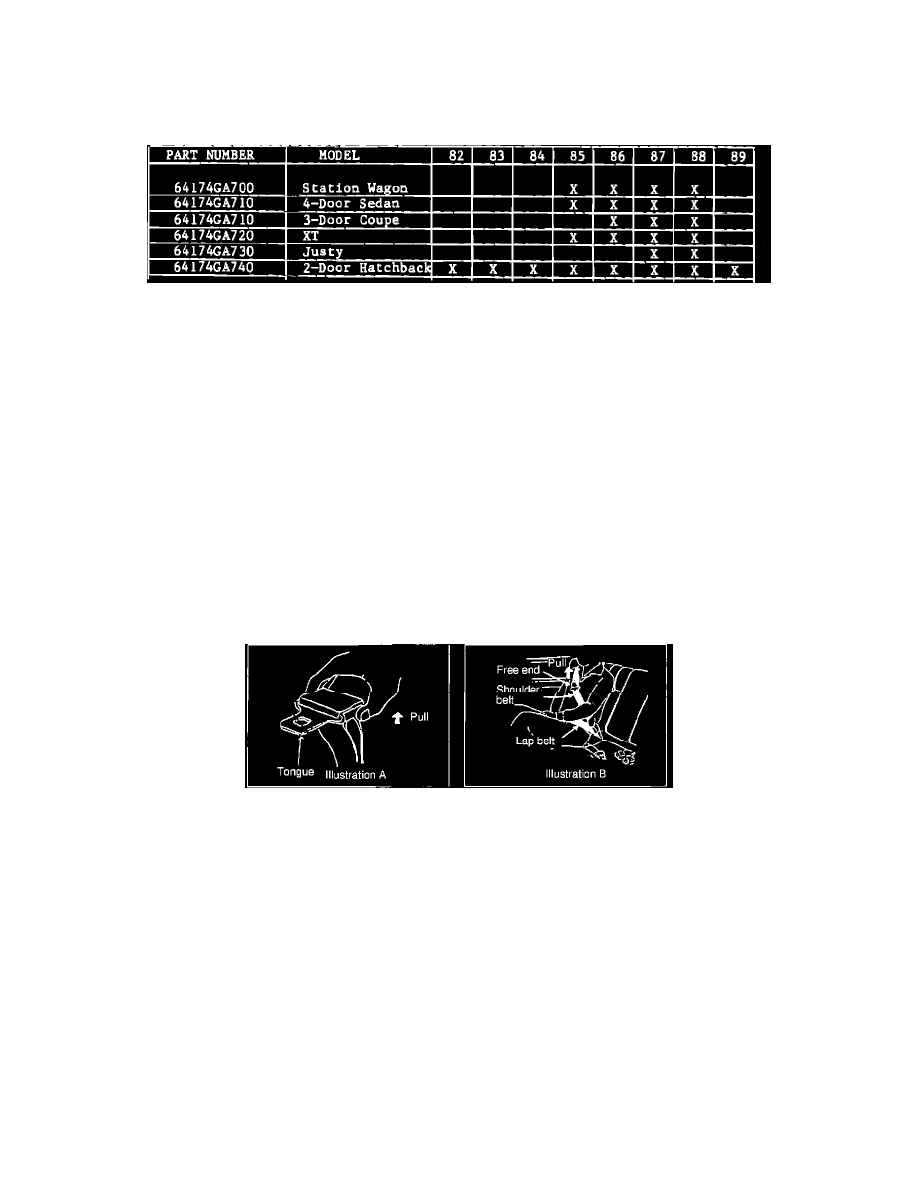 Technical Service Bulletin # 124388
Date: 881212
Rear Seat Shoulder Belt - Availability/Information
NUMBER  12-43-88
DATE
12-12-88
SUBJECT:
REAR SEAT SHOULDER BELTS
Rear seat shoulder belts are now available to supplement the rear outboard lap seat belts originally provided in Subaru vehicles. These
belts will be packaged as a set for a particular model type.
Each set shall contain:
1.
Left hand and right hand shoulder belt buckles and shoulder belt tongues with attaching hardware.
2.
Use, safety tips, and maintenance instructions.
3.
Installation instructions.
Copies of the installation instructions for each model are on the following pages of this bulletin.
NOTE:
Remember to place the Use, Safety Tips, and Maintenance Instructions in the Owner's Manual for future reference. A copy of this
information is on the reverse side of this page.
Owner's Manual - Safety Belt Instruction
[9999910351]
Please affix this shoot to the back cover & your Owner's Manual.
How to Use Rear Shoulder Belt To increase the shoulder belt's webbing length, hold the tongue perpendicular to the webbing and pull away as shown in
illustration A. When seated insert the tongue into  the buckle. Check to be sure the belt is buckled securely by pulling the upper webbing. To tighten the
belt pull the end as shown in illustration B. To release the shoulder and lap belts press the button on each buckle and pull away.
Do not use shoulder belt without lap belt. Using shoulder belt alone could increase your risk of injury in an accident.
Seat Belt Safety Tips To help reduce the risk or severity of injury, all persons in the vehicle should fasten their seat belts before driving away. Never use
one belt for more than one person at a time. In an accident, two people in the same belt will increase the risk and severity of injury. Never use a belt that
is twisted or reversed. In an accident, this can increase the risk or severity of injury. Never wear the shoulder belt under your arm.
The shoulder belt is not to be used without a lap belt. Shoulder belts alone do not provide full restraint. All belts should be secured to fit snugly in order
to provide full restraint. Loose fitting belts are not effective to prevent or reduce injury. Keep foreign objects from the buckle or retractor because
anything inside could prevent them from working properly.
Safety Belt Maintenance To clean the webbing, use a mild soap solution and water. Inspect the seat belts and attachments periodically for cracks,
damage, loose bolts or worn webbing. Replace the seat belt as necessary. Replace seat belt assemblies after use in any serious accident. Keep sharp edges
or damaging objects from belts and other parts of the seat belt system. Use care to keep the webbing free of polishes, oils and harsh chemicals;
particularly battery acid. Never attempt to bleach or redye the webbing since this could seriously affect its strength. Never attempt to modify or make
changes that will prevent the seat belt from operating properly.
< PREV PAGE
NEXT PAGE >