< PREV PAGE
NEXT PAGE >
XT-6 2WD L6-2.7L SOHC (1989)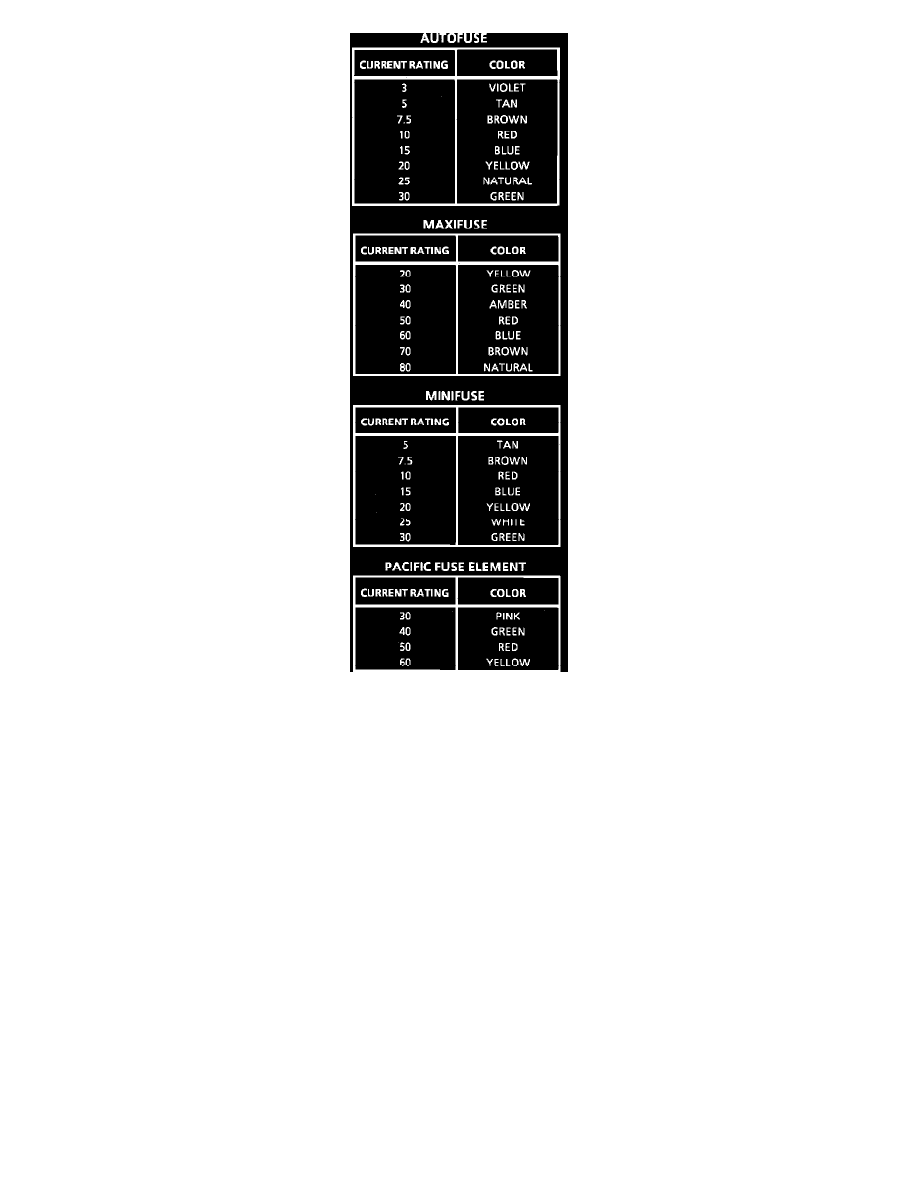 Fig. 2 Fuse Rating and Color
FUSES
The most common method of automotive wiring circuit protection is the fuse, Fig. 1. A fuse is a device that, by the melting of its element, opens
an electrical circuit when the current exceeds a given level for a sufficient time. The action is non-reversible and the fuse must be replaced each
time a circuit is overloaded or after a malfunction is repaired. Fuses are color coded. The standardized color identification and ratings are shown in
Fig. 2. For service replacement, non-color coded fuses of the same respective current rating can be used. Examine a suspect fuse for a break in the
element. If the element is broken or melted, replace the fuse with one of equal current rating. There are additional specific circuits with in-line
fuses. These fuses are located within the individual wiring harness and will appear to be an open circuit if blown.
Autofuse 
The Autofuse, normally referred to simply as "Fuse," is the most common circuit protection device in today's vehicle. The Autofuse is most
often used to protect the wiring assembly between the Fuse Block and the system components.
Maxifuse 
The Maxifuse was designed to replace the fusible link and Pacific Fuse Elements. The Maxifuse is designed to protect cables, normally
between the Battery and Fuse Block, from both direct short circuits and resistive short circuits. Compared to a fusible link or a Pacific Fuse
Element, the Maxifuse performs much more like an Autofuse, although the average opening time is slightly longer. This is because the
Maxifuse was designed to be a slower blowing fuse, with less chance of nuisance blows.
Minifuse
The Minifuse is a smaller version of the Autofuse and has a similar performance. As with the Autofuse, the Minifuse is usually used to
protect the wiring assembly between a Fuse Block and system components. Since the Minifuse is a smaller device, it allows for more
system specific fusing to be accomplished within the same amount of space as Autofuses.
Pacific Fuse Element
The Pacific Fuse Element was developed to be a replacement for the fusible link. Like a fusible link, the fuse element is designed to protect
< PREV PAGE
NEXT PAGE >