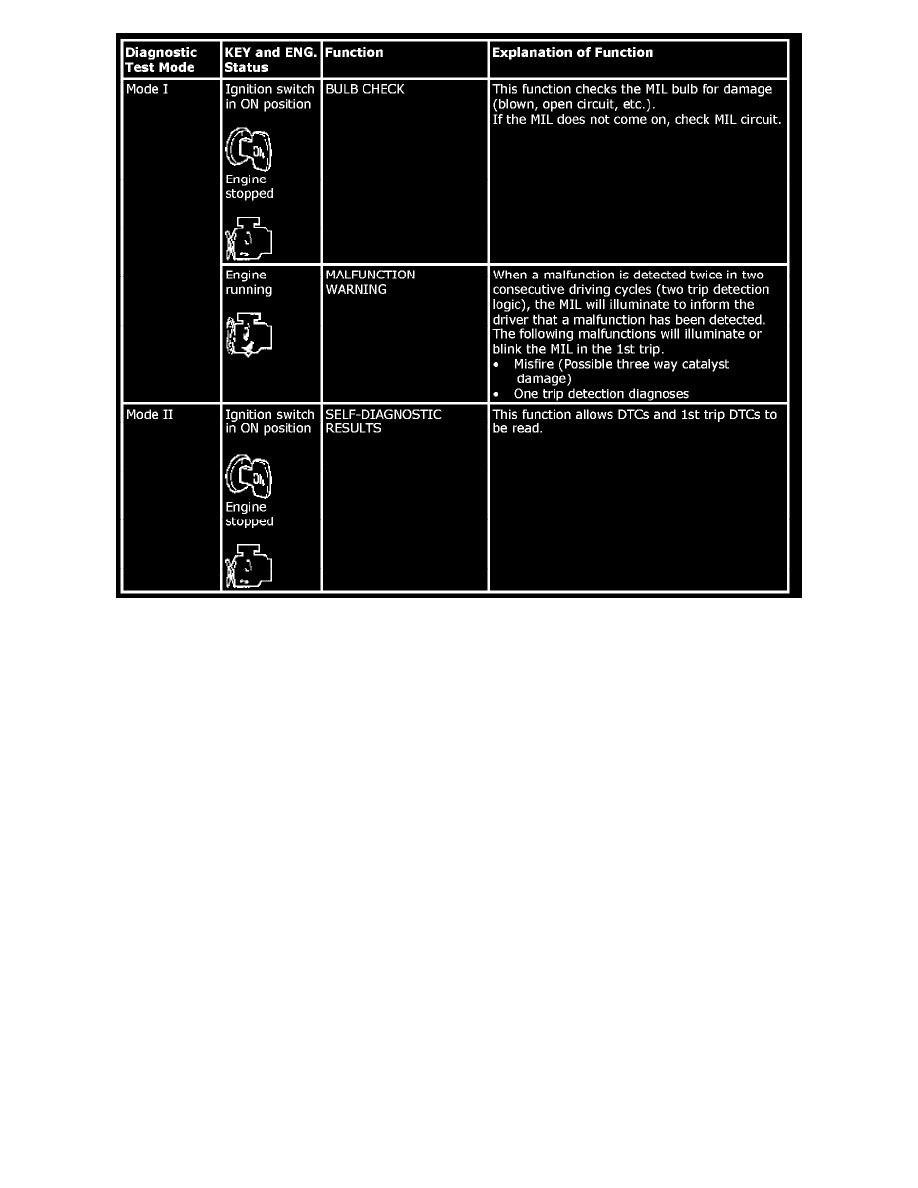 When there is an open circuit on MIL circuit, the ECM cannot warn the driver by lighting up MIL when there is malfunction on engine control system.
Therefore, when electrical controlled throttle and part of ECM related diagnoses are continuously detected as NG for 5 trips, ECM warns the driver that
engine control system malfunctions and MIL circuit is open by means of operating fail-safe function.
The fail-safe function also operates when above diagnoses except MIL circuit are detected and demands the driver to repair the malfunction.
Engine operating condition
Engine speed will not rise more
in fail-safe mode
than 2,500 rpm due to the fuel cut
MIL Brinking Without DTC
When any SRT codes are not set, MIL may brink without DTC. For the details, refer to [DTC Index: ECM].  See: Powertrain Management/Computers
and Control Systems/Testing and Inspection/Diagnostic Trouble Code Descriptions/DTC Index: ECM
HOW TO SWITCH DIAGNOSTIC TEST MODE
NOTE:
-
It is better to count the time accurately with a clock.
-
It is impossible to switch the diagnostic mode when an accelerator pedal position sensor circuit has a malfunction.
-
ECM always returns to Diagnostic Test Mode I after the ignition switch is turned OFF.
How to Set Diagnostic Test Mode II (Self-diagnostic Results)
1. Confirm that accelerator pedal is fully released, turn ignition switch ON and wait 3 seconds.
2. Repeat the following procedure quickly five times within 5 seconds.
a. Fully depress the accelerator pedal.
b. Fully release the accelerator pedal.
3. Wait 7 seconds, fully depress the accelerator pedal and keep it depressed for approx. 10 seconds until the MIL starts blinking.
NOTE: Do not release the accelerator pedal for 10 seconds if MIL starts blinking during this period. This blinking is displaying readiness test and
is continued for another 10 seconds. For the details, refer to [DTC Index: ECM].  See: Powertrain Management/Computers and Control