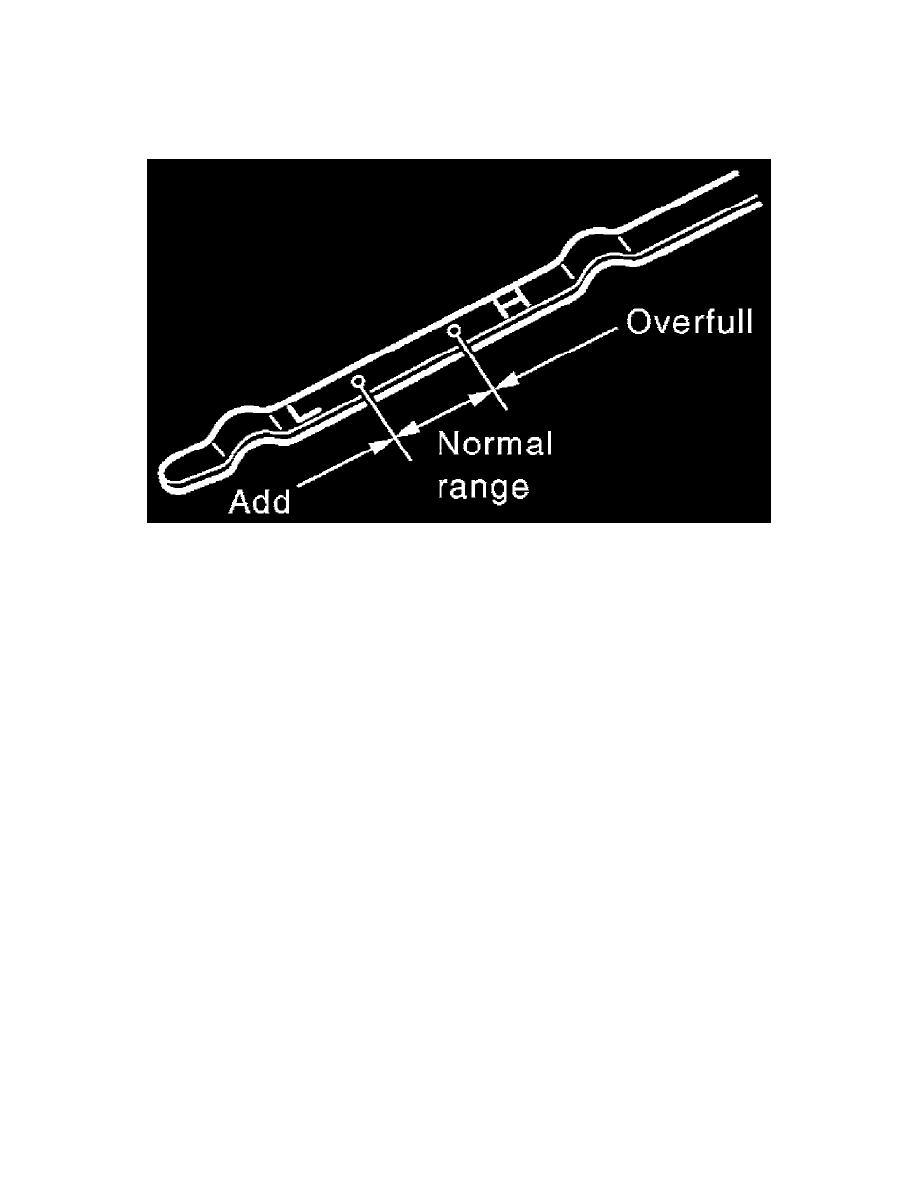 Engine Oil: Testing and Inspection
Engine Oil Inspection [VQ40DE]
OIL LEVEL
-
Before starting the engine make sure the vehicle is parked on a flat and level surface, then check the oil level. If the engine is already running, turn
it off and allow 10 minutes before checking.
-
Pull out oil level gauge and wipe clean.
-
Insert oil level gauge.
-
Check that the oil level is within the low (L) and high (H) range as indicated on the dipstick.
-
If the engine oil level is out of range, add oil as necessary. Refer to [Recommended Fluids and Lubricants]. 
CAUTION:  Do not overfill the engine with oil.
OIL APPEARANCE
-
Check the engine oil for a white milky appearance or excessive contamination.
-
If the engine oil is milky, it is highly probable that it is contaminated with engine coolant. Repair or replace damaged parts.
OIL LEAKAGE
Check for oil leakage around the following areas:
-
Oil pans (lower and upper)
-
Oil pan drain plug
-
Oil pressure switch
-
Oil filter
-
Oil cooler
-
Water pump cover
-
Chain tensioner cover
-
Intake valve timing control cover and intake valve timing control solenoid valve
-
Mating surface between cylinder block and cylinder head
-
Mating surface between lower cylinder block and cylinder block
-
Mating surface between cylinder head and rocker cover
-
Mating surface between front timing chain case and rear timing chain case
-
Mating surface between rear timing chain case and cylinder head
-
Mating surface between rear timing chain case and cylinder block
-
Mating surface between rear timing chain case and lower cylinder block
-
Mating surface between rear timing chain case and oil pan (upper)
-
Crankshaft oil seals (front and rear)
-
Oil level gauge guide
-
Camshaft position sensor (PHASE)
OIL PRESSURE CHECK