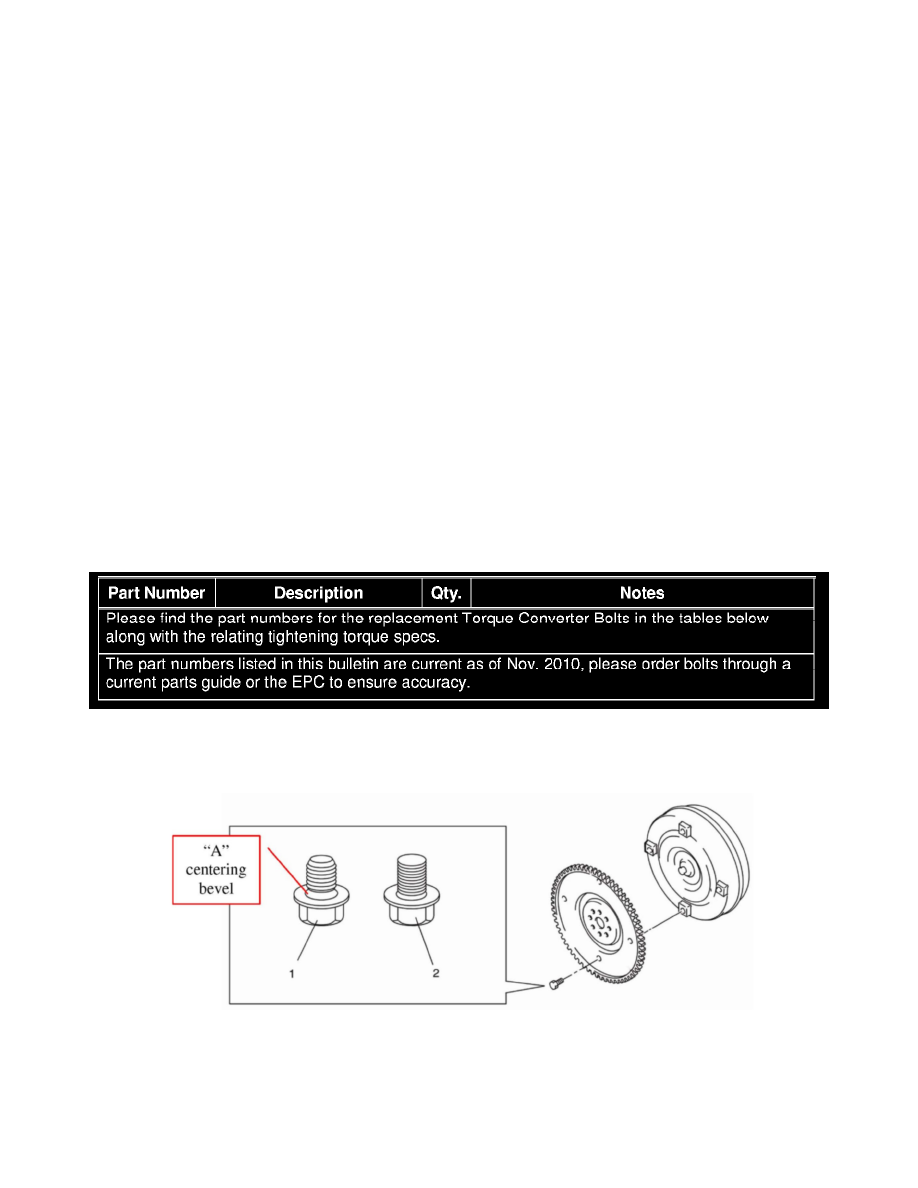 Torque Converter: Technical Service Bulletins
A/T - Torque Converter Bolt Replacement/Torque
Section Title: Transmission
TSB No. TS 01 12200
Division: Automotive
Category: Technical
SUBJECT: 
REPLACING AND TIGHTENING TORQUE CONVERTER BOLTS DURING TRANSMISSION REPLACEMENT
MODEL(S): ALL
YEAR: 1986-2010
CONDITION: 
Abnormal operation and damage to new and remanufactured automatic transmissions, resulting from improper installation of the torque converter bolts.
CAUSE: 
Incorrect tightening of correct bolts, and/or the installation of incorrect bolt(s) which secure the drive plate to the torque converter, damaging the torque
converter clutch, resulting in clutch material contaminating the transmission assembly.
CORRECTION: 
Please take care to reuse the same correct bolts that were removed from the torque converter, or replace them with correct new parts. Always follow the
service manual procedure and specification for proper tightening torque.
PARTS INFORMATION
For vehicles that use two different torque converter bolts, please refer to this illustration and instruction to determine the proper installation sequence.
>
Always install and tighten torque converter mounting bolt Type 1 first. There is no specific position on the flex plate or torque converter, it simply
needs to be tightened first to allow the centering feature ("A") to be effective. After tightening torque converter mounting bolt Type 1, install and
tighten the Type 2 torque converter mounting bolts. Never tighten Type 2 bolts first if a Type 1 bolt is used.