Keyless Entry - Remote Transmitter Inoperative|Page 12 >
Grand Vitara LTD 2WD V6-2.5L (2001)
Relays and Modules
Relays and Modules - Accessories and Optional Equipment
Keyless Entry Module
Component Information
Technical Service Bulletins
Customer Interest for Keyless Entry Module:
TS02
Dec
04
Keyless Entry - Remote Transmitter Inoperative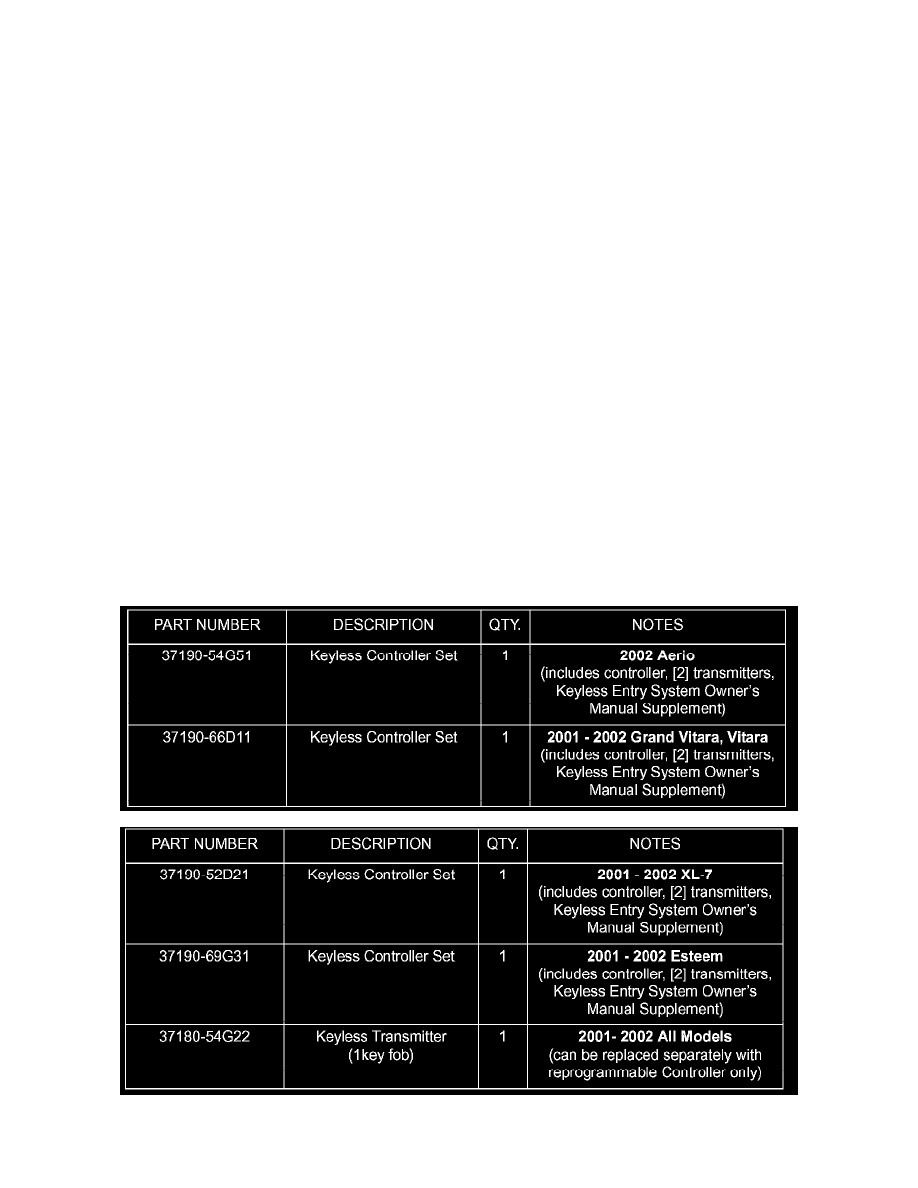 Keyless Entry Module: Customer Interest
Keyless Entry - Remote Transmitter Inoperative
Section Title: General Info. 
TSB No. TS02 12164R
Division: Automotive
Category: General Tech Info
SUBJECT: 
PROGRAMMABLE KEYLESS ENTRY SYSTEM
MODEL(S): 
ALL
YEAR: 
2001 - 2002
CONDITION: 
The Keyless Entry System is inoperative when using transmitter(s). Transmitter(s) battery is good.
CAUSE: 
The signals between the transmitter and the controller are no longer programmed together (unsynchronized).
CONDITION: 
2001 - 2002 models: Use the applicable Service Manual to diagnose the concern. If diagnostics determine the transmitters(s) or controller need to be
replaced, install a new programmable Keyless Controller Set. Then use the programming procedure located in the KEYLESS ENTRY SYSTEM
OWNER'S MANUAL SUPPLEMENT
REVISION: 
2003 information removed due to confusion in the field. See appropriate Service Manual 2003 keyless entry system repair procedure.
PART(S) INFORMATION:
Relays and Modules
Relays and Modules - Accessories and Optional Equipment
Keyless Entry Module
Component Information
Technical Service Bulletins
Customer Interest for Keyless Entry Module:
TS02
Dec
04
Keyless Entry - Remote Transmitter Inoperative
Keyless Entry - Remote Transmitter Inoperative|Page 12 >