< PREV PAGE
NEXT PAGE >
Swift GA L4-1298cc 1.3L SOHC MFI (2001)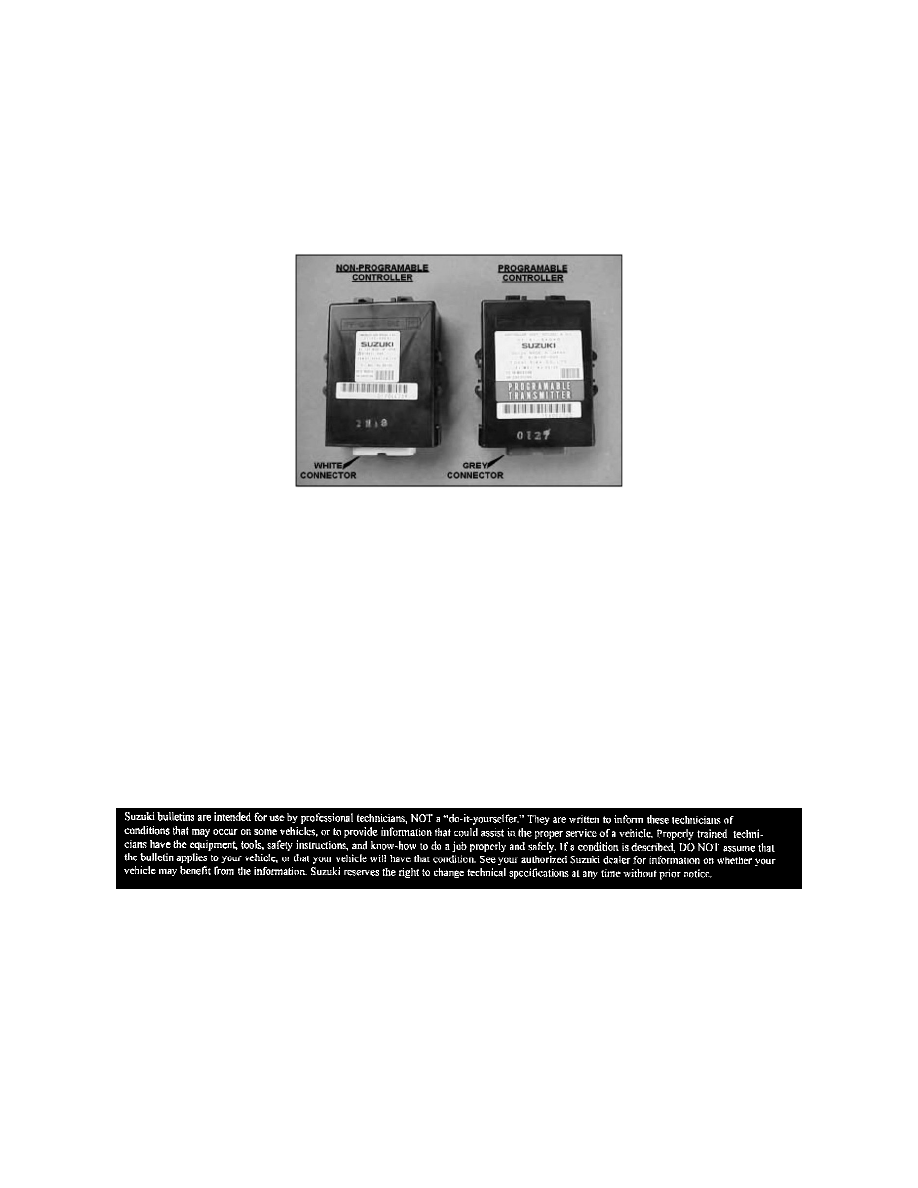 PART(S) INFORMATION:
2003 MODELS
These vehicles have the programmable Keyless Controller Assembly. Use the applicable Service Manual to diagnose the concern. For component parts
refer to 2003 Model Parts Catalog.
NOTE:
Replace only the individual components as necessary. DO NOT install a set.
2001 - 2002 MODELS
All 2001-2002 models with keyless entry systems have a factory installed non-programmable controller assembly. This controller is identified by a white
connector (see picture) and only supports the original two transmitters provided with the vehicle. When servicing any component of the system or if
transmitters are misplaced it requires the replacement of the controller assembly and its transmitters as a set.
A new programmable controller is now available as a set for these 2001 - 2002 vehicles. The programmable controller is identified by a label stating
"PROGRAMMABLE TRANSMITTER" and a grey connector as shown.
NOTE:
The new controller can support up to 4 transmitters. Extra transmitters are available (see PARTS INFORMATION).
On these 2001-2002 models, perform the diagnostics located in the applicable Service Manual and if it states to replace the controller or transmitter(s),
be sure to install the new programmable Keyless Controller Set. Then program up to four (4) transmitters to the controller using the Owner's Manual
Supplement instructions which is packed with the controller set.
NOTE:
After programming the transmitters to the controller; be sure to place the Keyless Entry System Owner's Manual Supplement in with the Vehicle
Owner's Manual. The customer will then have the information available to program their transmitters to their controller, if needed.
Disclaimer
< PREV PAGE
NEXT PAGE >