< PREV PAGE
NEXT PAGE >
Eos (1F7) V6-3.2L (BUB) (2008)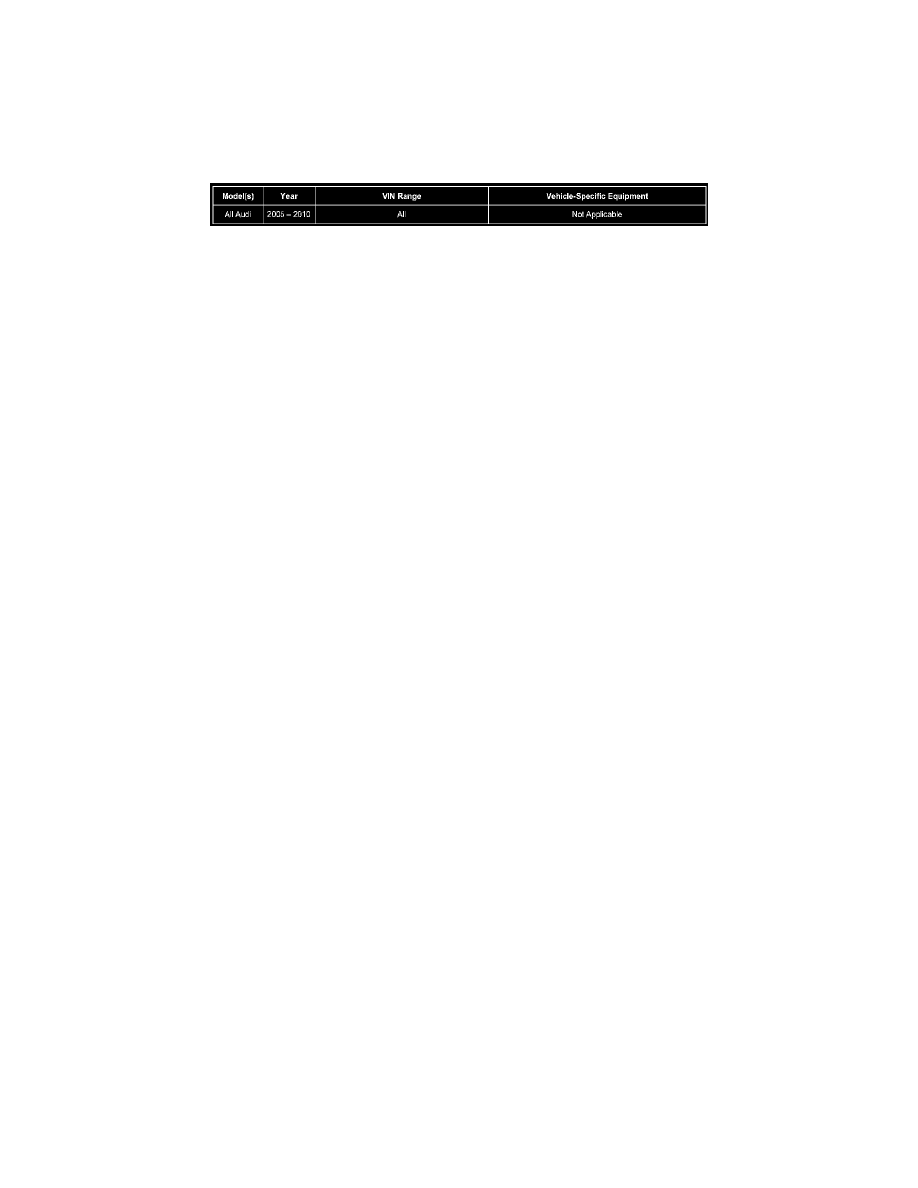 Control Assembly: Customer Interest
A/C - A/C Inop. After Control Unit Replacement
87 09 05 
May 19, 2009 
2020631
Vehicle Information
Condition
A/C Inoperative after Control Unit Replacement
The climatronic control unit does not function after replacement.
Technical Background
From June 2007 a regulator motor on the heating-air conditioning unit has been discontinued. To ensure that older units can be operated with the new
A/C control unit, an update with a VAS diagnostic tester is necessary (see Service solution).
NOTE:  
The condition as described does not compromise visibility.
Production Solution
New control unit beginning with VIN 1F_8V000337 (CW 22/07).
Service
Perform this update when replacing the following Climatronic control units:
Part number
Software version
1K0 907 044
BR SW 1111
1K0 907 044
BS SW 1111
1K0 907 044
BT SW 1112
1K0 907 044
CA SW 1112
1Q0 907 044 H
SW 0303
1Q0 907 044 J
SW 0303
1Q0 907 044 K
SW 0304
1Q0 907 044 l
SW 0304
3C0 907 530 907 044 BT SW 0707
3C0 907 530 907 044 CD SW 0707
Control unit update:
-
Connect VAS diagnostic tester with the diagnosis interface
-
Switch ON the ignition
-
Switch ON the VAS diagnostic tester
-
Select vehicle self-diagnosis
-
Select 08 air conditioning
-
Show all diagnosis functions
-
Select adaptation
-
Select channel 1
-
Select the desired value on the key pad or slide regulator
-
0 = old heating-air conditioning unit (up to June 2007, with regulator motor)
-
1 = new heating-air conditioning unit (from June 2007, without regulator motor)
-
Select save value
-
Select accept
< PREV PAGE
NEXT PAGE >