< PREV PAGE
NEXT PAGE >
Eos (1F7) V6-3.2L (BUB) (2008)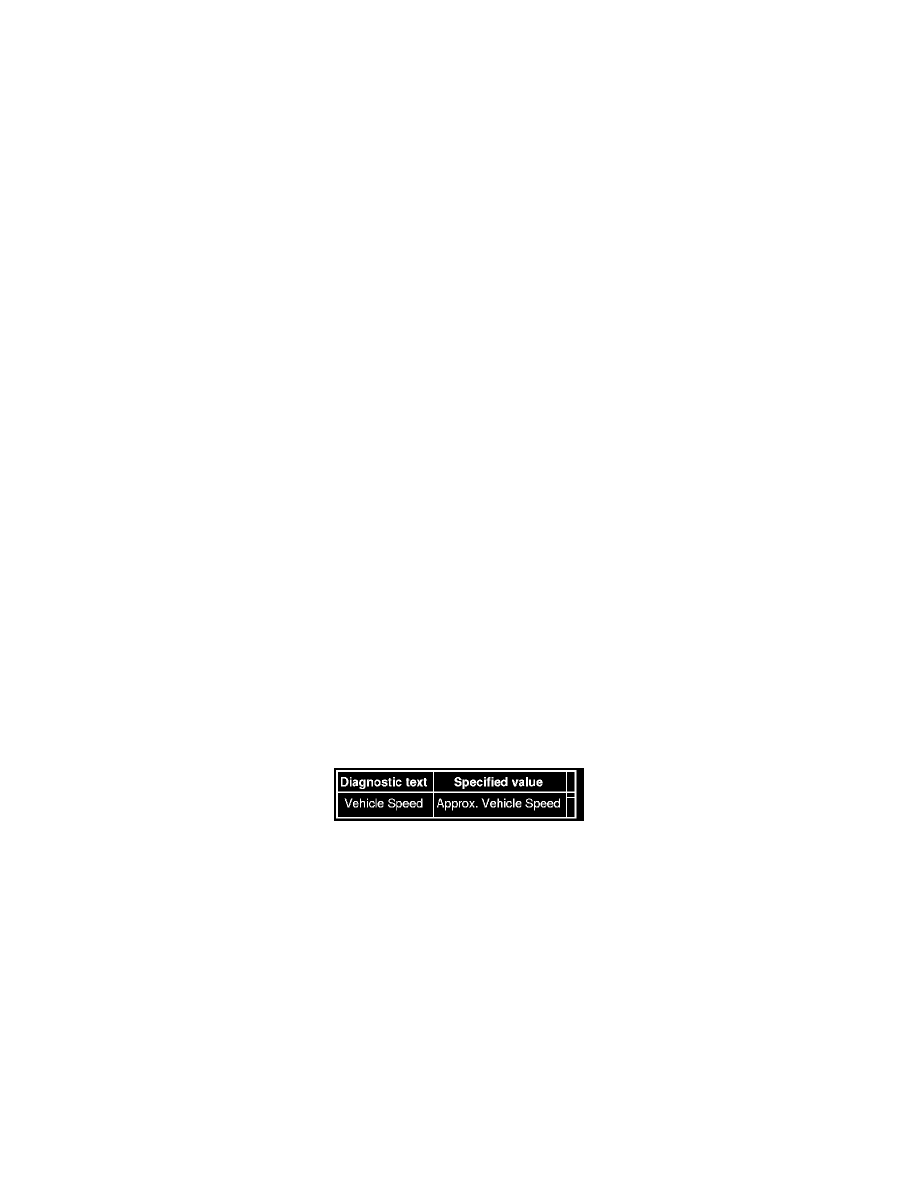 Vehicle Speed Sensor: Testing and Inspection
Speed Signal, Checking
The following procedure requires a test drive. Observe all Safety Precautions.
Special tools, testers and auxiliary items required
‹› Multimeter.
‹› Wiring diagram.
Test requirements
‹› The Speedometer (G21) OK.
‹›  The Engine Control Module (ECM) (J623) fuses OK.
‹› Battery voltage at least 12.5 volts.
‹› All electrical consumers such as, lights and rear window defroster, switched off.
‹› A/C switched off.
‹› Ground (GND) connections between engine/transmission/chassis OK.
‹› Ignition switched off.
Test procedure
-
Perform a preliminary check to verify the customers complaint. Refer to => [ Preliminary Check ] See: Testing and Inspection/Scan Tool Testing
and Procedures/Preliminary Check
Start diagnosis
-
Connect the scan tool.
Function test
-
Perform a road test with a vehicle speed greater than 5 Km/h.
-
Using the scan tool, Check the vehicle speed:
-
Compare the vehicle speed on the scan tool to the Speedometer (G21).
Specified value: a difference of no greater than 10%.
If the specified value was not obtained or no speed was displayed: 
-
Check the wiring from the Engine Control Module (ECM) (J623) to the Instrument Cluster Control Module (J285) for an open circuit, Short to
Battery (+), or to Ground (GND).
-
Check the wiring connection for damage, corrosion, lose or broken terminals.
-
If necessary, repair the faulty wiring connection.
Final procedures
After repair work, the following work steps must be performed in the following sequence:
1. Check the DTC memory. Refer to => [ Diagnostic Mode 03 - Read DTC Memory ] See: Testing and Inspection/Scan Tool Testing and
< PREV PAGE
NEXT PAGE >