< PREV PAGE
NEXT PAGE >
Eos (1F7) V6-3.2L (BUB) (2008)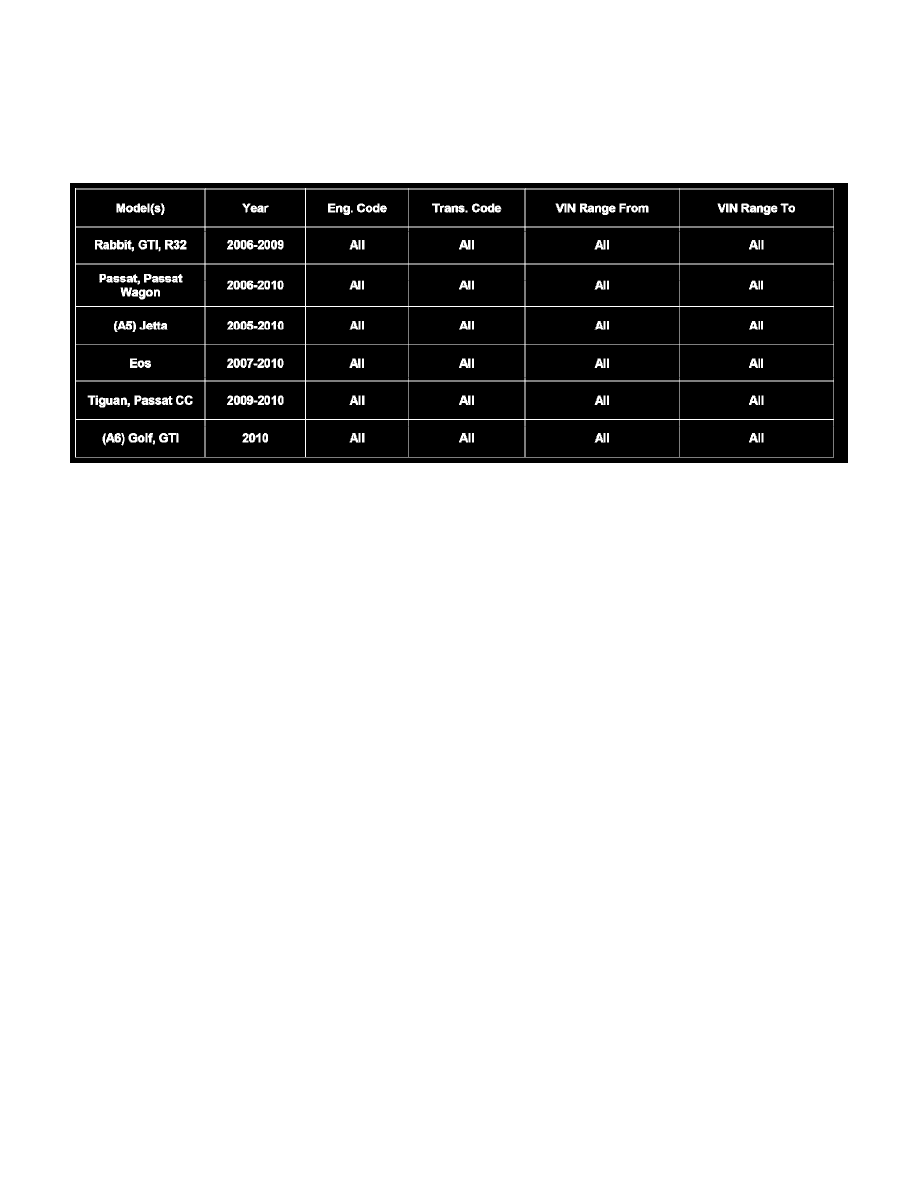 Steering Gear: Customer Interest
Steering - Update Software After Part Replacement
48 09 04 
Sept. 18, 2009 
2011806 Supersedes T.B. Group 48, number 09-01 dated Mar. 3, 2009 to include updated version CD for 2010 model year.
Vehicle Information
Condition
Steering System, Adaptation Requirement after Replacement Part Installation
Technical Background
Service parts are shipped with a software mapping default and have to be adapted to the individual vehicle requirements.
Production Solution
No production change required.
Service
Follow the Guided Fault Finding instruction of VAS 5051B/VAS 5052 tester, and as outlined in this technical bulletin. The CD will not work with the
tester VAS 5051A.
TIP:  Non observance of the following points may lead to control module failure. VAS 5051B or VAS 5052 must always be connected to the approved
power supply at the approved voltages. Under no circumstances should the power supply be interrupted or the diagnostic connector unplugged during the
flash procedure. Any appliances with high electromagnetic radiation (i.e. mobile phones) must be switched OFF.
Procedure
-
Connect vehicle to approved Volkswagen battery charger Midtronics InCharge 940 (INC940) tester/charger to maintain proper battery voltage.
-
Insert CD, Part No. W42RACKMAP50 with steering rack adaptation files.
-
Prepare by getting the vehicle PR-codes for suspension (i.e. L04, G05 etc.), park assist (i.e. 7X5, 8A3 etc.) from the trunk of the car or ELSA.
Depending on optional equipment more or less PR-codes may be needed.
-
Enter vehicle data
-
Select -OK- and then forward arrow.
-
Select Go to and Function / Component selection.
-
Navigate selections, for vehicle serviced, as outlined in the Examples provided. German built vehicles will all follow the same menu structure.
Other manufacturing locations may deviate slightly.
< PREV PAGE
NEXT PAGE >