< PREV PAGE
NEXT PAGE >
Golf III L4-1984cc 2.0L SOHC (1993)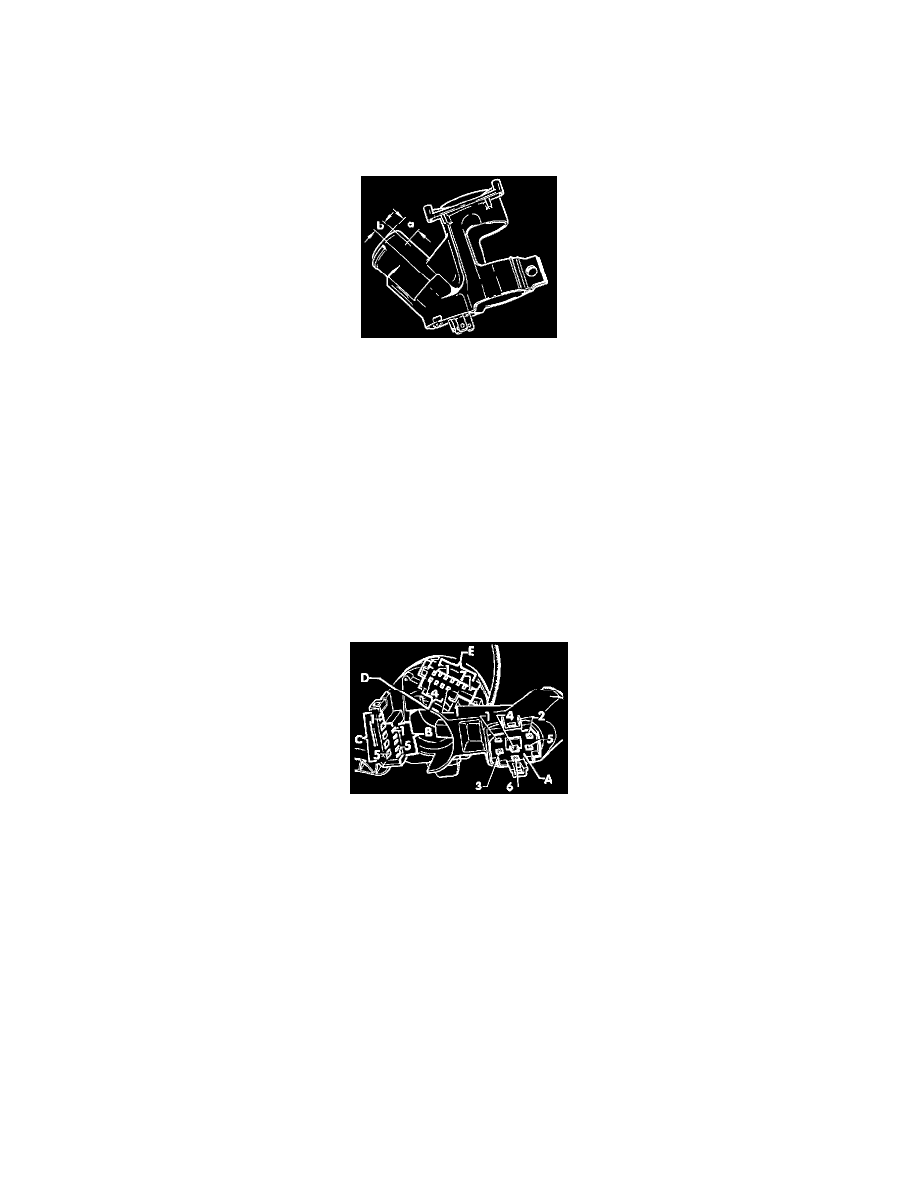 Ignition Switch Lock Cylinder: Service and Repair
Lock cylinder, removing and installing
Removing
- Remove steering lock housing refer to, Steering and Suspension, Steering Column, Service and Repair  See: Steering and
Suspension/Steering/Steering Column/Service and Repair
- Mark steering lock housing for hole at intersection of points -a- and -b-.
Dimension -a- = 12 mm (15/32 in.)
Dimension -b- = 10 mm (25/64 in.)
- Drill 3 mm (1/8 in.) diameter hole into steering lock housing at mark until lock cylinder stop spring is visible.
Hole depth: approx. 3 mm (1/8 in.)
- Compress stop spring using opposite end of drill and pull out lock cylinder.
Installing
- Insert lock cylinder into steering lock housing.
- Insert key into lock cylinder.
- Push lock cylinder fully into housing while gently turning key.
Steering column switches, connector wiring
Steering Column Switches, Connector Wiring
A. Ignition/starter switch -D-
1. Ignition/starter switch -D-, terminal 15 (B+ with key on)
2. Ignition/starter switch -D-, terminal X (B+ with key on)
3. Ignition/starter switch -D-, terminal 50
4. Ignition/starter switch -D-, terminal 30 (B+)
5. Ignition/starter switch -D-, terminal SU
6. Ignition/starter switch -D-, terminal P
B. Connector, 5-point
1. Windshield wiper/washer switch -E22-, terminal 53b
2. Windshield wiper/washer switch -E22-, terminal 53a
3. Windshield wiper/washer switch -E22-, terminal 53
4. Windshield wiper/washer switch -E22-, terminal 53e
5. Windshield wiper/washer switch -E22-, terminal J
C. Connector, 5-point
1. Emergency flasher switch -E3-,terminal 49
2. Headlight dimmer/flasher switch -E4-, terminal 56b
< PREV PAGE
NEXT PAGE >