< PREV PAGE
NEXT PAGE >
Jetta L4-1781cc 1.8L SOHC (ACC) Can (1995)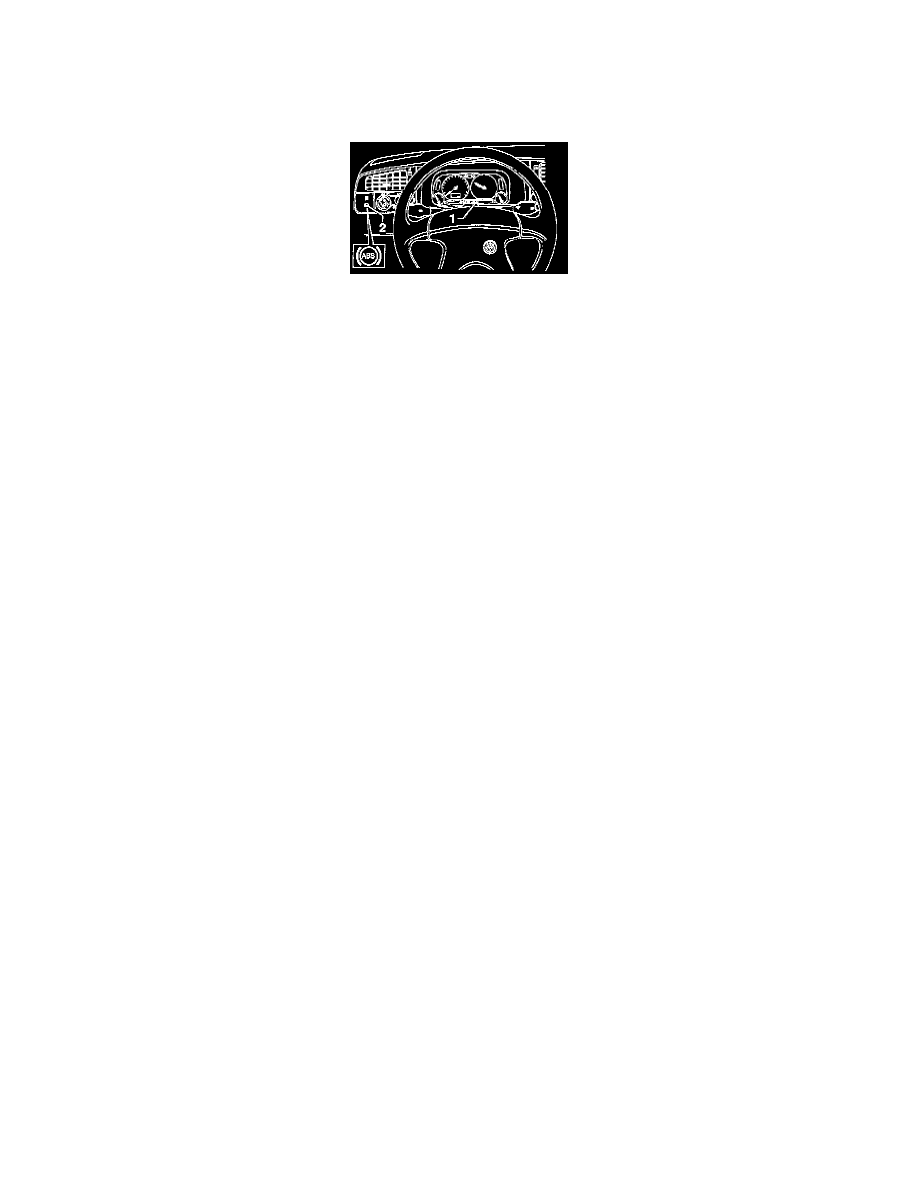 ABS Light: Testing and Inspection
Teves 20 GI ABS and ABS/EDL Warning Lights, Malfunctions Displayed
Brake Warning Light Locations, Cabrio, Golf III And Jetta III
LEGEND
1. Antilock Brake System/Electronic Differential Lock (ABS/EDL) warning light.
2. Brake system warning light.
NOTES: With an ABS malfunction, the anti-lock brake system remains switched off, but the conventional braking system remains fully functional. In
the case of sensor malfunction, the ABS warning light will go out after restarting the engine and reaching a speed in excess of2O km/h
(12mph). If both the ABS warning light and the warning light for brake system stay on, then ABS and EBPD (Electronic Brake Pressure
Distribution) is non-functional. in this case there will be a change in braking performance, as the brake pressure to the rear wheels will not be
regulated.
OPERATION
1. ABS warning light -K47- does not go out after completion of self-test sequence (ignition switched on.)
a. Possible malfunctions are:
-
Battery positive voltage (B+) supply is below 10 volts
-
Malfunction in ABS
-
Sensor malfunction after last starting the vehicle (sporadic)
-
Open circuit between the ABS warning light module, terminal 1, and the ABS control module, terminal 16
-
ABS warning light module faulty
2. ABS warning light goes out but warning light for brake system K118 remains on.
a. Possible malfunctions are:
-
The parking brake is pulled on.
-
The brake fluid level is too low.
-
Malfunction in control of warning light for brake system K118.
3. Vehicle with ABS/EDL has no EDL function
-
A possible cause for this complaint is that the brake light switch is incorrectly adjusted, or not functioning.
< PREV PAGE
NEXT PAGE >