< PREV PAGE
NEXT PAGE >
New Beetle GLS L4-2.0L (AVH) (2001)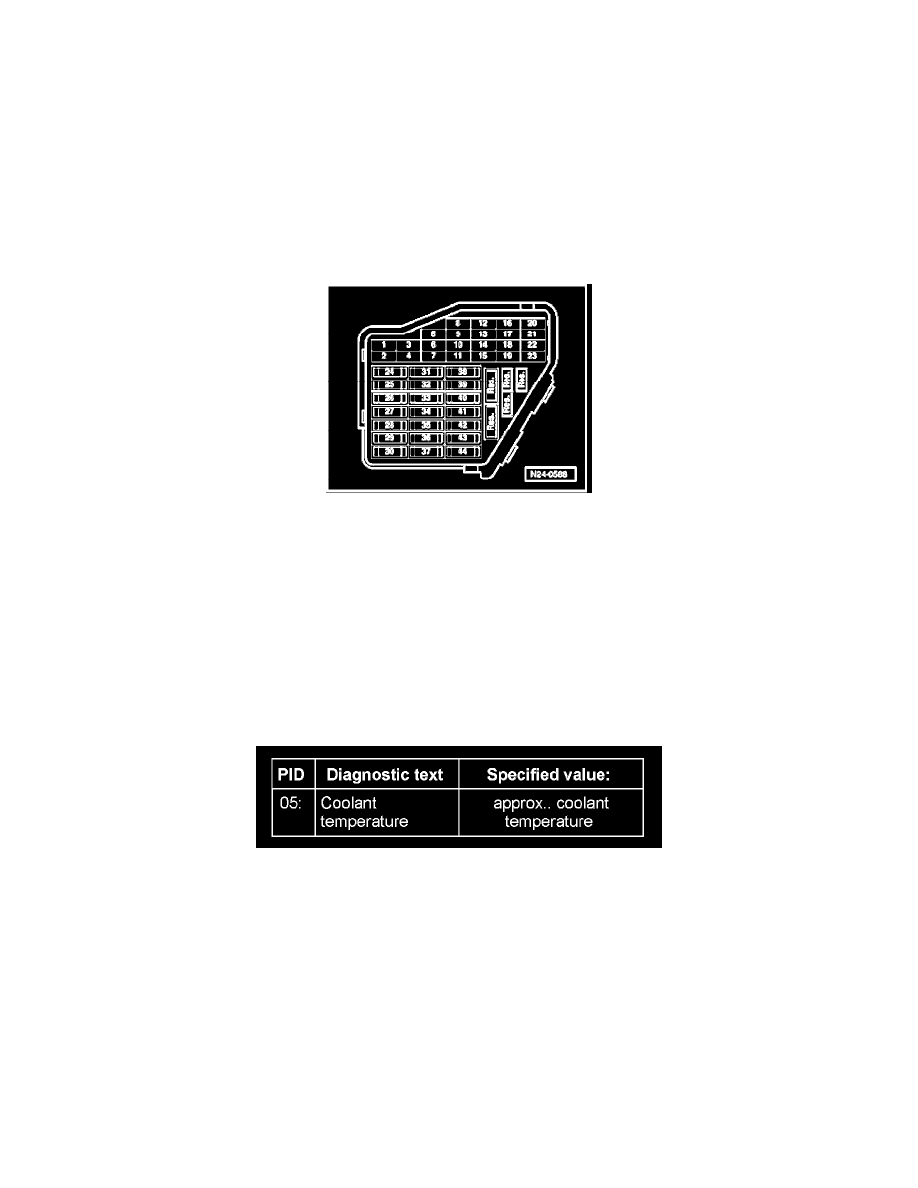 Coolant Temperature Sensor/Switch (For Computer): Testing and Inspection
With Generic Scan Tool
Engine Coolant Temperature (ECT) Sensor, Checking
NOTE:  Use only gold-plated terminals when servicing terminals in harness connector of sensor.
Recommended special tools and equipment
-
VAG 1526 multimeter or VAG 1715 multimeter
-
VAG 1594 connector test kit
-
Wiring diagram
Test requirements
-
The respective fuses of Motronic Engine Control Module (ECM) -J220- must be OK.
-
Parking brake must be engaged or else daylight driving lights will be switched on.
-
For vehicles with automatic transmission, selector lever must be in position -P- or -N-.
-
Engine must be cold.
Function test, Vehicles with engine code AVH, AZG, BDC
-
Connect diagnostic tester.  See: Powertrain Management/Computers and Control Systems/Testing and Inspection/Reading and Clearing Diagnostic
Trouble Codes/Scan Tool Connecting/With Generic Scan Tool/Diagnostic Tester, Connecting
-
Switch ignition on.
-
Under address word 33, select "Diagnostic mode 1: Checking measured values."
-
Select the measuring value "PID 05: Coolant temperature".
-
Check specified value of coolant temperature:
If specified value is not obtained:
-
Continue test according to the following table:
Indicated1)
Cause
approx.. - 40.0 degree C
Open circuit or short circuit to B+
approx.. 140.0 degrees C
Short circuit to Ground (GND)
1) If a temperature is indicated which differs greatly from ambient temperature of sensor, check sensor wires for contact resistance.
If specified value is obtained:
-
Start engine and let run at idle. The temperature must climb uniformly
NOTE:
-
The temperature increases in increments of 1.0 degrees C.
-
If the engine shows problems in certain temperature ranges and if the temperature does not climb uniformly, the temperature signal is intermittent
and the sensor should be replaced.
< PREV PAGE
NEXT PAGE >