< PREV PAGE
NEXT PAGE >
Passat Sedan V6-3.6L (BLV) (2008)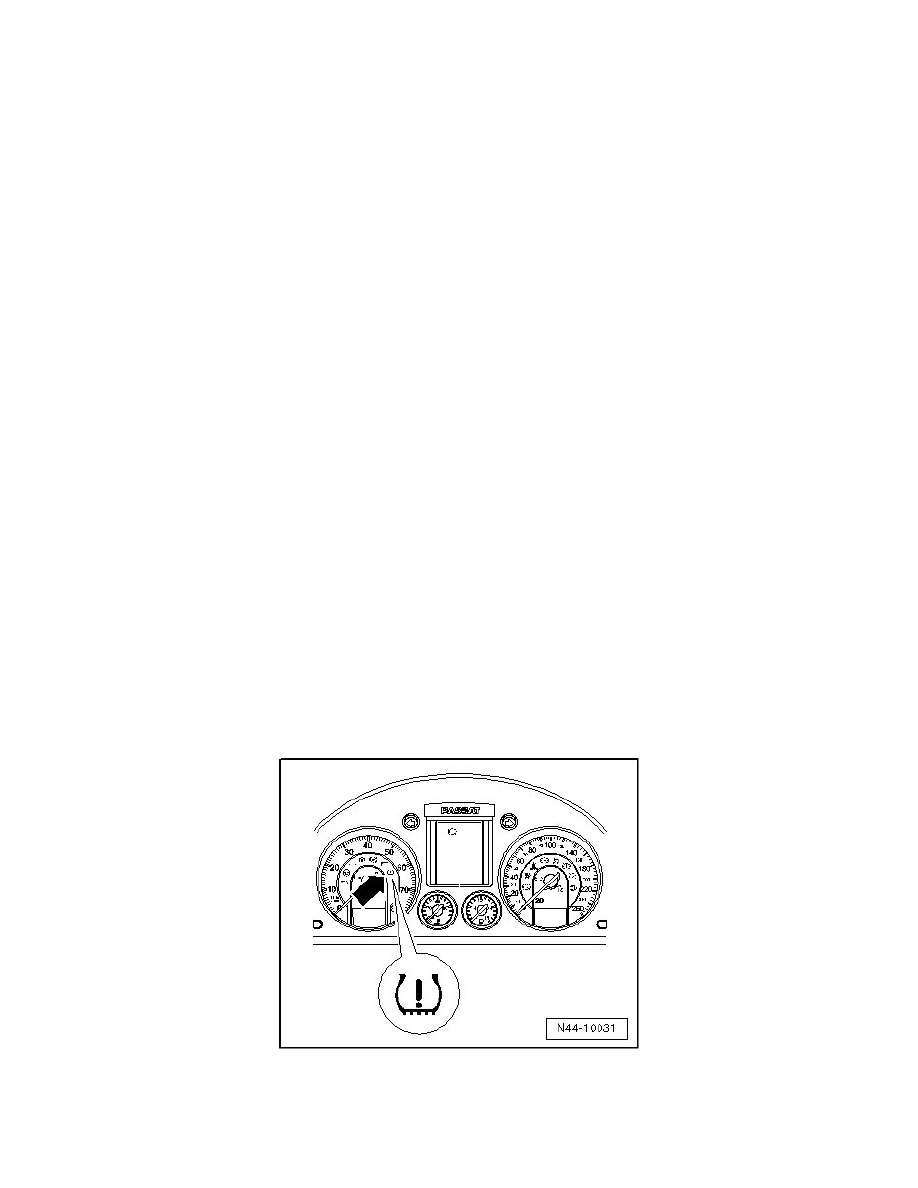 Low Tire Pressure Indicator: Description and Operation
Tire Pressure Monitoring System, Indirect System
Tire Pressure Monitoring System, Indirect System
General Information
The tire pressure monitoring indicator system is a component of software in ABS Control Module (J104). The system will recognize a slow and
gradual decrease in tire pressure on a wheel. DTC entries for tire pressure monitoring are stored in the ABS control module. With the help of the ABS
sensors, the TPMS compares the speed and rolling circumference of the individuals wheels.
After the following work and/or changes and with the ignition switched on, the Tire Pressure Monitoring Display Button (E492) must be pressed until
the confirmation chime sounds:
‹› Tire pressure change.
‹› A change in one or more tires.
‹› Changing a tire, for example, from front to rear.
If the rolling circumference of a wheel changes, the Tire Pressure Monitoring Display Indicator Lamp (K220) lights up in the instrument cluster.
Rolling circumference of a tire may change due to:
‹› Insufficient tire pressure.
‹› Structural damage on tires.
‹› Load on vehicle on one side.
‹› High load on one axle, when towing trailer for example.
‹› When snow chains are used.
‹› When spare wheel is installed.
‹› One wheel is replaced.
System Malfunction in ABS System
If the ASR/ESP control lamp (K155) or the traction control indicator lamp (K86) indicate a malfunction in the ABS system, then the tire pressure
monitoring display indicator lamp - arrow - will also illuminate. A malfunction in the TPMS will not be stored in the system.
Indicator lamp cannot be turned off by pressing tire pressure monitoring display button. In this case, perform the following steps:
-
Connect Vehicle Diagnosis, Testing and Information System (VAS 5051) and select Guided Fault Finding.
 Suspension
< PREV PAGE
NEXT PAGE >