< PREV PAGE
NEXT PAGE >
Passat Sedan V6-3.6L (BLV) (2008)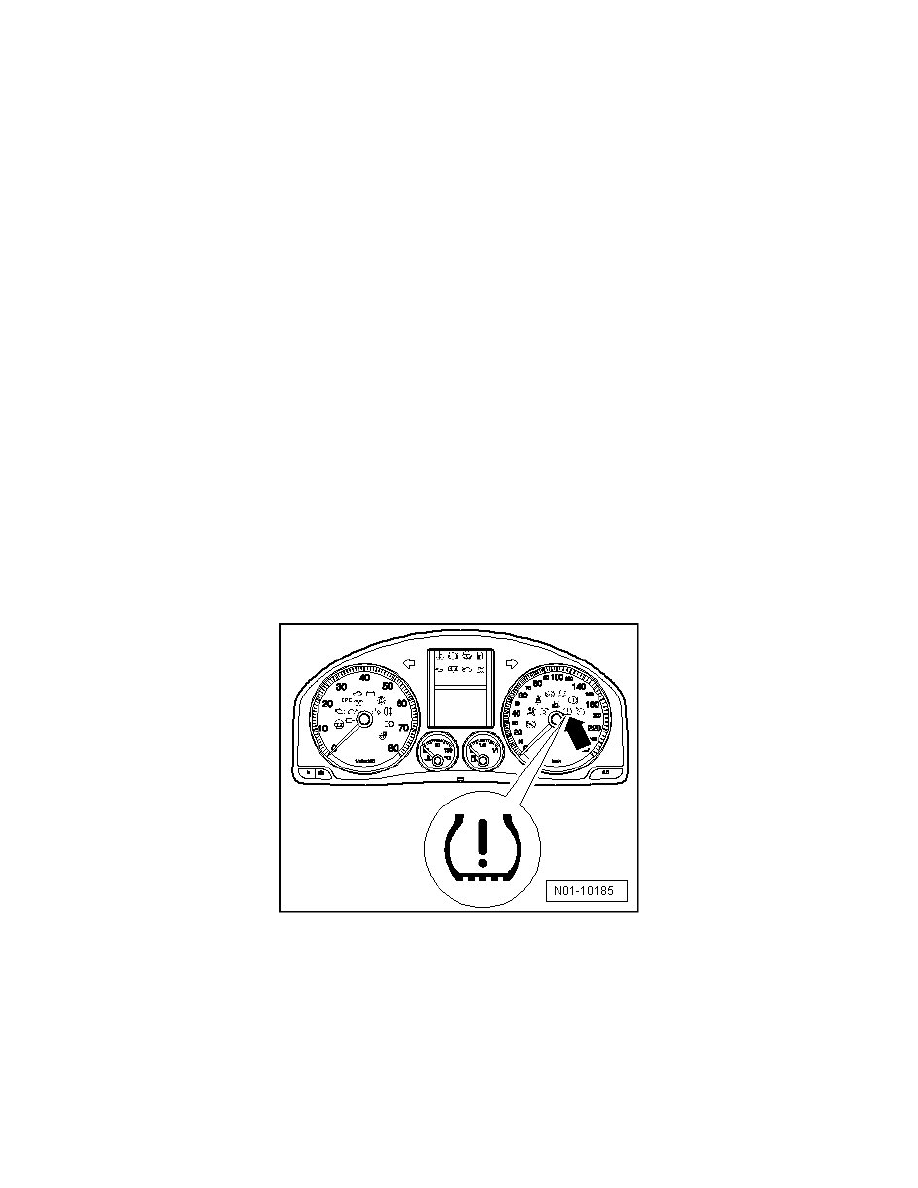 Low Tire Pressure Indicator: Service and Repair
Tire Pressure Display, Performing Basic Setting
03 - Service Procedures
Tire Pressure Display, Performing Basic Setting
Applies only to tire pressure control indicator with PR number 7K6
‹› Basic setting of Tire Pressure Monitoring Display Indicator Lamp (K220) should always only be performed, "after " tire inflation pressure values
have first been corrected to the proper values.
‹› If no pressure loss and no tire damage is detected after a tire pressure warning, the erroneous warning can be eliminated by a basic setting.
Tire Pressure Monitoring Display Indicator Lamp (K220) compares the speed, i.e. the rolling circumference of the individual wheels using the ABS
sensors. If rolling circumference of a wheel changes, this is displayed via tire pressure control indicator. Rolling circumference of tire may be change
if:
‹› Tire inflation pressure is too low.
‹› Tires have structural damage.
‹› Vehicle is loaded on one side.
‹› Wheels of one axle are loaded higher (e.g. when towing trailer or driving uphill and downhill).
‹› Snow chains are installed.
‹› Spare wheel is installed.
‹› One wheel per axle was replaced.
Tire Pressure Monitoring Display Indicator Lamp (K220) has a yellow indicator light in instrument cluster -  arrow -.
‹› "BLINKING LIGHT" means that no "INITIAL BASIC SETTING " was performed yet.
‹› "STEADY LIGHT", in conjunction with a warning tone, indicates " WARNING", a loss of pressure has been recognized, check tire pressure,
perform system basic setting.
Perform "INITIAL" basic setting.
-
Switch ignition on.
-
Simultaneously press button for ESP as well as button SET - A - in center console for longer than 2 seconds. 
< PREV PAGE
NEXT PAGE >