< PREV PAGE
NEXT PAGE >
Passat Sedan V6-3.6L (BLV) (2008)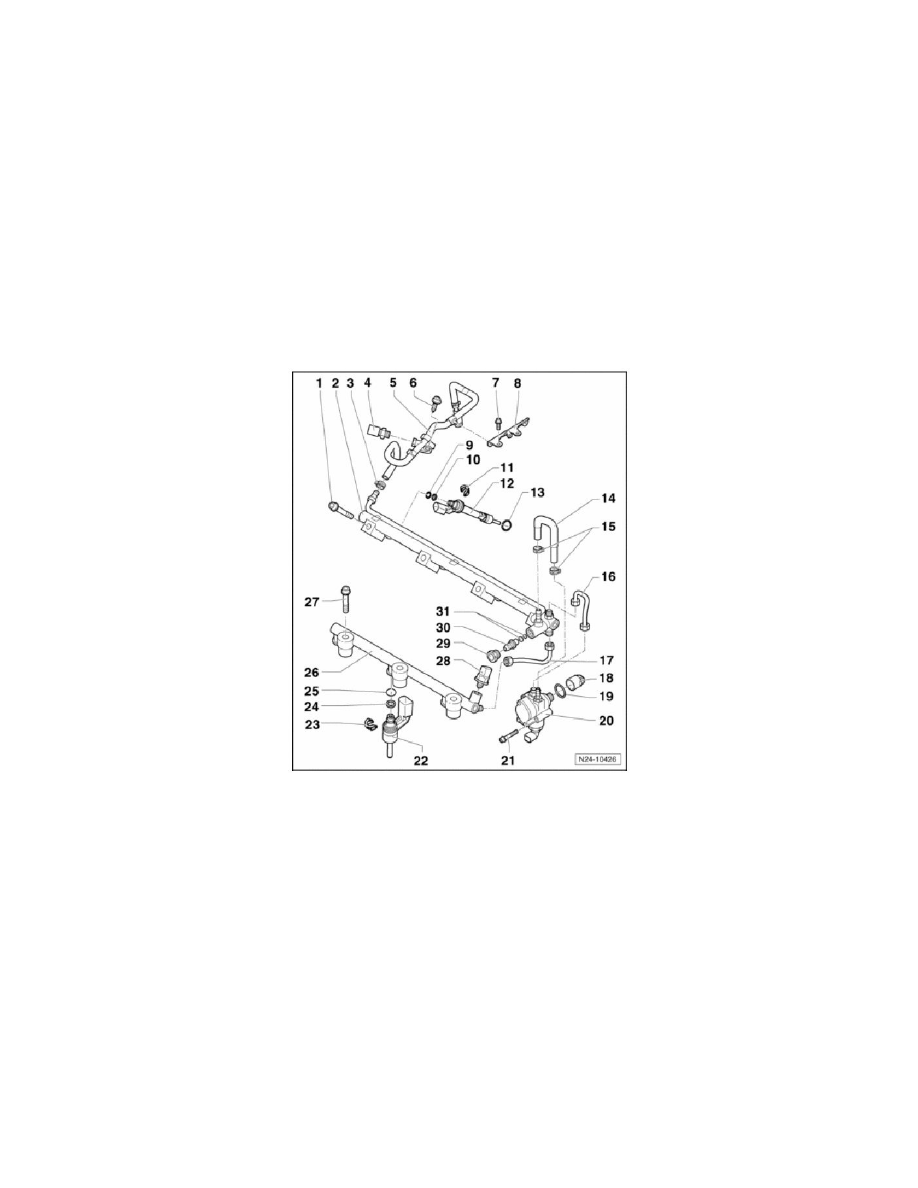 Fuel Injector: Locations
One Piece Intake Manifold
Fuel Rail, High Pressure Pump And Injectors Assembly Overview, From 08.07
NOTE:
-
Do not disassemble high pressure pump.
-
If a fuel injector is removed, Teflon sealing ring of combustion chamber as well as O-ring must always be replaced.
-
Read safety precautions before beginning work.
-
Observe the rules for cleanliness.
CAUTION:
-
For reasons of safety, if the battery has not been disconnected, Fuel Pump (FP) fuse must be removed before opening the fuel supply
system as the FP will be activated by the drivers door contact switch. Fuse assignment Electrical Wiring Diagrams, Troubleshooting and
Component Locations.
-
Fuel pressure in high pressure pipe can be up to 120 bar. Wear protective goggles and protective clothing to prevent injuries and contact
with skin. Before loosening the fuel pipe, place a cloth around the connection point. Then release pressure by carefully loosening the
union nuts.
1
-
30 Nm + 90 degrees ( 1/4 turn) additional turn
-
Replace
-
Tighten fuel rail uniformly, starting from inside and working toward outside
2
-
Fuel rail
-
For cylinders 1, 3 and 5
-
Tighten uniformly, starting from inside and working toward outside
3
-
Spring-type clip
4
-
Low fuel pressure sensor G410, 15 Nm
5
-
Fuel supply hose
-
From fuel tank
-
With the mount for the fuel pressure sensor G247
6
-
8 Nm
7
-
8 Nm
8
-
Bracket
-
For fuel hose
9
-
O-ring
-
Replace
-
Before installing, lubricate with clean engine oil
10
-
Support washer
-
Replace if damaged.
11
-
Spring element
< PREV PAGE
NEXT PAGE >