< PREV PAGE
NEXT PAGE >
Passat Sedan V6-3.6L (BLV) (2008)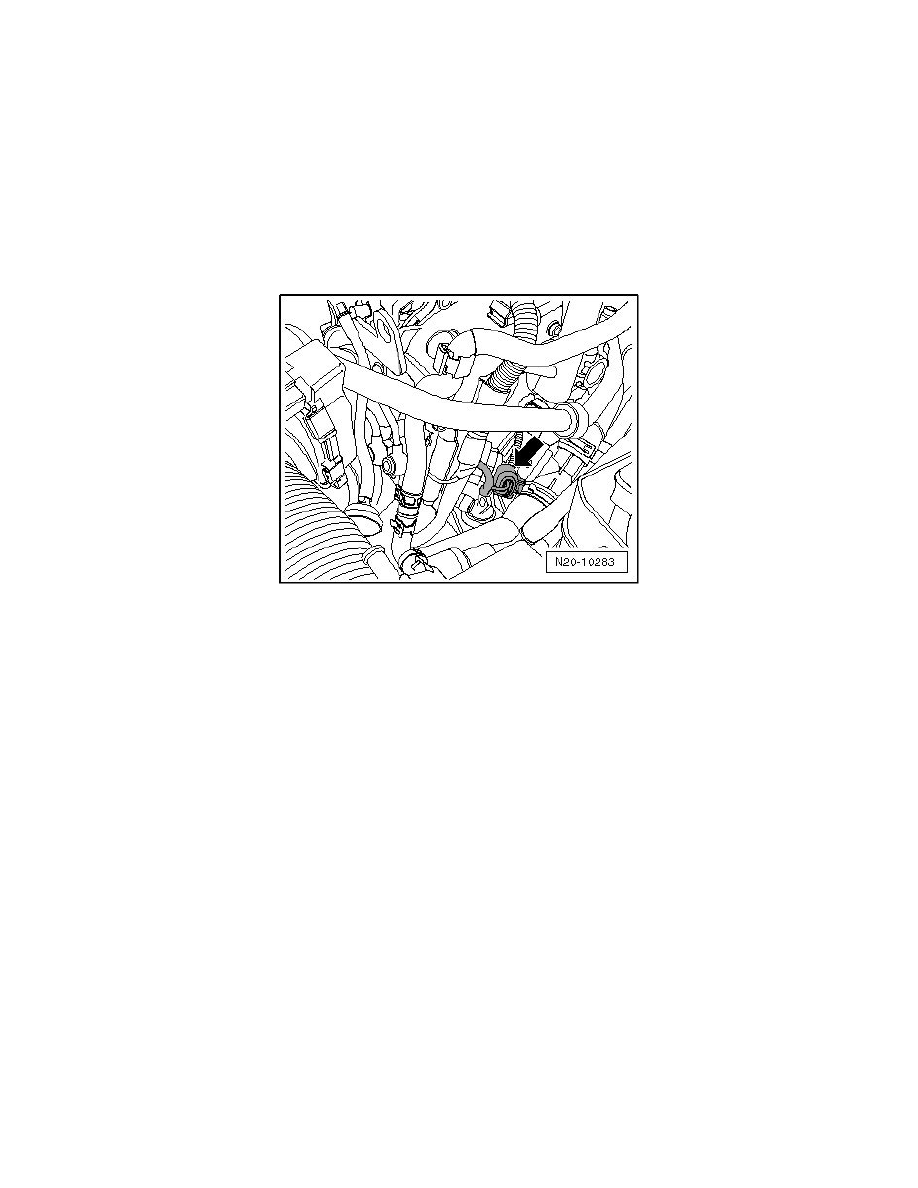 Fuel Gauge Sender: Service and Repair
High Side Pressure, Releasing
CAUTION!
The fuel injection system is separated into a high pressure side where the pressure is a maximum of approximately 120 bar and a low
pressure side where the pressure is approximately 6 bar.
Before opening the high pressure side, for example to remove the fuel pressure sensor (G247), the fuel pressure must be reduced to a
residual pressure of approximately 6 bar. The procedure for this is as follows.
-
Reposition the coolant hose on the intake manifold to the side and unclip the wiring harness below from its retaining clip.
-
Disconnect the connector from the fuel pressure regulator valve (N276) on the high pressure pump -  arrow -.
-
Allow the engine to idle approximately 10 seconds.
‹› When the fuel pressure regulator valve electrical connector is disconnected during idle, the pressure in the high side decreases to approximately 6
bar.
‹› After the high side pressure has been reduced, the high side must be opened immediately. Otherwise, the pressure increases again due to the
warming of the fuel.
-
Turn off the ignition.
CAUTION!
The fuel lines are pressurized! Wear protective goggles and protective clothing to prevent injuries and contact with skin. Before opening
the high pressure side, place a cloth around the connection.
-
Place a clean cloth around the connection point and carefully open in order to release the residual pressure to approximately 6 bar. Leaking fuel
must be absorbed.
-
After completing the work, check the Engine Control Module (ECM) Diagnostic Trouble Code (DTC) memory. Erase all DTC entries which may
have been caused by disconnecting the connector.
‹› If the DTC memory was erased, the readiness code must be generated again, refer to "Guided Fault Finding" in the vehicle diagnostic tester.
< PREV PAGE
NEXT PAGE >