< PREV PAGE
NEXT PAGE >
Tiguan 4Motion (5N1) L4-2.0L Turbo (CCTA) (2009)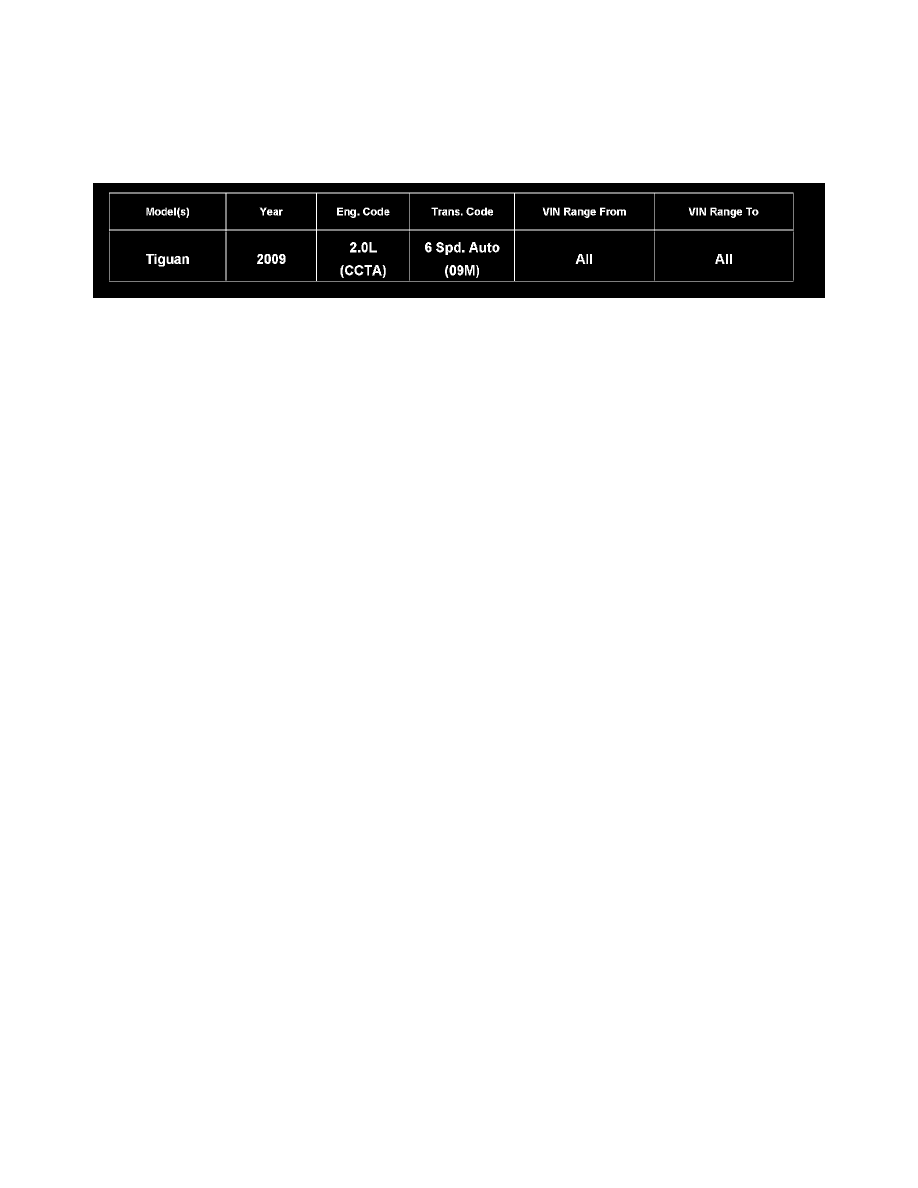 Control Module: All Technical Service Bulletins
A/T Controls - Harsh Cold 3-2 Downshift
01 09 19 
December 10, 2009 
2022260
Vehicle Information
Condition
Update Programming Transmission Control Module for Harsh 3-2 Down Shift when Cold
Under cold conditions (ATF temperature below 65°C / 149°F), downshift from 3rd to 2nd gear is harsh as vehicle is decelerated by application of the
brake / brake pedal.
Technical Background
The basic application software in the transmission control module has been changed to improve shift quality with ATF temperature below 65°C / 149°F.
Production Solution
Improved software.
Service
Update-Programming Procedure:
Tip:
To Update-Programming using SVM, review and follow instructions in Technical Bulletin Instance 2014603 "Software Version Management".
The SVM Process must be completed in its entirety so the database receives the update confirmation response.
A warranty claim may not be reimbursed if there is no confirmation response to support the claim.
Note:
Prior to launching VAS-PC application and starting control module update process, confirm tester screen saver and power settings in accordance
with Special Tools and Equipment - Service Information Document # VSE-08-18. Failure to do so may result in the tester entering power save mode
during data transfer, and subsequent control module failure.
When using a VAS 5051B or VAS 5052A tester in conjunction with a VAS 5054A wireless transmitter head for a flash procedure, please connect a USB
cable between the transmitter head and the tester. Failure to do so may
lead to errors during the flash procedure.
< PREV PAGE
NEXT PAGE >