< PREV PAGE
NEXT PAGE >
200 Quattro Wagon L5-2226cc 2.22L SOHC Turbo (MC) (1989)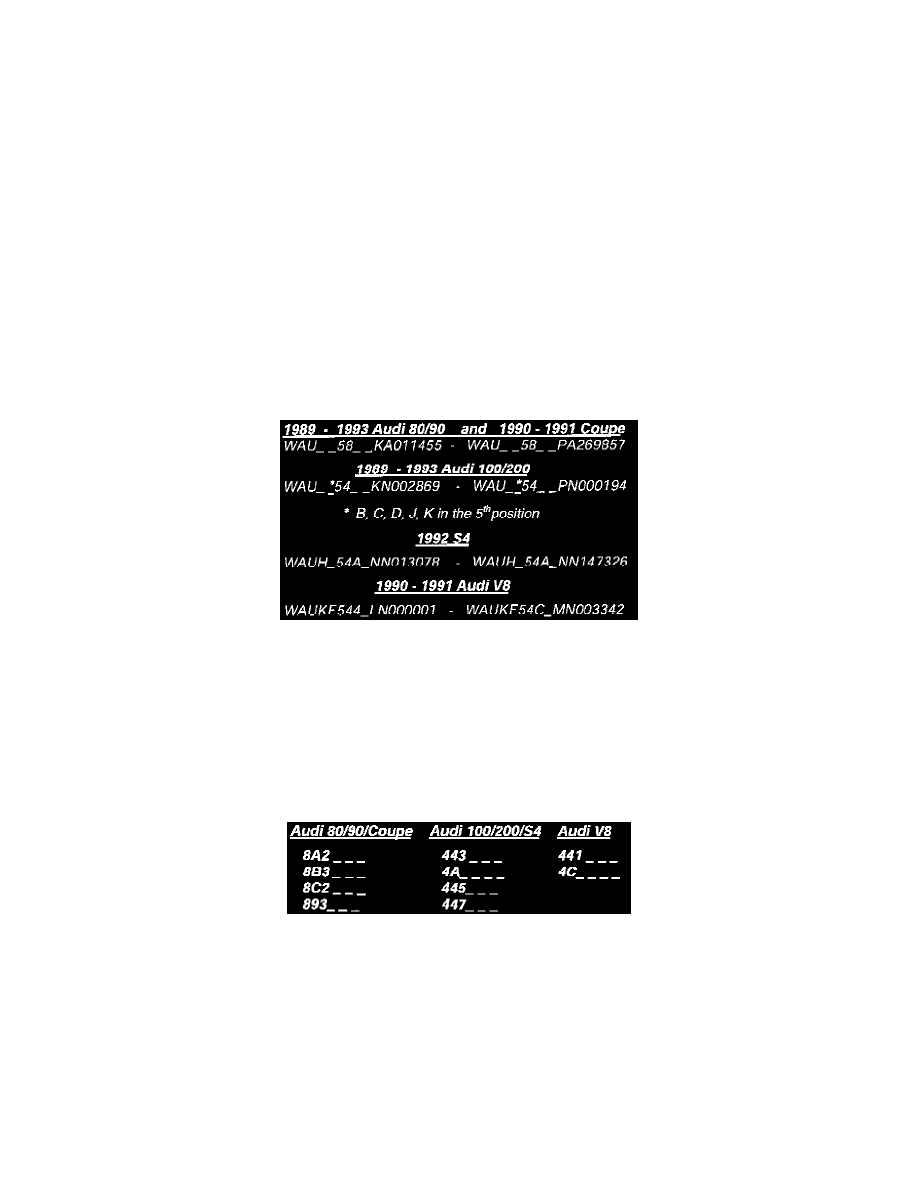 Air Bag Control Module: Recalls
Campaign - Air Bag Module Replacement
REVISED
Code: KF
October 20, 1997
Subject:
1989-93 Audi Vehicles Equipped With
Air Bag I System
Replace Air Bag Sensor Module
Dear Audi Dealer:
This is to inform you of the initiation of a voluntary safety recall campaign of some 1989-93 model Audi vehicles equipped with an Air Bag I System.
This recall involves replacement of the air bag sensor module.
Problem Description
Audi has determined that some air bag sensor modules could cause the air bag to deploy in the absence of an impact or accident.
Vehicle Identification Number Ranges
Please note that the above VINs represent the lowest and highest serial numbers of affected vehicles. Use of the V-Crest campaign inquiry system will
allow you to determine whether or not a particular vehicle, within the above VIN ranges, requires the corrective work.
Note:
Audi of America, Inc. will not reimburse under this recall action any duplicate recall any repair work or a repair outside the VIN range.
Important:
Please Provide A Copy To All Personnel With Recall-Relate Responsibilities!
Model Numbers
Remedial Action
Each affected vehicle requires the installation of a new air bag sensor module.
IMPORTANT NOTE:
If an affected Audi has equipment installed by sales or service facilities other than an authorized Audi dealer (such as an alarm system, cellular
telephone or disc player) which needs to be removed in order to perform the recall work, please inform the customer, prior to performing any work,
of the cost of removal and/or reinstallation of such equipment and inform them that extra time and/or parts needed will be at their expense. In the
event that the customer refuses, under these conditions, to have the recall performed, it is equally important that the repair order be clearly marked
"Customer Refused Repairs" and the campaign system is updated with Damage Code KF20.
< PREV PAGE
NEXT PAGE >