< PREV PAGE
NEXT PAGE >
200 Quattro Wagon L5-2226cc 2.22L SOHC Turbo (MC) (1989)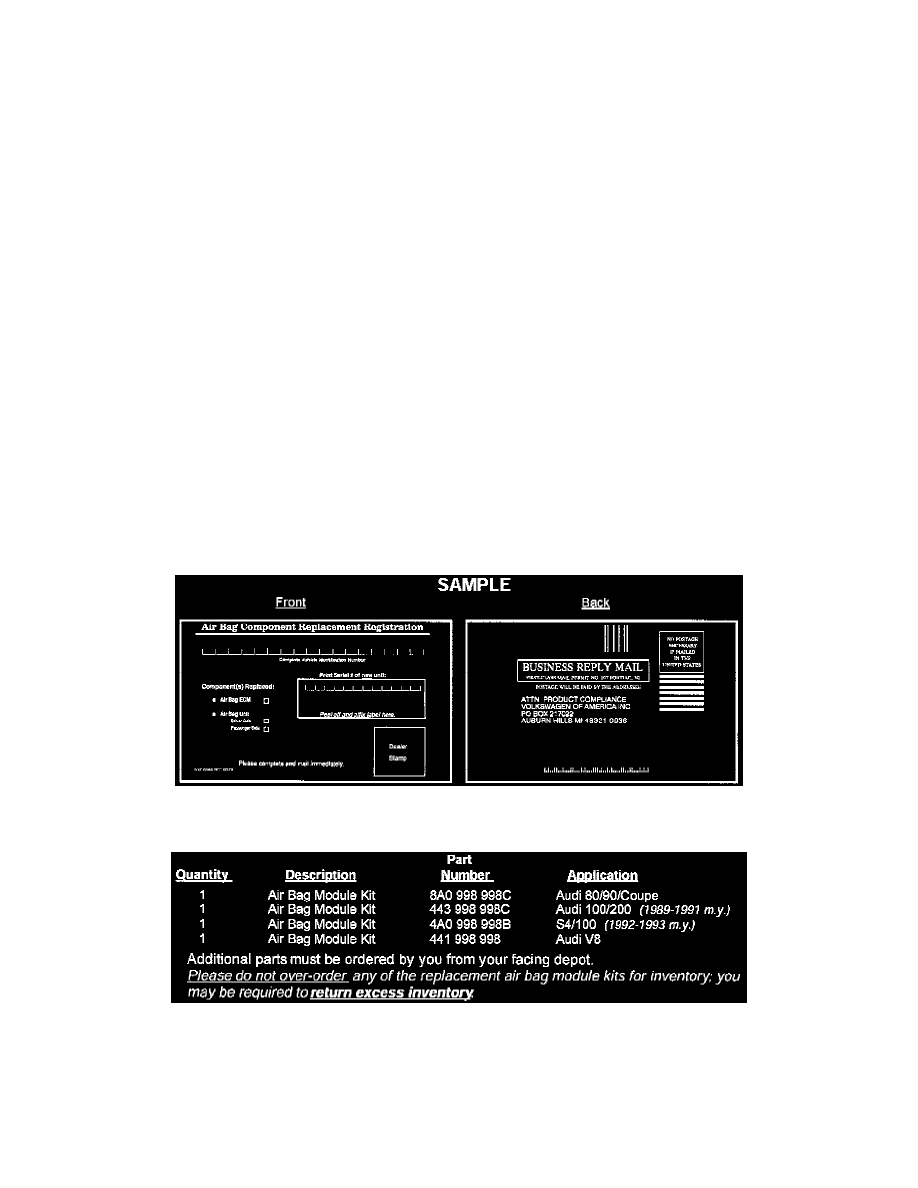 Owner Notification Mailing
Audi of America, Inc. will mail first class notification letters to all known owners of affected vehicles beginning on or about October 20, 1997. A copy of
the owner letter is included in this circular.
Vehicle Allocation
Included with this package is a computer list containing information for vehicles of owners who may reside within your area of responsibility.
Important Note:
The above-mentioned listing includes owner names and addresses obtained from state motor vehicle registrations. Under the law of some states,
including regulations set forth by the California Department of Motor Vehicles, vehicle registration information may only be used for recall
purposes. Use for other reasons may constitute violation of state law.
Limitation on Sale or Lease of Certain Vehicles
Section 154(d) of the National Traffic and Motor Vehicle Safety Act of 1966 mandates that dealers correct, prior to delivery for sale or lease, any
vehicle which fails to comply with an applicable Federal Motor Vehicle Safety Standard or which contains a defect relating to motor vehicle safety. It is,
therefore, imperative that any vehicle in your new or used car inventory and affected by this recall is corrected prior to sale.
Work Procedure
All affected vehicles should be repaired in accordance with the enclosed Work Procedure.
Air Bag Sensor Module Registration
When replacing an air bag sensor module, the postage-paid Air Bag Component Registration card (example below) must always be completed and
mailed immediately. For your convenience, a supply of cards have been included with this package. Please clearly print the VIN on the registration card
and peel off the lower portion of the label containing the 12-digit (alpha/numeric) serial number from the new air bag sensor module (if provided). Affix
the label to or clearly print the serial number in the space provided on the registration card. Mail each card immediately upon completion of the repair.
Additional registration cards, part number W42 ABAG REP CD 23, are available and can be ordered, free of charge, by calling the VW Order Desk at
(800) 544-8021.
Parts Information
Prior to owner notification, we will automatically ship to you an initial supply of replacement air bag sensor module kits based on your vehicle
allocation. The parts are as follows:
Parts Return
< PREV PAGE
NEXT PAGE >