< PREV PAGE
NEXT PAGE >
1 Series E81 130i (N52K) 3-door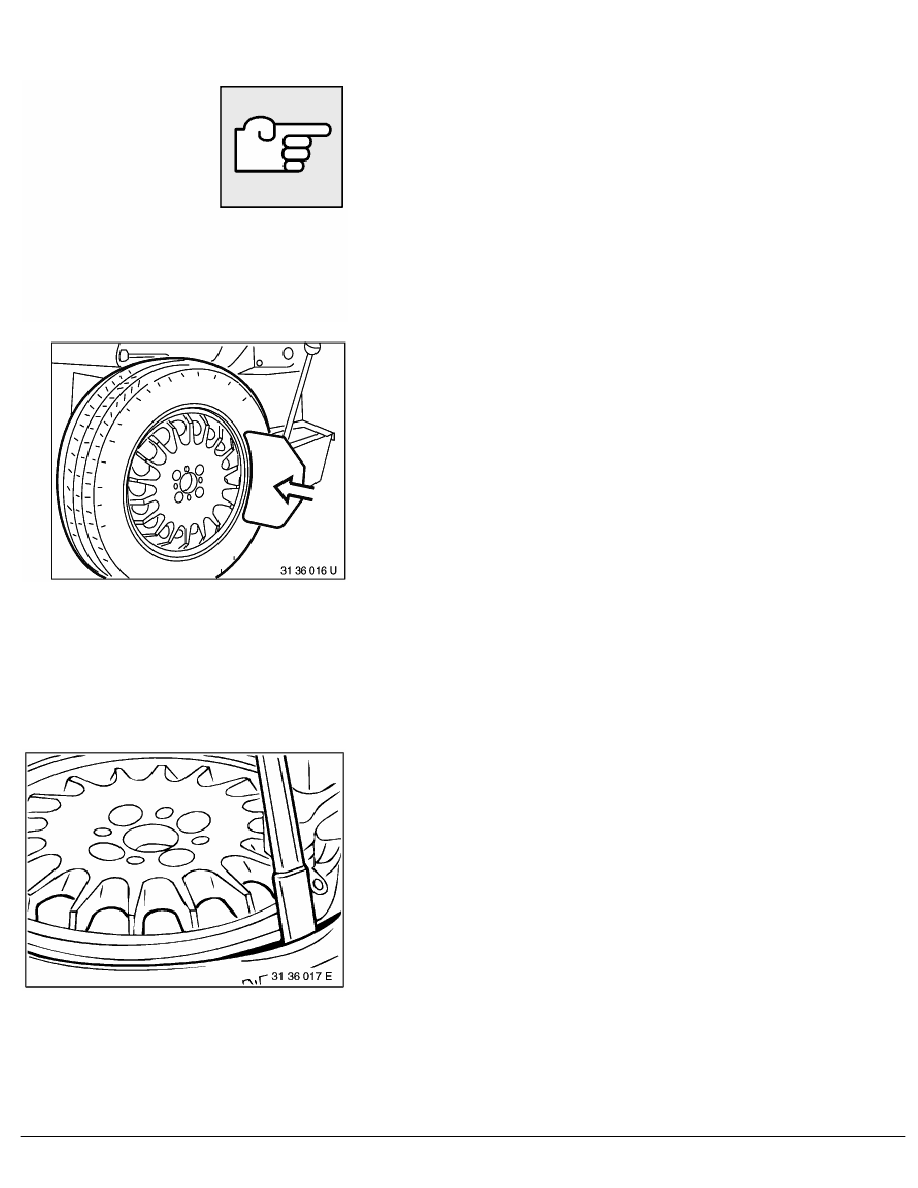 The arrow on the tyre must point in the direction of travel for
each wheel!
Models with M Mobility system
If the tyre was filled with the M-Mobility system after a puncture, it
will be necessary before removal to drill an approx. 25 mm dia.
hole in the side wall of the tyre. Allow sealing compound to flow
out through this bore and dispose of compound in compliance with
environmental regulations. Clean disc wheel after removing tyre.
Tyre removal with a fitting machine:
Unscrew valve insert, discharge air, force off tyre bead from rim
flange with pressing-off horn of device on outside and inside.
If tyre beads are stuck, first release the tyre with the pressing-off
horn at several points of the wheel before actually pressing off,
apply tyre mounting paste between tyre and rim flange and press
off the tyres completely.
Pull off balance weights on rim and clean rim to remove large
pieces of dirt.
Clamp wheel on mounting machine.
Narrow rim shoulder always faces upwards.
Important!
Vehicles with RDC:
To prevent the pressing-off horn from damaging the RDC
wheel electronics, do not rest the pressing-off horn on both
rim sides in the area of the valve.
Swing or fold mounting pillar into position and let it engage.
Adjust mounting head, pressing it on the rim edge fully, and turn
down the lever for the clamp; normally the distance of the
mounting head will set in automatically.
The valve should be approx. 15 cm to the right of the assembly
head (so as to prevent the tyre iron from damaging the wheel
electronics).
Raise tyre bead with tyre iron over mounting finger.
RA  Replacing a tyre
BMW AG - TIS
22.01.2013  06:13
Issue status (12/2007) Valid only until next DVD is issued
Copyright
Page  - 2 -
< PREV PAGE
NEXT PAGE >