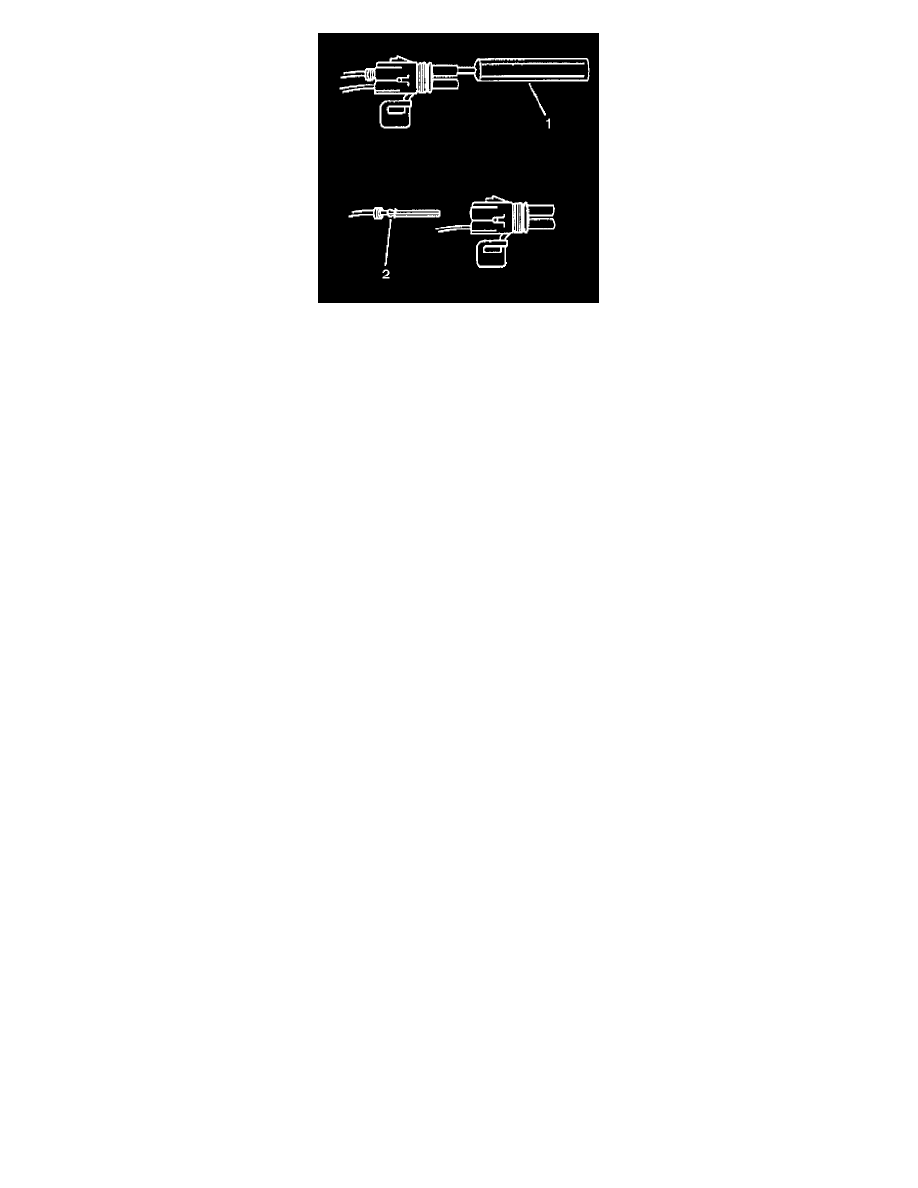 4. Insert the Weather Pack(r) terminal removal tool into the front (mating end) of the connector cavity until it rests on the cavity shoulder (1).
5. Gently pull on the wire to remove the terminal through the back of the connector (2).
IMPORTANT:  Never use force to remove a terminal from a connector.
6. Inspect the terminal and connector for damage. Repair as necessary.
7. Reform the lock tang (2) and reset terminal in connector body.
8. Close secondary locks and join connector halves.
9. Verify that circuit is complete and working satisfactorily.
10. Perform system check.
Repairing Connector Terminals
REPAIRING CONNECTOR TERMINALS
TOOLS REQUIRED
J 38125-C Terminal Repair Kit
Use the following repair procedures in order to repair the following:
-
Push to Seat terminals
-
Pull to Seat terminals
-
Weather Pack(r) terminals
Some terminals do not require all of the steps shown. Skip the steps that do not apply for your immediate terminal repair. The J 38125-C contains further
information.
1. Cut off the terminal between the core and the insulation crimp. Minimize any wire loss.
For Weather Pack(r) terminals, remove the seal.
2. Apply the correct seal per gage size of the wire.
For Weather Pack(r) terminals, slide the seal back along the wire in order to enable insulation removal.
3. Remove the insulation.
4. For Weather Pack(r) terminals only, align the seal with the end of the cable insulation.
5. Position the strip in the terminal.
For Weather Pack(r) terminals, position the strip and seal in the terminal.
6. Hand crimp the core wings.
7. Hand crimp the insulation wings.
For Weather Pack(r) terminals, hand crimp the insulation wings around the seal and the cable.
8. Solder all of the hand crimp terminals excepting Micro-Pack 100 World terminals. Soldering Micro-Pack 100 World terminals may damage the
terminal.
Circuit Protection - Circuit Breakers
CIRCUIT PROTECTION - CIRCUIT BREAKERS
A circuit breaker is a protective device that is designed to open the circuit when a current load is in excess of the rated breaker capacity. If there is a short
or other type of overload condition in the circuit, the excessive current will open the circuit between the circuit breaker terminals. Two types of circuit
breakers are used.
Circuit Breaker:  This type opens when excessive current passes through it for a period of time. It closes again after a few seconds, and if the cause of
the high current is still present, it will open again. The circuit breaker will continue to cycle open and closed until the condition causing the high current
is removed.