NEXT PAGE >
< PREV PAGE
Caravan AWD V6-201 3.3L (1991)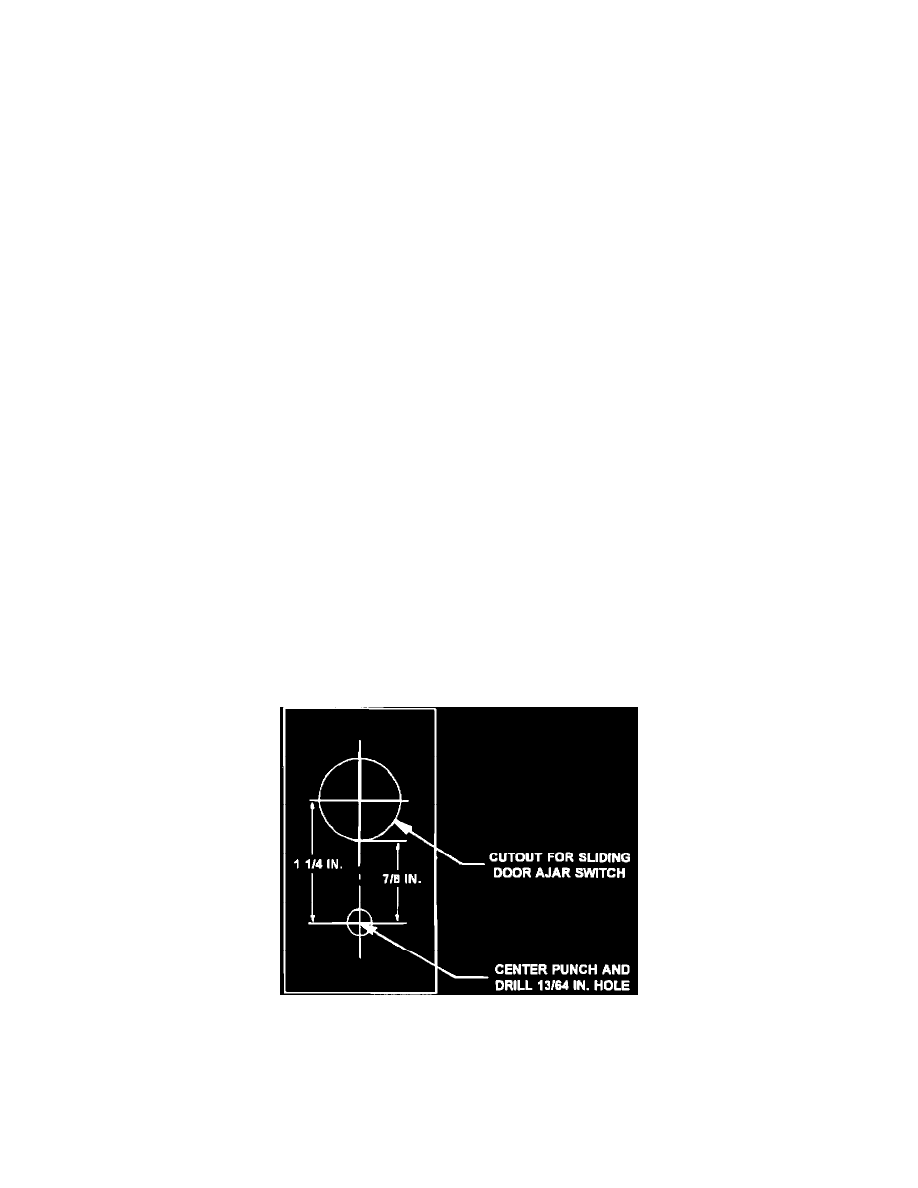 Body Control Module: Customer Interest
Door Ajar Lamp - Flickers/Locks Cycle Repeatedly
NO: 08-21-94
GROUP: Electrical
DATE: Apr. 29, 1994
SUBJECT:
Sliding Door Ajar Switch/Adjustment
THIS BULLETIN SUPERSEDES TECHNICAL SERVICE BULLETIN 08-62-93 DATED DEC. 17, 1993 WHICH SHOULD BE NOTED IN YOUR
FILES. THIS IS A COMPLETE REVISION THAT ADDS PARTS AND A REPAIR PROCEDURE.
MODELS:
1991 - 1994 (AS) Town & Country/Caravan/Voyager
SYMPTOM/CONDITION:
Door ajar warning lamp flickers, the power door locks, if the automatic (rolling) door lock feature is enabled, cycles repeatedly and/or a "mystery chime"
from the Body Control Module (BCM) may be experienced. On 1993 and 1994 models, flickering of the courtesy lamps may also occur.
NOTE:
THIS REPAIR PROCEDURE IS ALSO RECOMMENDED ANY TIME AN ADJUSTMENT IS MADE TO THE SLIDING DOOR THAT
MOVES THE SLIDING DOOR OUTBOARD OR AWAY FROM THE BODY C-PILLAR.
PARTS REQUIRED:
1
4687558
Switch, Ajar Sliding Door
1
4688479
Bumper, Over-Slam
REPAIR PROCEDURE:
This bulletin involves installing an over-slam bumper to the C-Pillar and replacing the sliding door ajar switch.
1.
Using the procedure outlined on Page 23-30 of the 1994 Town & Country, Caravan and Voyager Service Manual (Publication No. 81-370-4105),
remove the sliding door assembly.
2.
Cut out the template as shown.
3.
Position the template over the sliding door ajar switch and center punch the point indicated on the template.
4.
Remove the template (template should be retained for future use) and drill a 13/64 in. (5.16 mm) hole at the center punched location. De-burr the
hole, otherwise, the groove in over-slam bumper may not be able to engage the sheetmetal and be retained.
5.
Install the over-slam bumper (P/N 4688479) with a twisting motion into the 13/64 in. hole (5.16 mm). Applying silicone the tip of the over-slam
NEXT PAGE >
< PREV PAGE