< PREV PAGE
NEXT PAGE >
D250 3/4 Ton Pickup 2WD V8-318 5.2L VIN R 4-bbl (1982)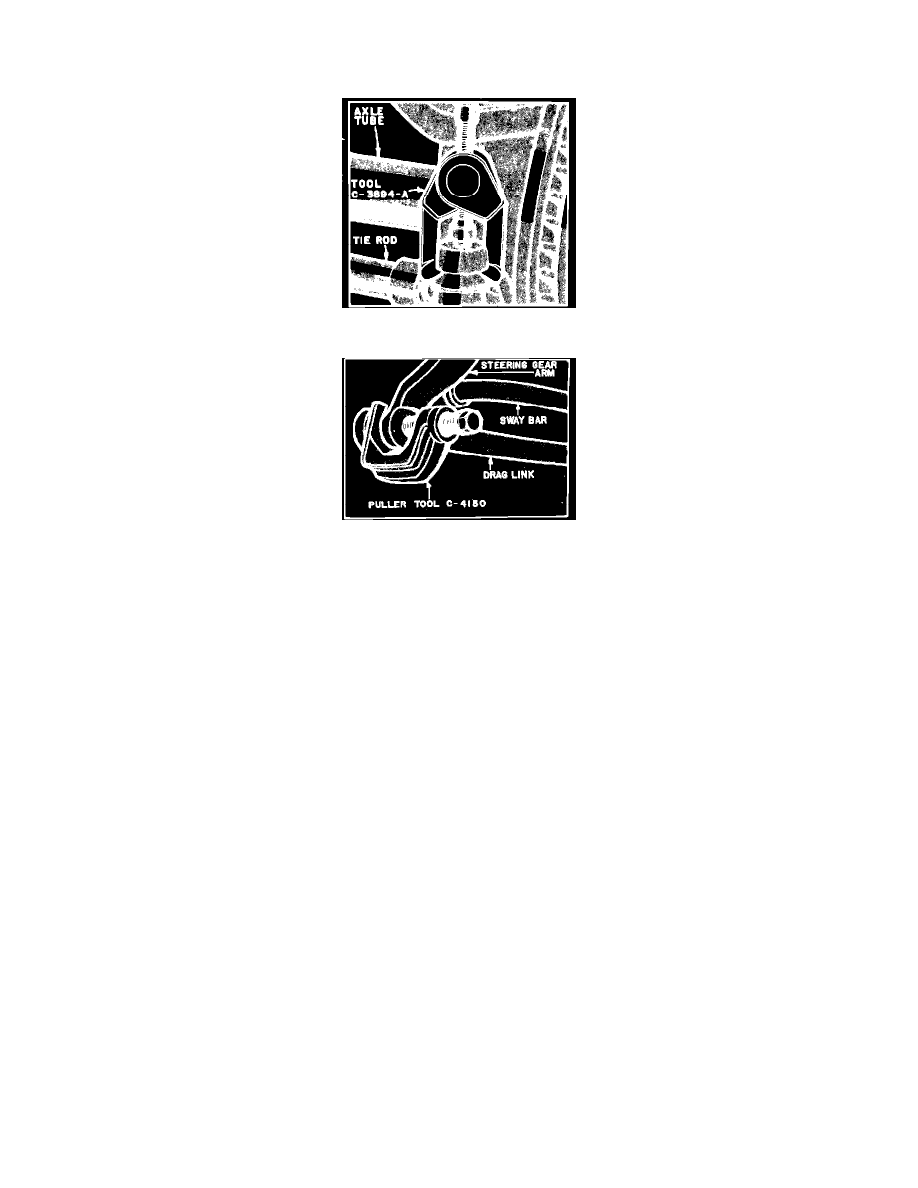 Front Steering Knuckle: Service and Repair
4 Wheel Drive
Fig. 17 Using puller to remove tie rod (Typical)
Fig. 18 Using puller to remove drag link from steering arm. (Typical)
MODELS W/FULL TIME 4WD
Removal & Disassembly
1. Remove axle shaft cotter pin and loosen outer axle shaft nut.
2. Raise vehicle, then remove wheel assembly.
3. After removing caliper retainer and anti-rattle spring assembly, slide caliper out and away from rotor. Hang caliper out of the way. Do not allow
caliper to hang by hydraulic brake hose. Remove inboard brake pad.
4. Remove outer axle shaft nut and washer and through access hole in rotor assembly; remove the six bearing retainer bolts.
5. Secure a suitable puller to wheel studs and tighten main screw of tool to remove hub, rotor, bearings, retainer and outer seal as an assembly.
Remove puller from rotor.
6. Remove brake caliper adapter from knuckle, then remove and discard O-ring from knuckle, if equipped.
7. Carefully pull axle shaft assembly out and remove seal and slinger from shaft.
8. Disconnect tie rod from steering knuckle using a suitable tool, so as not to damage seal.
9. On left side only, disconnect drag link from steering knuckle arm again using a suitable tool to avoid seal damage.
10. Remove nuts from steering knuckle arm on left side only. Tap arm to loosen tapered dowels. Remove dowels and arm.
11. Remove cotter pin from upper ball joint nut then remove upper and lower ball joint nuts. Discard lower nut.
12. Separate steering knuckle from axle housing yoke using a brass drift and a hammer, then, using a suitable tool, remove and discard sleeve from
upper ball joint yoke on axle housing.
13. Secure steering knuckle uPSIde down in a vise and remove snap ring from lower ball joint.
14. Use proper tools to press upper and lower ball joints from steering knuckle. Replace ball joints if any looseness or endplay exists.
< PREV PAGE
NEXT PAGE >