< PREV PAGE
NEXT PAGE >
Intrepid V6-3.2L VIN J (1998)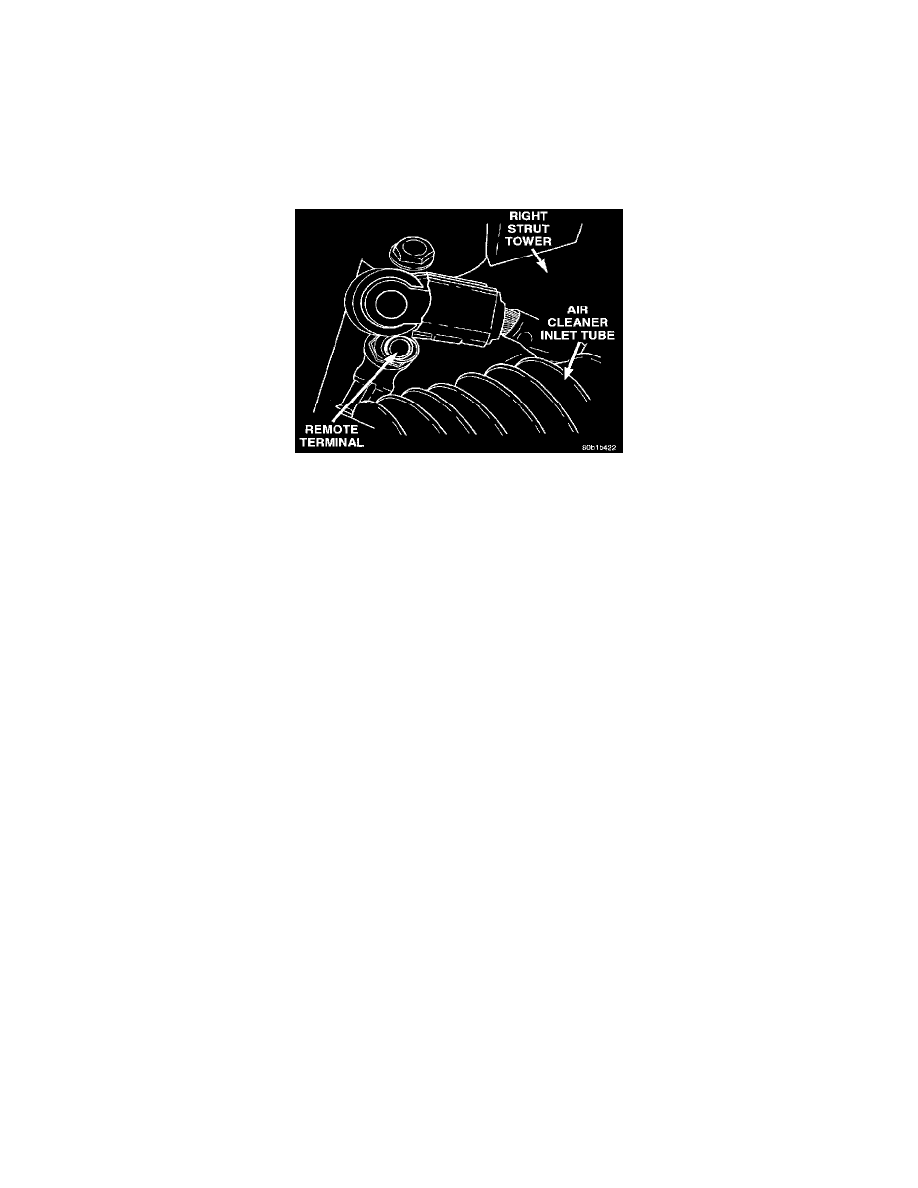 Air Bag Control Module: Service and Repair
WARNING:  THE ACM CONTAINS AN ACCELEROMETER WHICH ENABLES THE SYSTEM TO DEPLOY THE AIRBAGS. TO
AVOID ACCIDENTAL DEPLOYMENT, NEVER CONNECT ACM ELECTRICALLY TO THE SYSTEM WHILE VEHICLE BATTERY IS
CONNECTED. BEFORE BEGINNING ANY AIRBAG SYSTEM REMOVAL OR INSTALLATION PROCEDURES, DISCONNECT AND
ISOLATE THE BATTERY NEGATIVE REMOTE (GROUND) CABLE. THIS WILL DISABLE THE AIRBAG SYSTEM. FAILURE TO DO
THIS COULD RESULT IN ACCIDENTAL AIRBAG DEPLOYMENT, AND POSSIBLE PERSONAL INJURY.
Five Passenger Vehicle
REMOVAL
Negative Battery Cable Remote Terminal
1. Open hood and disconnect the negative battery cable remote terminal from the remote battery post.
NOTE:  If working on a Concorde, the Instrument Panel must be removed. Refer to Instrument Panel, Gauges and Warning
Indicators/Instrument Panel for Removal and Installation procedures. Then go to Step 11.
2. Remove one screw to shift knob.
3. Remove two screws to shifter bezel.
4. Disconnect power outlet connector and remove bezel from vehicle.
5. Remove left instrument panel endcap covering junction block.
6. Remove two screws to steering column cover then pull toward rear of vehicle to disengage clips.
7. Open glove box door. Continue to pull down on the door until the glove box drops and you see the screws in the upper and lower left corner or
the glove box bin.
8. Pull the right console side panel off.
9. Remove two screws to left console side panel and pull off.
10. With the Airbag Control Module (ACM) now exposed, slide the red Correct Position Assurance (CPA) tab out. Press down on the locking
latch and disconnect the ACM 23-way connector.
11. Remove the two side module mounting screws on the drivers side.
12. Loosen the top screw on the drivers side.
13. Lift up the module and slide out the ACM.
NOTE:  If the module cannot be lifted out, the passenger side screw needs some additional loosening.
14. Remove the ACM from vehicle. 
INSTALLATION
WARNING:  THE ACM IS A SAFETY MODULE AND FAILURE TO INSTALL AND SECURE IT PROPERLY, COULD CAUSE
THE MODULE TO POSSIBLY MALFUNCTION.
1. Position the ACM (arrow pointing forward in vehicle) on the ACM mounting bracket. The mounting bosses on the module will correctly
position the ACM on the bracket. Attach the ACM to the bracket with the three screws supplied and torque to 50 to 70 in.lbs. (5.7 to 7.9 N.m)
.
CAUTION:  USE SUPPLIED SCREWS ONLY.
2. Reverse the above procedures for continued installation.
CAUTION:  Do not connect negative battery cable remote terminal. Refer to Airbag System Check for proper procedure.
< PREV PAGE
NEXT PAGE >